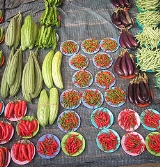 Health food store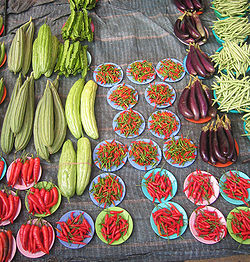 A
health food store
is a type of
grocery store
Grocery store
A grocery store is a store that retails food. A grocer, the owner of a grocery store, stocks different kinds of foods from assorted places and cultures, and sells these "groceries" to customers. Large grocery stores that stock products other than food, such as clothing or household items, are...
that primarily sells
health food
Health food
The term health food is generally used to describe foods that are considered to be beneficial to health, beyond a normal healthy diet required for human nutrition. However, the term is not precisely defined by national regulatory agencies such as the U.S...
,
organic food
Organic food
Organic foods are foods that are produced using methods that do not involve modern synthetic inputs such as synthetic pesticides and chemical fertilizers, do not contain genetically modified organisms, and are not processed using irradiation, industrial solvents, or chemical food additives.For the...
s, local produce, and often nutritional supplements. Health food stores often offer foods for people with special dietary needs, such as people with
allergies
Allergy
An Allergy is a hypersensitivity disorder of the immune system. Allergic reactions occur when a person's immune system reacts to normally harmless substances in the environment. A substance that causes a reaction is called an allergen. These reactions are acquired, predictable, and rapid...
and
diabetics
Diabetes mellitus
Diabetes mellitus, often simply referred to as diabetes, is a group of metabolic diseases in which a person has high blood sugar, either because the body does not produce enough insulin, or because cells do not respond to the insulin that is produced...
, and also for vegans,
vegetarians
Vegetarianism
Vegetarianism encompasses the practice of following plant-based diets , with or without the inclusion of dairy products or eggs, and with the exclusion of meat...
, and people living entirely on
raw food
Raw foodism
Raw foodism is the practice of consuming uncooked, unprocessed, and often organic foods as a large percentage of the diet....
.
Health food
The term
health food
has been used since the 1920s to refer to specific foods claimed to be especially beneficial to
health
Health
Health is the level of functional or metabolic efficiency of a living being. In humans, it is the general condition of a person's mind, body and spirit, usually meaning to be free from illness, injury or pain...
, although the term has no official definition. Some terms that are associated with health food are
macrobiotics
Macrobiotic diet
A macrobiotic diet , from "macro" and "bios" , a dietary regimen which involves eating grains as a staple food supplemented with other foodstuffs such as local vegetables avoiding the use of highly processed or refined foods and most animal products...
, natural foods,
organic food
Organic food
Organic foods are foods that are produced using methods that do not involve modern synthetic inputs such as synthetic pesticides and chemical fertilizers, do not contain genetically modified organisms, and are not processed using irradiation, industrial solvents, or chemical food additives.For the...
s and
whole foods
Whole foods
Whole foods are foods that are unprocessed and unrefined, or processed and refined as little as possible, before being consumed. Whole foods typically do not contain added ingredients, such as salt, carbohydrates, or fat. Examples of whole foods include unpolished grains, beans, fruits, vegetables...
. Macrobiotics is a
diet
Diet (nutrition)
In nutrition, diet is the sum of food consumed by a person or other organism. Dietary habits are the habitual decisions an individual or culture makes when choosing what foods to eat. With the word diet, it is often implied the use of specific intake of nutrition for health or weight-management...
focusing primarily on
whole cereals
Whole grain
Whole grains are cereal grains that contain cereal germ, endosperm, and bran, in contrast to refined grains, which retain only the endosperm. Whole grains can generally be sprouted while refined grains generally will not sprout. Whole-meal products are made by grinding whole grains in order to make...
. Whole cereals, along with other
whole foods
, are foods that are minimally processed. Whole cereals have their fiber, germ and hull intact and are considered more nutritious. Natural foods are simply foods that contain no artificial ingredients. Organic foods are foods that are grown without the use of conventional and artificial pesticides and must meet certain
organic standards
Organic certification
Organic certification is a certification process for producers of organic food and other organic agricultural products. In general, any business directly involved in food production can be certified, including seed suppliers, farmers, [food] processors, retailers and restaurants.Requirements vary...
.
Nutritional supplements
Most health food stores also sell nutritional supplements, like vitamins, herbal supplements and homeopathic remedies. Herbal supplements have never been regulated until the
European Directive on Traditional Herbal Medicinal Products
European Directive on Traditional Herbal Medicinal Products
The European Directive on Traditional Herbal Medicinal Products formallyThe Directive 2004/24/EC amending, as regards traditional herbal medicinal products, Directive 2001/83/EC on the Community code relating to medicinal products for human use was established by the European Parliament and...
came into force on 30 April 2004. The Traditional Herbal Medicinal Products Directive, 2004/24/EC, was established to provide a regulatory approval process for herbal medicines in the European Union (EU).
History of health food stores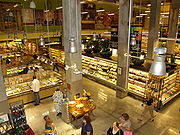 Many foods which are now commonplace in groceries first entered the market in the late 19th and early 20th centuries. Efforts by early health pioneers such as
Sylvester Graham
Sylvester Graham
The Reverend Sylvester Graham was an American dietary reformer. He was born in Suffield, Connecticut as the 17th child of Reverend John Graham. Sylvester Graham was ordained in 1826 as a Presbyterian minister. He entered Amherst College in 1823 but did not graduate...
,
Horace Greeley
Horace Greeley
Horace Greeley was an American newspaper editor, a founder of the Liberal Republican Party, a reformer, a politician, and an outspoken opponent of slavery...
,
John Harvey Kellogg
John Harvey Kellogg
John Harvey Kellogg was an American medical doctor in Battle Creek, Michigan, who ran a sanitarium using holistic methods, with a particular focus on nutrition, enemas and exercise. Kellogg was an advocate of vegetarianism and is best known for the invention of the corn flakes breakfast cereal...
,
George Ohsawa
George Ohsawa
George Ohsawa, born , was the founder of the Macrobiotic diet and philosophy. When living in Europe he went by the pen names of Musagendo Sakurazawa, Nyoiti Sakurazawa, and Yukikazu Sakurazawa...
, Ellen White and others spurred an interest in health food. As early as the 1920s and 1930s health food stores started opening in the United States and the United Kingdom selling products such as
blackstrap molasses
Molasses
Molasses is a viscous by-product of the processing of sugar cane, grapes or sugar beets into sugar. The word molasses comes from the Portuguese word melaço, which ultimately comes from mel, the Latin word for "honey". The quality of molasses depends on the maturity of the sugar cane or sugar beet,...
and brewer's yeast.
Perhaps the oldest health food store was founded by Thomas Martindale in 1869 as "Thomas Martindale Company" in Olde City Philadelphia. The Martindale family eventually moved the store to 10th and Filbert St. in the late 1930's and was heavily influenced by the new interest in health and wellness. The store manufactured their own coffee substitute made from dried figs called "Figco". Healthy foods were sold in the lunchroom, with all baked goods being sweetened with honey or maple syrup. Eventually the store evolved into what is known as
Martindale's Natural Market
which is still in existence today.
In 1896 a new building was built in
Birmingham
Birmingham
Birmingham is a city and metropolitan borough in the West Midlands of England. It is the most populous British city outside the capital London, with a population of 1,036,900 , and lies at the heart of the West Midlands conurbation, the second most populous urban area in the United Kingdom with a...
,
England
England
England is a country that is part of the United Kingdom. It shares land borders with Scotland to the north and Wales to the west; the Irish Sea is to the north west, the Celtic Sea to the south west, with the North Sea to the east and the English Channel to the south separating it from continental...
to house James Henry Cook's vegetarian restaurant, one of the first in England. In 1898, '
The Pitman Vegetarian Hotel
The Pitman Vegetarian Hotel
The Pitman Vegetarian Hotel was a vegetarian hotel that opened in 1898 in the County Buildings , Corporation Street, Birmingham, England, as an expansion of a vegetarian restaurant on the same site. The manager was James Henry Cook. According to his daughter, Kathleen Keleny, it was named after Sir...
', named after the famous vegetarian Sir Isaac Pitman, opened on the same site, and the proprietors subsequently opened a long-running health food store.
Frank A. Sawall, who earlier worked with John Harvey Kellogg, began selling powdered mineral drinks door to door and lecturing around the United States on the benefits of vitamin and mineral supplements, before opening Sawall Health Food Products, Inc, in 1936, the United States' oldest family-owned natural foods store still in existance today. It began with powdered minerals and vitamins and also sold natural and organic foods. Frank A. Sawall, a bio-chemist, was described as "America's Outstanding Health Teacher and Nationally known Nitritionist" in newspaper across the United States. He lectured extensively across the Midwest and the East Coast. Frank A. Sawall, expanded his stores in Michigan, including Detroit, Kalamazoo, Bay City, Grand Rapids, and Lansing. Creating the first health foods store chain in the United States. Sawall Health Foods is now in it's fourth generation of Sawall's running the business.
The Proxmire Vitamin Bill of 1976 that kept the FDA from defining food supplements as "drugs" was hailed as a great achivement in the health foods industry at the time. Senator William Proxmire was married to Ellen Hodges Sawall.
The New Westminster store operated by Health Food Research, opened in 1954 on the outskirts of Vancouver, British Columbia. It was founded by
Ella Birzneck
Ella Birzneck
Ella Anson Birzneck, M.H. was a Russo-Canadian herbalist and clinician. She is credited with co-founding North America's first "health food store", in New Westminster, British Columbia during the late 1950s.-Biography:...
, and modeled partly upon Russian "doctors' shops", which carried medicines, herbs, and special foods.
Health food stores became much more common in the 1960s in connection to the newly emerging
ecology movement
Ecology movement
The global ecology movement is based upon environmental protection, and is one of several new social movements that emerged at the end of the 1960s. As a values-driven social movement, it should be distinguished from the pre-existing science of ecology....
and
counterculture
Counterculture
Counterculture is a sociological term used to describe the values and norms of behavior of a cultural group, or subculture, that run counter to those of the social mainstream of the day, the cultural equivalent of political opposition. Counterculture can also be described as a group whose behavior...
.
Many health food stores are
worker owned cooperatives
Worker cooperative
A worker cooperative is a cooperative owned and democratically managed by its worker-owners. This control may be exercised in a number of ways. A cooperative enterprise may mean a firm where every worker-owner participates in decision making in a democratic fashion, or it may refer to one in which...
and
consumers' cooperative
Consumers' cooperative
Consumer cooperatives are enterprises owned by consumers and managed democratically which aim at fulfilling the needs and aspirations of their members. They operate within the market system, independently of the state, as a form of mutual aid, oriented toward service rather than pecuniary profit...
s due in part to the ability of cooperative buying power to bring lower costs to the consumer and their growth of popularity during the counterculture movement of the 1960s and 1970s.
Over the last decade, health food, and especially organic food, has entered the mainstream. Companies such as
Whole Foods Market
Whole Foods Market
Whole Foods Market is a foods supermarket chain based in Austin, Texas which emphasizes "natural and organic products." The company has been ranked among the most socially responsible businesses and placed third on the U.S...
, a large multinational corporation, have profited greatly and grown substantially during this expansion.
Whole food stores
Some stores that would usually be thought of as 'health food stores' prefer the term 'whole food stores' to acknowledge that they sell whole or organic foods, but not the large range of artificial nutritional supplements common in other health food stores.