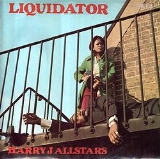 Harry Johnson
Harry Zephaniah Johnson
(known as
Harry J
, born July 6, 1945,
Westmoreland
Westmoreland Parish, Jamaica
Westmoreland is the westernmost parish in Jamaica, located on the south side of the island. It is situated to the south of Hanover, the southwest of Saint James, and the northwest of Saint Elizabeth, in the county of Cornwall. The chief town and capital is Savanna-la-Mar...
) is a
Jamaica
Jamaica
Jamaica is an island nation of the Greater Antilles, in length, up to in width and 10,990 square kilometres in area. It is situated in the Caribbean Sea, about south of Cuba, and west of Hispaniola, the island harbouring the nation-states Haiti and the Dominican Republic...
n
reggae
Reggae
Reggae is a music genre first developed in Jamaica in the late 1960s. While sometimes used in a broader sense to refer to most types of Jamaican music, the term reggae more properly denotes a particular music style that originated following on the development of ska and rocksteady.Reggae is based...
record producer
Record producer
A record producer is an individual working within the music industry, whose job is to oversee and manage the recording of an artist's music...
of African, Sicilian and
Scottish
Scottish people
The Scottish people , or Scots, are a nation and ethnic group native to Scotland. Historically they emerged from an amalgamation of the Picts and Gaels, incorporating neighbouring Britons to the south as well as invading Germanic peoples such as the Anglo-Saxons and the Norse.In modern use,...
descent. He is the head of the landmark Harry J. Records, located at 10 Roosevelt Avenue, Kingston 6, Jamaica WI.
Biography
Johnson started to play music with the Virtues as a
bass
Bass guitar
The bass guitar is a stringed instrument played primarily with the fingers or thumb , or by using a pick....
player before moving into management of the group. When the band split up he worked as an insurance salesman. He first appeared as a record producer in 1968, when he launched his own
record label
Record label
In the music industry, a record label is a brand and a trademark associated with the marketing of music recordings and music videos. Most commonly, a record label is the company that manages such brands and trademarks, coordinates the production, manufacture, distribution, marketing and promotion,...
, "Harry J", by releasing The Beltones' local hit "No More Heartaches", one of the earliest reggae songs to be recorded. His agreement with
Coxsone Dodd
Coxsone Dodd
Clement Seymour "Sir Coxsone" Dodd, CD was a Jamaican record producer who was influential in the development of ska and reggae in the 1950s, 1960s and beyond...
allowed him to use Studio One's facilities, where he produced the hit "Cuss Cuss" with singer Lloyd Robinson, which became one of the most covered
riddim
Riddim
Riddim is the Jamaican Patois pronunciation of the English word "rhythm," but in dancehall/reggae parlance it refers to the instrumental accompaniment to a song. Thus, a dancehall song consists of the riddim plus the "voicing" sung by the deejay. The resulting song structure may be taken for...
s in Jamaica. Johnson also released music under a subsidiary label,
Jaywax
.
In October 1969, he met success in the
UK
United Kingdom
The United Kingdom of Great Britain and Northern IrelandIn the United Kingdom and Dependencies, other languages have been officially recognised as legitimate autochthonous languages under the European Charter for Regional or Minority Languages...
with "The Liquidator" (number 9 in the
UK Singles Chart
UK Singles Chart
The UK Singles Chart is compiled by The Official Charts Company on behalf of the British record-industry. The full chart contains the top selling 200 singles in the United Kingdom based upon combined record sales and download numbers, though some media outlets only list the Top 40 or the Top 75 ...
) recorded with his
session
Session musician
Session musicians are instrumental and vocal performers, musicians, who are available to work with others at live performances or recording sessions. Usually such musicians are not permanent members of a musical ensemble and often do not achieve fame in their own right as soloists or bandleaders...
band, The Harry J All Stars (it was also a hit in 1980, reaching number 42). This single became one of the anthems of the emerging
skinhead
Skinhead
A skinhead is a member of a subculture that originated among working class youths in the United Kingdom in the 1960s, and then spread to other parts of the world. Named for their close-cropped or shaven heads, the first skinheads were greatly influenced by West Indian rude boys and British mods,...
youth
subculture
Subculture
In sociology, anthropology and cultural studies, a subculture is a group of people with a culture which differentiates them from the larger culture to which they belong.- Definition :...
; together with other
instrumental
Instrumental
An instrumental is a musical composition or recording without lyrics or singing, although it might include some non-articulate vocal input; the music is primarily or exclusively produced by musical instruments....
hits released in the UK through his own subdivision "Harry J" on
Trojan Records
Trojan Records
Trojan Records is a British record label founded in 1968. It specialises in ska, rocksteady, reggae and dub music. The label currently operates under the Sanctuary Records Group. The name Trojan comes from the Croydon-built Trojan truck that was used as Duke Reid's sound system in Jamaica...
, on a
compilation album
Compilation album
A compilation album is an album featuring tracks from one or more performers, often culled from a variety of sources The tracks are usually collected according to a common characteristic, such as popularity, genre, source or subject matter...
of the same name (see cover). During the 2008
United States
United States
The United States of America is a federal constitutional republic comprising fifty states and a federal district...
presidential election, presidential candidate Senator
Barack Obama
Barack Obama
Barack Hussein Obama II is the 44th and current President of the United States. He is the first African American to hold the office. Obama previously served as a United States Senator from Illinois, from January 2005 until he resigned following his victory in the 2008 presidential election.Born in...
campaign used the song "I'll Take You There" by
The Staple Singers
The Staple Singers
The Staple Singers were an American gospel, soul, and R&B singing group. Roebuck "Pops" Staples , the patriarch of the family, formed the group with his children Cleotha , Pervis , Yvonne , and Mavis...
at the closing of his stump speeches on the campaign trail. The beginning of the song "I'll take you there" features an introduction which was lifted from "The Liquidator".
In the beginning of the 1970s he enjoyed another big success with the vocal duo
Bob
Bob Andy
Bob Andy is a Jamaican reggae vocalist and songwriter. He is widely regarded as one of reggae's most influential songwriters.-Career:...
and
Marcia
Marcia Griffiths
Marcia Llyneth Griffiths is a successful female singer, also called the "Queen of Reggae". One reviewer described her noting "she is known primarily for her strong, smooth-as-mousse love songs and captivating live performances".Griffiths started her career in 1964...
with the song "
Young, Gifted and Black
To Be Young, Gifted and Black
"To Be Young, Gifted and Black" is a song by Nina Simone with lyrics by Weldon Irvine. It was written in memory of Simone's late friend Lorraine Hansberry, author of the play Raisin in the Sun. The song was originally recorded by Simone for her 1970 album Black Gold; released as a single, it became...
". His productions also included Jamaican hits with DJs like Winston Blake or
Scotty
Scotty
Scotty can be:*A common nickname for a Scottish man*Montgomery Scott, the Star Trek character**See Beam me up, Scotty*Scotty , a reggae singer*Scotty Moore, American guitarist, one of Elvis Presley's backing musicians...
among others, and many
dub
Dub music
Dub is a genre of music which grew out of reggae music in the 1960s, and is commonly considered a subgenre, though it has developed to extend beyond the scope of reggae...
versions.
Harry J Studio
Johnson is mainly known for his
Harry J Studio
where
Bob Marley & The Wailers
Bob Marley & The Wailers
Bob Marley & The Wailers were a Jamaican reggae, ska and rocksteady band formed by Bob Marley, Peter Tosh and Bunny Wailer in 1963. Additional members were Junior Braithwaite, Beverley Kelso, Cherry Smith and Aston and Carlton Barrett...
recorded
Sound recording and reproduction
Sound recording and reproduction is an electrical or mechanical inscription and re-creation of sound waves, such as spoken voice, singing, instrumental music, or sound effects. The two main classes of sound recording technology are analog recording and digital recording...
the majority of their
albums
Bob Marley & The Wailers discography
Most of Bob Marley's early music was recorded with Peter Tosh and Bunny Wailer, who together with Marley were the most prominent members of Bob Marley & The Wailers. In 1972, Bob Marley had his first hit outside Jamaica when Johnny Nash covered his song "Stir It Up", which became a U.K. hit. The...
in the 1970s. The studio was also a must stop hangout of many British musicians including the Rolling Stones,
The Who
The Who
The Who are an English rock band formed in 1964 by Roger Daltrey , Pete Townshend , John Entwistle and Keith Moon . They became known for energetic live performances which often included instrument destruction...
, and
Grace Jones
Grace Jones
Grace Jones is a Jamaican-American singer, model and actress.Jones secured a record deal with Island Records in 1977, which resulted in a string of dance-club hits. In the late 1970s, she adapted the emerging electronic music style and adopted a severe, androgynous look with square-cut hair and...
. In addition,
Chris Blackwell
Chris Blackwell
Christopher Percy Gordon "Chris" Blackwell is a British record producer and businessman, who was the founder of Island Records, acknowledged as the most successful and groundbreaking independent record company in history. Blackwell has been a music industry mogul for over fifty years...
the founder of
Island Records
Island Records
Island Records is a record label that was founded by Chris Blackwell in Jamaica. It was based in the United Kingdom for many years and is now owned by Universal Music Group...
the original label of the band
U2
U2
U2 are an Irish rock band from Dublin. Formed in 1976, the group consists of Bono , The Edge , Adam Clayton , and Larry Mullen, Jr. . U2's early sound was rooted in post-punk but eventually grew to incorporate influences from many genres of popular music...
could be found hanging out in the sound room prior to moving to
England
England
England is a country that is part of the United Kingdom. It shares land borders with Scotland to the north and Wales to the west; the Irish Sea is to the north west, the Celtic Sea to the south west, with the North Sea to the east and the English Channel to the south separating it from continental...
in the early 1970s.
In 1972, Harry Johnson sold his record shop and set up his own
recording studio
Recording studio
A recording studio is a facility for sound recording and mixing. Ideally both the recording and monitoring spaces are specially designed by an acoustician to achieve optimum acoustic properties...
"Harry J", on 10 Roosevelt Avenue, Uptown Kingston, where he employed Sid Bucknor and later Sylvan Morris as resident recording engineer. Harry J Studio soon became one of the most famous Jamaican studios after having recorded several Bob Marley & The Wailers albums from 1973 to 1976 before the
Tuff Gong
Tuff Gong
Tuff Gong is a record label that was formed by the reggae group The Wailers in 1970 and named after Bob Marley's nickname, which was in turn an echo of that given to founder of the Rastafari movement, Leonard "The Gong" Howell. The first single on the label was "Run For Cover" by The Wailers...
era; such as
Rastaman Vibration
Rastaman Vibration
Rastaman Vibration is a roots reggae album by Bob Marley & The Wailers released on April 30, 1976. The album was a great success in the USA, becoming the first Bob Marley release to reach the top ten on the Billboard 200 charts Rastaman Vibration is a roots reggae album by Bob Marley & The Wailers...
and
Catch A Fire
Catch a Fire
Catch a Fire is the major-label-debut album for Jamaican reggae band The Wailers, released on Island Records on 13 April 1973. The album established the band as international superstars. Leader Bob Marley in particular became world-famous...
.
Johnson's deal with
Island Records
Island Records
Island Records is a record label that was founded by Chris Blackwell in Jamaica. It was based in the United Kingdom for many years and is now owned by Universal Music Group...
led him to record
artists
Musician
A musician is an artist who plays a musical instrument. It may or may not be the person's profession. Musicians can be classified by their roles in performing music and writing music.Also....* A person who makes music a profession....
such as
Burning Spear
Burning Spear
Winston Rodney, OD , also known as Burning Spear, is a Jamaican roots reggae singer and musician. Burning Spear is known for his Rastafari movement messages.-History:...
and
The Heptones
The Heptones
The Heptones are a Jamaican rocksteady and reggae vocal trio most active in the 1960s and early 1970s. They were one of the more significant trios of that era, and played a major role in the gradual transition between ska and rocksteady with their three-part harmonies.-History:Leroy Sibbles, Earl...
. Throughout the 1970s and the 1980s, assisted by former Studio One sound engineer Sylvan Morris, he also recorded artists like
Ken Boothe
Ken Boothe
Ken Boothe OD is a Jamaican recording artist.-Biography:Ken Boothe was born in the Denham Town area of Kingston in 1948, the youngest of seven children, and began singing in school...
,
Augustus Pablo
Augustus Pablo
Horace Swaby , known as Augustus Pablo, was a Jamaican roots reggae and dub record producer, melodica player and keyboardist, active from the 1970s onwards. He popularized the use of the melodica in reggae music...
, The Cables and the
American
United States
The United States of America is a federal constitutional republic comprising fifty states and a federal district...
pop
Pop music
Pop music is usually understood to be commercially recorded music, often oriented toward a youth market, usually consisting of relatively short, simple songs utilizing technological innovations to produce new variations on existing themes.- Definitions :David Hatch and Stephen Millward define pop...
singer,
Johnny Nash
Johnny Nash
John Lester "Johnny" Nash, Jr. is an American pop singer-songwriter, best known in the US for his 1972 hit, "I Can See Clearly Now". He was also the first non-Jamaican to record reggae music in Kingston, Jamaica.-Life and career:...
, and produced albums by
Zap Pow
Zap Pow
Zap Pow were a Jamaican reggae band, whose members have included guitarist Dwight Pinkney and singer Beres Hammond. They existed from 1969 to 1979.-History:...
and Sheila Hylton. In 2000, after seven years of inactivity, Stephen Stewart (Engineer, Producer, Musician), who worked in the early years alongside Sylvan Morris, refurbished, re-equipped and reopened Harry J Studio. Since then under the management of Stephen Stewart the studio has seen the return of people like Burning Spear, Toots, Shaggy, Sly & Robbie, and newer projects of Shakira, Papa Sam/Kirk Franklyn, Luciano and Sizzla just to mention a few. The studio appears in the movie,
Rockers
.
Personal life
Johnson married and
divorce
Divorce
Divorce is the final termination of a marital union, canceling the legal duties and responsibilities of marriage and dissolving the bonds of matrimony between the parties...
d Murna Webley; he has fathered several children: Paul Baines Johnson, Melanie Catanese, Harry Jermaine Johnson (deceased), Hayley Johnson (deceased), Tara Johnson and Dale Johnson.
Harry J Allstars
Harry J Allstars - The Liquidator - 1969 - Harry J/Trojan
Harry J Allstars - Liquidator: The Best Of The Harry J Allstars - 2003 - Trojan
Harry J Allstars - Dubbing At Harry J's 1972-1975 - Jamaican Recordings
Compilations
Various Artists - Reggae Movement - 1970 - Harry J/Trojan
Various Artists - What Am I To Do - 1970 - Harry J/Trojan
Various Artists - Reggay Roots - 1977 - Harry J
Various Artists - Computer - 1985 - Sunset
Various Artists - The Return Of the Liquidator: 30 Skinhead Classics 1968-1970 - 1989 - Trojan - 2 CD

Compact Disc

The Compact Disc is an optical disc used to store digital data. It was originally developed to store and playback sound recordings exclusively, but later expanded to encompass data storage , write-once audio and data storage , rewritable media , Video Compact Discs , Super Video Compact Discs ,...



As a producer
Sylvan Morris & Harry J - Cultural Dub - 1978 - Harry J
Sylvan Morris - Jah Jah Dub - Roosevelt
The Heptones

The Heptones

The Heptones are a Jamaican rocksteady and reggae vocal trio most active in the 1960s and early 1970s. They were one of the more significant trios of that era, and played a major role in the gradual transition between ska and rocksteady with their three-part harmonies.-History:Leroy Sibbles, Earl...


- Book Of Rules - 1973 - Jaywax
The Heptones - Cool Rasta - 1976 - Trojan
Leslie Butler - Ja-Gan - 1975 - Trojan
Zap Pow - Revolution - 1976 - Trojan
Lloyd Willis - Gits Plays Bob Marley's Greatest Hits - 1977 - Harry J
The Melodians

The Melodians

The Melodians were a reggae band formed in the Greenwich Town area of Kingston, Jamaica in 1965, by Tony Brevett , Brent Dowe and Trevor McNaughton...


- Sweet Sensation - 1977 - Harry J
Sheila Hilton - "Breakfast in Bed" - 1977- Harry J
Dennis Brown

Dennis Brown

Dennis Emmanuel Brown was a Jamaican reggae singer. During his prolific career, which began in the late 1960s when he was aged eleven, he recorded more than 75 albums and was one of the major stars of lovers rock, a sub-genre of reggae...


- So Long Rastafari - 1979 - Harry J