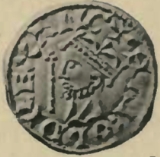 Harold Godwinson
Harold Godwinson
(c. 1022 – 14 October 1066) was the last
Anglo-Saxon
Anglo-Saxons
Anglo-Saxon is a term used by historians to designate the Germanic tribes who invaded and settled the south and east of Great Britain beginning in the early 5th century AD, and the period from their creation of the English nation to the Norman conquest. The Anglo-Saxon Era denotes the period of...
King of
England
Kingdom of England
The Kingdom of England was, from 927 to 1707, a sovereign state to the northwest of continental Europe. At its height, the Kingdom of England spanned the southern two-thirds of the island of Great Britain and several smaller outlying islands; what today comprises the legal jurisdiction of England...
.
It could be argued that Edgar the Atheling, who was proclaimed as king by the witan but never crowned, was really the last Anglo-Saxon king.
Harold reigned from 6 January 1066 until his death at the
Battle of Hastings
Battle of Hastings
The Battle of Hastings occurred on 14 October 1066 during the Norman conquest of England, between the Norman-French army of Duke William II of Normandy and the English army under King Harold II...
on 14 October of that same year, fighting the
Norman
Normans
The Normans were the people who gave their name to Normandy, a region in northern France. They were descended from Norse Viking conquerors of the territory and the native population of Frankish and Gallo-Roman stock...
invaders led by
William the Conqueror
William I of England
William I , also known as William the Conqueror , was the first Norman King of England from Christmas 1066 until his death. He was also Duke of Normandy from 3 July 1035 until his death, under the name William II...
during the
Norman conquest of England
Norman conquest of England
The Norman conquest of England began on 28 September 1066 with the invasion of England by William, Duke of Normandy. William became known as William the Conqueror after his victory at the Battle of Hastings on 14 October 1066, defeating King Harold II of England...
.