 Harold Gillies
Sir Harold Delf Gillies
(17 June 1882 - 10 September 1960) was a
New Zealand
New Zealand
New Zealand is an island country in the south-western Pacific Ocean comprising two main landmasses and numerous smaller islands. The country is situated some east of Australia across the Tasman Sea, and roughly south of the Pacific island nations of New Caledonia, Fiji, and Tonga...
-born, and later
London
London
London is the capital city of :England and the :United Kingdom, the largest metropolitan area in the United Kingdom, and the largest urban zone in the European Union by most measures. Located on the River Thames, London has been a major settlement for two millennia, its history going back to its...
based,
otolaryngologist
Otolaryngology
Otolaryngology or ENT is the branch of medicine and surgery that specializes in the diagnosis and treatment of ear, nose, throat, and head and neck disorders....
who is widely considered as the father of
plastic surgery
Plastic surgery
Plastic surgery is a medical specialty concerned with the correction or restoration of form and function. Though cosmetic or aesthetic surgery is the best-known kind of plastic surgery, most plastic surgery is not cosmetic: plastic surgery includes many types of reconstructive surgery, hand...
.
Personal life
Gillies was born in Dunedin, New Zealand. He studied medicine at
Gonville and Caius College
Gonville and Caius College, Cambridge
Gonville and Caius College is a constituent college of the University of Cambridge in Cambridge, England. The college is often referred to simply as "Caius" , after its second founder, John Keys, who fashionably latinised the spelling of his name after studying in Italy.- Outline :Gonville and...
,
Cambridge University
University of Cambridge
The University of Cambridge is a public research university located in Cambridge, United Kingdom. It is the second-oldest university in both the United Kingdom and the English-speaking world , and the seventh-oldest globally...
, where despite a stiff elbow (sustained sliding down the banisters at home as a child) he was a rowing blue.
Gillies married Kathleen Margaret Jackson on 9 November 1911, in London. They had four children. His youngest son
Michael Thomas Gillies
Michael Thomas Gillies
Michael Thomas Gillies was an English medical entomologist. He spent most of his working life in the tropics, particularly Tanzania and later The Gambia, studying the transfer of malaria between mosquitos and humans...
followed his father into medicine.
In addition to his career as a surgeon, he was also a champion golfer and inveterate practical joker. For many years his home was at 71 Frognal, in the heart of London's
Hampstead
Hampstead
Hampstead is an area of London, England, north-west of Charing Cross. Part of the London Borough of Camden in Inner London, it is known for its intellectual, liberal, artistic, musical and literary associations and for Hampstead Heath, a large, hilly expanse of parkland...
village. A
blue plaque
Blue plaque
A blue plaque is a permanent sign installed in a public place to commemorate a link between that location and a famous person or event, serving as a historical marker....
on the front of that house now commemorates his life and work.
World War I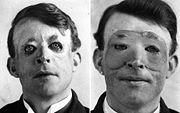 Following the outbreak of
World War I
World War I
World War I , which was predominantly called the World War or the Great War from its occurrence until 1939, and the First World War or World War I thereafter, was a major war centred in Europe that began on 28 July 1914 and lasted until 11 November 1918...
he joined the Royal Army Medical Corps. Initially posted to Wimereux, near Boulogne, he acted as medical minder to a French-American dentist, Valadier, who was not allowed to operate unsupervised but was attempting to develop jaw repair work. Gillies, eager after seeing Valadier experimenting with nascent skin graft techniques, then decided to leave for Paris, to meet the renowned surgeon
Hippolyte Morestin
Hippolyte Morestin
Hippolyte Morestin was a French surgeon, and associate professor of anatomy at the University of Paris.The son of Charles Amédée Morestin, he was one of the founders of cosmetic surgery. He was dubbed "The Father of the Mouths" after his breakthroughs in oral and maxillofacial surgery...
. He saw him remove a tumour on a patient's face, and cover it with jaw skin taken from the patient. Gillies became enthusiastic about the work and on his return to England persuaded the army's chief surgeon, Arbuthnot-Lane, that a facial injury ward should be established at the Cambridge Military Hospital,
Aldershot
Aldershot
Aldershot is a town in the English county of Hampshire, located on heathland about southwest of London. The town is administered by Rushmoor Borough Council...
.
This rapidly proved inadequate and a new hospital devoted to facial repairs was developed at
Sidcup
Sidcup
Sidcup is a district in South East London in the London Borough of Bexley and small parts of the district in the London Borough of Greenwich.Located south east of Charing Cross, Sidcup is bordered by the London Boroughs of Greenwich and Bromley and Kent County Council, and whilst now part of...
. The Queen's Hospital opened in June 1917 and with its convalescent units provided over 1,000 beds. There Gillies and his colleagues developed many techniques of plastic surgery; more than 11,000 operations were performed on over 5,000 men (mostly soldiers with facial injuries, usually from gunshot wounds). The hospital, later to become Queen Mary's Hospital, was at
Frognal House
Frognal House
Frognal House, in Foots Cray near Sidcup, Greater London, England, was built in the early 18th century.-History:Frognal House was purchased by Thomas Townshend in 1752 and became the residence of his son, Thomas Townshend, 1st Viscount Sydney, after whom Sydney, Australia was named...
(the birthplace and property of Thomas Townshend, Lord Sydney after whom Sydney, Australia was named).
For his war services Gillies was knighted in the Birthday Honours list of June 1930. William Arbuthnot-Lane commented, "Better late than never".
Private practice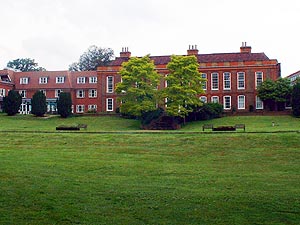 Between the wars Gillies developed a substantial private practice with Rainsford Mowlem, including many famous patients, and travelled extensively, lecturing, teaching and promoting the most advanced techniques worldwide.
In 1930 Gillies invited his cousin,
Archibald McIndoe
Archibald McIndoe
Sir Archibald McIndoe CBE FRCS was a pioneering New Zealand plastic surgeon who worked for the Royal Air Force during World War II. He greatly improved the treatment and rehabilitation of badly burned aircrew.-Background:...
to join the practice, and also suggested he apply for a post at St Bartholomew's Hospital. This was the point at which McIndoe became committed to plastic surgery, in which he too became pre-eminent.
World War II
During
World War II
World War II
World War II, or the Second World War , was a global conflict lasting from 1939 to 1945, involving most of the world's nations—including all of the great powers—eventually forming two opposing military alliances: the Allies and the Axis...
Gillies acted as a consultant to the Ministry of Health, the RAF and the Admiralty. He organised plastic surgery units in various parts of Britain. His own work continued at Rooksdown House, part of the
Park Prewett Hospital
Park Prewett
Park Prewett Hospital, also known as Park Prewett Mental Hospital, was a psychiatric hospital northwest of Basingstoke, in the county of Hampshire in England, which operated from 1917 until 1997. The hospital was designed by the noted asylum architect George T...
, Basingstoke. During this period, and after the war, he trained many doctors from
Commonwealth
Commonwealth of Nations
The Commonwealth of Nations, normally referred to as the Commonwealth and formerly known as the British Commonwealth, is an intergovernmental organisation of fifty-four independent member states...
nations in plastic surgery.
Pioneering sex reassignment surgery
In 1946, he and a colleague carried out one of the first
sex reassignment surgery
Sex reassignment surgery
Sex reassignment surgery is a term for the surgical procedures by which a person's physical appearance and function of their existing sexual characteristics are altered to resemble...
from female to male on
Michael Dillon
Michael Dillon
Laurence Michael Dillon was a British physician and the first female-to-male transsexual to undergo phalloplasty. His brother, Sir Robert Dillon, was the eighth Baronet of Lismullen in Ireland....
. In 1951 he and colleagues carried out one of first modern sex reassignment surgery from male to female using a flap technique on
Roberta Cowell
Roberta Cowell
Roberta Cowell, , was the first known British male-to-female transsexual to undergo sex reassignment surgery.Born Robert Cowell, she was a Spitfire pilot in World War II and a racing driver after the war. She had a vaginoplasty on 15 May 1951, via a surgical method invented and performed by Dr...
, which became the standard for 40 years.
Selected publications
Gillies HD. Plastic Surgery of the Face. Henry Frowde. 1920, 1983. ISBN 0906923085
Gillies HD, Millard DR.

Ralph Millard

David Ralph Millard, Jr. was a plastic surgeon who developed several techniques used in cleft lip and palate surgeries. He was chief of the Division of Plastic Surgery at University of Miami's Miller School of Medicine for 28 years, and maintained a private practice in Miami.In 2000, Dr...


The Principles and Art of Plastic Surgery. Butterworth. 1958.
Reviews
http://www.pubmedcentral.nih.gov/articlerender.fcgi?artid=1512094
http://www.ejbjs.org/cgi/reprint/39/2/477
http://www.jbjs.org.uk/cgi/reprint/39-B/4/805
Further reading
Pound R. Gillies: Surgeon Extraordinary. Michael Joseph. 1964.
Slevin, Tom. 'The Wound and the First World War: 'Cartesian' Surgeries to Embodied Being in Psychoanalysis, Electrification and Skin Grafting' in Body and Society (Volume 14, No.2 2008) pp. 39–61.
External links