 Hacker-Pschorr Brewery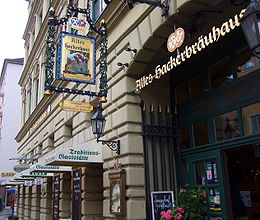 Hacker-Pschorr Brewery
traces its ancestry back to 1417 when the Hacker brewery was founded in
Munich
Munich
Munich The city's motto is "" . Before 2006, it was "Weltstadt mit Herz" . Its native name, , is derived from the Old High German Munichen, meaning "by the monks' place". The city's name derives from the monks of the Benedictine order who founded the city; hence the monk depicted on the city's coat...
,
Germany
Germany
Germany , officially the Federal Republic of Germany , is a federal parliamentary republic in Europe. The country consists of 16 states while the capital and largest city is Berlin. Germany covers an area of 357,021 km2 and has a largely temperate seasonal climate...
, 99 years before the enactment of the
Reinheitsgebot
Reinheitsgebot
The Reinheitsgebot , sometimes called the "German Beer Purity Law" or the "Bavarian Purity Law" in English, was a regulation concerning the production of beer in Germany. In the original text, the only ingredients that could be used in the production of beer were water, barley and hops...
Purity Law of 1516.
In the late 18th century, Joseph Pschorr bought the Hacker brewery from his father-in-law. He subsequently founded a separate brewery under his own name. His two sons divided his estate by each taking control of one of the two separate breweries. In 1972, Hacker and Pschorr merged to form Hacker-Pschorr, but the beers were sold as separate brands well after 1975.
The brewing process has remained virtually unchanged for over 580 years.
It used to be imported to the U.S. via Star Brand Imports, based in
White Plains, New York
White Plains, New York
White Plains is a city and the county seat of Westchester County, New York, United States. It is located in south-central Westchester, about east of the Hudson River and northwest of Long Island Sound...
and part of Heineken International.
Bartenders will usually note that Hacker-Pschorr is one of few
beer
Beer
Beer is the world's most widely consumed andprobably oldest alcoholic beverage; it is the third most popular drink overall, after water and tea. It is produced by the brewing and fermentation of sugars, mainly derived from malted cereal grains, most commonly malted barley and malted wheat...
s which does not say "For Export Only" on the keg. Hacker-Pschorr Weisse is the most popular of the company's beers, "100% natural. Brewed with pure spring water, Hacker-Pschorr's centuries-old, exclusive yeast strain,
Hallertau
Hallertau
The Hallertau or Holledau is an area in Bavaria, Germany. At 178 km², it is listed as the largest continuous hop-planting area in the world...
hops and 60% malted wheat and 40% malted barley." 5.5% alcohol by volume. 4.3% alcohol by weight. Original Gravity 12.5%. 156 Cal/12USoz(mL)serve. Bitterness 13 EBU. Beverage Testing Institute Rating - 94 (Exceptional).
Assortement
Hacker-Pschorr produces 15 different products, some of them are only seasonally available
Münchner Hell
Münchener Gold
Braumeister Pils
Münchner Dunkel
Münchner Radler
Hubertus Bock
Oktoberfest Märzen
Anno 1417
Animator
Superior
Hefe Weisse
Dunkle Weisse
Leichte Weisse
Sternweisse
Naturtrübes Kellerbier
External links