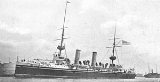 HMS Minerva (1895)
HMS Minerva was a second class
protected cruiser
Protected cruiser
The protected cruiser is a type of naval cruiser of the late 19th century, so known because its armoured deck offered protection for vital machine spaces from shrapnel caused by exploding shells above...
of the
Eclipse class
Eclipse class cruiser
The Eclipse-class cruisers of the Royal Navy were protected cruisers constructed in the mid-1890s.-Design and history:They were enlarged versions of the preceding Astraea class. Between 1903 and 1905, all of the ships in the class except for Eclipse had their mixed and guns removed and replaced...
.
Minerva was laid down at
Chatham Dockyard
Chatham Dockyard
Chatham Dockyard, located on the River Medway and of which two-thirds is in Gillingham and one third in Chatham, Kent, England, came into existence at the time when, following the Reformation, relations with the Catholic countries of Europe had worsened, leading to a requirement for additional...
,
Kent
Kent
Kent is a county in southeast England, and is one of the home counties. It borders East Sussex, Surrey and Greater London and has a defined boundary with Essex in the middle of the Thames Estuary. The ceremonial county boundaries of Kent include the shire county of Kent and the unitary borough of...
, on December 4, 1893, and was floated out on September 23, 1895. It was scrapped in 1920.
The ship was present at the relief operations in
Sicily
Sicily
Sicily is a region of Italy, and is the largest island in the Mediterranean Sea. Along with the surrounding minor islands, it constitutes an autonomous region of Italy, the Regione Autonoma Siciliana Sicily has a rich and unique culture, especially with regard to the arts, music, literature,...
after the
great earthquake and tsunami
1908 Messina earthquake
The 1908 Messina earthquake and tsunami took some 100,000–200,000 lives on December 28, 1908 in Sicily and Calabria, southern Italy.-Quake:On December 28, 1908 from about 05:20 to 05:21 an earthquake of 7.2 on the moment magnitude scale occurred centered on the of city Messina, in Sicily. Reggio...
in the
Strait of Messina
Strait of Messina
The Strait of Messina is the narrow passage between the eastern tip of Sicily and the southern tip of Calabria in the south of Italy. It connects the Tyrrhenian Sea with the Ionian Sea, within the central Mediterranean...
, 28 December 1908. The crew qualified for the Medal of Merit for Participation in the Relief of the Earthquake in Calabria and Sicily, instituted by the King of Italy
Vittorio Emanuele III
Victor Emmanuel III of Italy
Victor Emmanuel III was a member of the House of Savoy and King of Italy . In addition, he claimed the crowns of Ethiopia and Albania and claimed the titles Emperor of Ethiopia and King of Albania , which were unrecognised by the Great Powers...
.