 Gull wing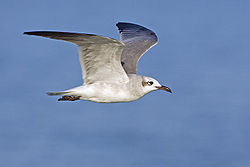 The
gull wing
is an aircraft's wing configuration with a prominent bend in the
wing
Wing
A wing is an appendage with a surface that produces lift for flight or propulsion through the atmosphere, or through another gaseous or liquid fluid...
somewhere along the
span
Wingspan
The wingspan of an airplane or a bird, is the distance from one wingtip to the other wingtip. For example, the Boeing 777 has a wingspan of about ; and a Wandering Albatross caught in 1965 had a wingspan of , the official record for a living bird.The term wingspan, more technically extent, is...
, generally near the
wing root
Wing root
The wing root is the part of the wing on a fixed-wing aircraft that is closest to the fuselage. On a simple monoplane configuration, this is usually easy to identify...
. Its name is derived from the
seabird
Seabird
Seabirds are birds that have adapted to life within the marine environment. While seabirds vary greatly in lifestyle, behaviour and physiology, they often exhibit striking convergent evolution, as the same environmental problems and feeding niches have resulted in similar adaptations...
s which it resembles. It has been incorporated in aircraft for many reasons.
Sailplanes
The gull wing was first seen on a glider when the
Weltensegler
Weltensegler
-External links:***...
flew in 1921. Its wings were externally braced and featured swept-back
wingtip
Wing tip
A wing tip is the part of the wing that is most distant from the fuselage of a fixed-wing aircraft.Because the wing tip shape influences the size and drag of the wingtip vortices, tip design has produced a diversity of shapes, including:* Squared-off...
s. After the aircraft broke up, killing its pilot, the design feature stayed out of popular use. The gull wing made a resurgence in 1930 with Alexander Lippisch's record-breaking
Fafnir
Fafnir
In Norse mythology, Fáfnir or Frænir was a son of the dwarf king Hreidmar and brother of Regin and Ótr. In the Volsunga saga, Fáfnir was a dwarf gifted with a powerful arm and fearless soul. He guarded his father's house of glittering gold and flashing gems...
. Lippisch used the configuration for its increased wingtip clearance and the ill-founded belief it improved stability in turns. The true success of the Fafnir's gull wing lay primarily in its aesthetic value; the gull wing would be a staple of the high-performance sailplanes of the time, until the 1950s.
Notable gull wing sailplanes:
Seaplanes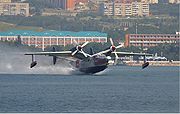 The gull wing design found its way into
seaplane
Seaplane
A seaplane is a fixed-wing aircraft capable of taking off and landing on water. Seaplanes that can also take off and land on airfields are a subclass called amphibian aircraft...
s by the early 1930s. As engine power increased, so did the need for large
propeller
Propeller (aircraft)
Aircraft propellers or airscrews convert rotary motion from piston engines or turboprops to provide propulsive force. They may be fixed or variable pitch. Early aircraft propellers were carved by hand from solid or laminated wood with later propellers being constructed from metal...
s that could effectively convert power to thrust. The gull wing allowed designers to ensure adequate propeller tip clearance over the water by placing the engines on the highest point of the wing. The alternative was placing the engine on a pylon. Possibly the first flying-boat to utilize the gull wing configuration was the
Short Knuckleduster
Short Knuckleduster
-See also:-Bibliography:* ap Rees, Elfan. "Prototypes And Experimentals No 1: Short R.24/31". Air Pictorial, May 1971, p. 176.* Barnes, Christopher H. and Derek N. James. Shorts Aircraft since 1900. London: Putnam, 1989. ISBN 0-85177-819-4....
, which flew in
1933
1933 in aviation
This is a list of aviation-related events from 1933:- Events :* The United States Coast Guard requests authorization to construct its first cutters with a capability of carrying aircraft.* Tokyo conducts it first blackout exercise....
. The
Dornier Do 26
Dornier Do 26
The Dornier Do 26 was an all-metal gull winged flying boat produced before and during World War II by Dornier Flugzeugwerke of Germany.It was operated by a crew of four and was intended to carry a payload of 500 kg or four passengers on the Lisbon to New York route.-Design and development:The...
, a high-speed
airliner
Airliner
An airliner is a large fixed-wing aircraft for transporting passengers and cargo. Such aircraft are operated by airlines. Although the definition of an airliner can vary from country to country, an airliner is typically defined as an aircraft intended for carrying multiple passengers in commercial...
and
transport
Transport
Transport or transportation is the movement of people, cattle, animals and goods from one location to another. Modes of transport include air, rail, road, water, cable, pipeline, and space. The field can be divided into infrastructure, vehicles, and operations...
platform, of which 6 aircraft were built, flew in 1938. The configuration was also used on the US Navy's
PBM Mariner
PBM Mariner
The Martin PBM Mariner was a patrol bomber flying boat of World War II and the early Cold War period. It was designed to complement the PBY Catalina in service. A total of 1,366 were built, with the first example flying on 18 February 1939 and the type entering service in September 1940.-Design and...
and
P5M Marlin
P5M Marlin
|- See also :- References :NotesBibliography* Andrade, John, U.S.Military Aircraft Designations and Serials since 1909, Midland Counties Publications, 1979, ISBN 0 904597 22 9.* Barth, Bruce D., "The Martin P5M 'Marlin'". Pacific Aero Press, 1994....
maritime patrol aircraft. The emergence of long range, land-based jets in the 1950s and the subsequent demise of the seaplane prevented widespread use of the gull wing, although it was still used in some post-war designs, like
Beriev Be-12
Beriev Be-12
|-See also:-Bibliography:* Yefim Gordon, Andrey Sal'nikov and Aleksandr Zablotskiy Beriev's Jet Flying Boats. Hinckley, UK: Midland Publishing. ISBN 1-85780-236-5...
Chaika
(the name means 'the gull' in Russian).
Examples:
Landplanes
The gull wing design found its way into landplanes in the late 1920s, with Polish inventor
Zygmunt Pulawski
Zygmunt Pulawski
Zygmunt Puławski was a Polish aircraft designer and pilot. He invented a gull-wing aircraft design, also known as "Puławski wing" and constructed a series of Polish PZL fighters...
designing the
PZL P.1
PZL P.1
-Bibliography:* Cynk, Jerzy B. History of the Polish Air Force 1918-1968. Reading, Berkshire, UK: Osprey Publishing Ltd., 1972. ISBN 0-85045-039-X.* Cynk, Jerzy B. Polish Aircraft, 1893-1939. London: Putnam & Company Ltd., 1971. ISBN 0-370-00085-4....
in 1928. The arrangement he devised is occasionally known as the "Pulawski Wing" or the "Polish wing". The gull wing was used to improve visibility in a high wing arrangement, because such wing could be thinnest by the fuselage, and in theory should limit pilot's view no more than
A-pillars
Pillar (car)
Pillars are the vertical supports of the greenhouse of an automobile — known respectively as the A, B, C or D-pillar moving in profile view from the front to rear....
of a windscreen in a car body. It was used in
fighter aircraft
Fighter aircraft
A fighter aircraft is a military aircraft designed primarily for air-to-air combat with other aircraft, as opposed to a bomber, which is designed primarily to attack ground targets...
like
PZL P.11
PZL P.11
The PZL P.11 was a Polish fighter aircraft, designed in the early 1930s by PZL in Warsaw. It was briefly considered to be the most advanced fighter aircraft design in the world...
and
Polikarpov I-15
Polikarpov I-15
The Polikarpov I-15 was a Soviet biplane fighter aircraft of the 1930s. Nicknamed Chaika because of its gulled upper wings, it was operated in large numbers by the Soviet Air Force, and together with the Polikarpov I-16 monoplane, was one of the standard fighters of the Spanish Republicans during...
.
Examples:
Inverted gull wing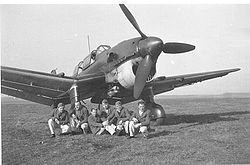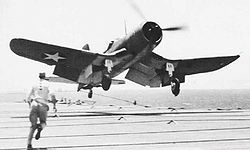 The
inverted
gull wing was developed at the same time and for the same reason as seaplanes. More powerful engines generally require larger propellers, but clearance between the propeller tip and ground must be maintained. Long landing gear legs are heavy, bulky, and weaker than their shorter counterparts. The Vought F4U Corsair, designed from the onset as a carrier-based fighter, not only had the largest propeller of any U.S. fighter, but was also expected to face rough landings aboard a pitching carrier deck. The inverted gull wing allowed the landing gear to be short, tough, and to retract straight back, improving internal wing space.
another reason for havving an inverted gull wing is to faciltate a large external bombload [as an the
Junkers Ju-87 Stuka
Junkers Ju 87
The Junkers Ju 87 or Stuka was a two-man German ground-attack aircraft...
].
Examples:
External links