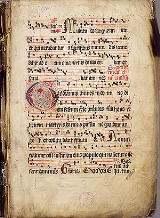 Gregorian chant
Gregorian chant is the central tradition of Western
plainchant
Plainsong
Plainsong is a body of chants used in the liturgies of the Catholic Church. Though the Eastern Orthodox churches and the Catholic Church did not split until long after the origin of plainchant, Byzantine chants are generally not classified as plainsong.Plainsong is monophonic, consisting of a...
, a form of
monophonic
Monophony
In music, monophony is the simplest of textures, consisting of melody without accompanying harmony. This may be realized as just one note at a time, or with the same note duplicated at the octave . If the entire melody is sung by two voices or a choir with an interval between the notes or in...
liturgical
Liturgy
Liturgy is either the customary public worship done by a specific religious group, according to its particular traditions or a more precise term that distinguishes between those religious groups who believe their ritual requires the "people" to do the "work" of responding to the priest, and those...
music within
Western Christianity
Western Christianity
Western Christianity is a term used to include the Latin Rite of the Catholic Church and groups historically derivative thereof, including the churches of the Anglican and Protestant traditions, which share common attributes that can be traced back to their medieval heritage...
that accompanied the celebration of Mass and other ritual services. It is named after
Pope Gregory I
Pope Gregory I
Pope Gregory I , better known in English as Gregory the Great, was pope from 3 September 590 until his death...
, Bishop of Rome from 590 to 604, who is traditionally credited for having ordered the simplification and cataloging of music assigned to specific celebrations in the church calendar. The resulting body of music is the first to be notated in a system ancestral to modern musical notation.