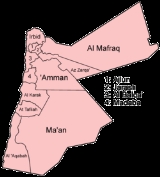 Governorates of Jordan
|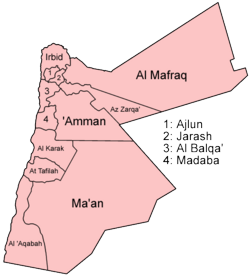 |
The country of
Jordan
Jordan
Jordan , officially the Hashemite Kingdom of Jordan , Al-Mamlaka al-Urduniyya al-Hashemiyya) is a kingdom on the East Bank of the River Jordan. The country borders Saudi Arabia to the east and south-east, Iraq to the north-east, Syria to the north and the West Bank and Israel to the west, sharing...
is divided into 12
governorate
Governorate
A governorate is an administrative division of a country. It is headed by a governor. As English-speaking nations tend to call regions administered by governors either states, provinces, or colonies, the term governorate is often used in translation from non-English-speaking administrations.The...
s (
muhafazah
Muhafazah
A ' is a first-level administrative division of many Arab countries, and a second-level administrative division in Saudi Arabia. The term is usually translated to governorate in English, and occasionally to province. It comes from the Arabic root 'h-f-ẓ' which means to 'keep and guard'...
).
The Governorates of Jordan
Governorates
Area
(km²)
Population
(end of 2008 est.)
Density
(/km²)
Irbid

Irbid Governorate

Irbid or Irbed is one of the governorates of Jordan. It is located north of Amman, Jordan's capital. The capital of the governorate of Irbid is the city of Irbid...



1,572
1,041,300
662.4
Mafraq

Mafraq Governorate

Mafraq is one of the governorates of Jordan, located to the north-east of Amman, capital of Jordan. It has a population of 254,219 with a percentage of 4.5% of Jordan's population...



26,541
275,000
10.4
Jarash

Jerash Governorate

Jerash is one of the governorates of Jordan; it is located north of Amman, Jordan's capital. It carrys the name of its capital and largest city, Jerash City....



410
175,500
428.0
Ajloun

Ajloun Governorate

Ajlun Governorate is one of the governorates of Jordan, located north of Amman the capital of Jordan. Ajlun Governorate has the fourth highest population density in the kingdom of Jordan with a population density of 335 ppkm2...



420
134,500
320.2
North Region
28,943
1,626,300
56.2
Amman

Amman Governorate

Officially known as Muhafazat al-Asima , Amman Governorate is one of the governorates - locally known as muhafazat - in Jordan. This governorate's capital is the City of Amman, It is also Jordan's capital...



7,579
2,265,100
298.9
Balqa

Balqa

Balqa is one of the governorates of Jordan. It is located northwest of Amman, Jordan's capital.The governorate has the fourth largest population of the 12 governorates of Jordan, and is ranked 10th by Area...



1,119
391,900
350.2
Zarqa

Zarqa Governorate

Zarqa Governorate is the third largest governorate in Jordan by population. The capital of Zarqa governorate is Zarqa City, which is the largest city in the governorate. It is located 25 km east of the Jordanian capital Amman...



4,761
871,600
183.1
Madaba

Madaba Governorate

Madaba, is one of the governorates of Jordan, it is located south west of Amman, capital of Jordan. Its capital is Madaba. The governorate is ranked eighth by population and by area in Jordan...



940
146,300
155.6
Central Region
14,399
3,674,900
255.2
Karak
3,495
228,200
65.3
Tafilah

Tafilah Governorate

Tafilah is one of the governorates of Jordan, located about 180 km south-west of Amman, Jordan's capital.Tafilah Governorate is bordered by Karak Governorate to the north, Ma'an Governorate to the east and south, Aqaba Governorate to the south, and by Israel to the west. The area of this...



2,209
81,900
37.1
Ma'an

Ma'an Governorate

Ma'an is one of the governorates of Jordan, it is located south of Amman, Jordan's capital. Its capital is the city of Ma'an. This governorate is the largest in the kingdom of Jordan by area.-History:...



32,832
111,200
3.4
Aqaba

Aqaba Governorate

Aqaba is one of the governorates of Jordan, located south of Amman, capital of Jordan. Its capital is Aqaba. It is the fourth largest governorate in Jordan by area and is ranked 10th by population....



6,900
127,500
18.5
South Region
45,436
548,800
12.1