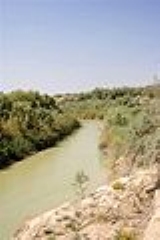 Baptism of Jesus
The
baptism of Jesus
marks the beginning of Jesus Christ's
public ministry
Ministry of Jesus
In the Christian gospels, the Ministry of Jesus begins with his Baptism in the countryside of Judea, near the River Jordan and ends in Jerusalem, following the Last Supper with his disciples. The Gospel of Luke states that Jesus was "about 30 years of age" at the start of his ministry...
. This event is recorded in the Canonical Gospels of Matthew, Mark and Luke. In John 1:29-33 rather than a direct narrative, the Baptist bears witness to the episode. The Baptism is one of the five major milestones in the gospel narrative of the life of Jesus, the others being
Transfiguration
Transfiguration of Jesus
The Transfiguration of Jesus is an event reported in the New Testament in which Jesus is transfigured and becomes radiant upon a mountain. The Synoptic Gospels describe it, and 2 Peter 1:16-18 refers to it....
,
Crucifixion
Crucifixion of Jesus
The crucifixion of Jesus and his ensuing death is an event that occurred during the 1st century AD. Jesus, who Christians believe is the Son of God as well as the Messiah, was arrested, tried, and sentenced by Pontius Pilate to be scourged, and finally executed on a cross...
,
Resurrection
Resurrection of Jesus
The Christian belief in the resurrection of Jesus states that Jesus returned to bodily life on the third day following his death by crucifixion. It is a key element of Christian faith and theology and part of the Nicene Creed: "On the third day he rose again in fulfillment of the Scriptures"...
and Ascension.
John the Baptist
John the Baptist
John the Baptist was an itinerant preacher and a major religious figure mentioned in the Canonical gospels. He is described in the Gospel of Luke as a relative of Jesus, who led a movement of baptism at the Jordan River...
preached a 'baptism with water', not of foregiveness but of penance or repentance for the remission of sins , and declared himself a forerunner to One who would baptise 'with the Holy Ghost and with fire' .