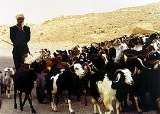 Goatherd
A
goatherd
or
goatherder
is a person who herds goats as a vocational activity. Similar to a
fisherman
Fisherman
A fisherman or fisher is someone who captures fish and other animals from a body of water, or gathers shellfish. Worldwide, there are about 38 million commercial and subsistence fishermen and fish farmers. The term can also be applied to recreational fishermen and may be used to describe both men...
who catches fish for a living, the drover here herds goats. Goatherds are popular in countries where goat populations are significant; for instance, in
Africa
Africa
Africa is the world's second largest and second most populous continent, after Asia. At about 30.2 million km² including adjacent islands, it covers 6% of the Earth's total surface area and 20.4% of the total land area...
and
South Asia
South Asia
South Asia, also known as Southern Asia, is the southern region of the Asian continent, which comprises the sub-Himalayan countries and, for some authorities , also includes the adjoining countries to the west and the east...
. Goats are typically bred as dairy or meat animals, with some breeds being shorn for wool (see Goats in agriculture).
Fictional goatherds include Peter from
Johanna Spyri's
Johanna Spyri
Johanna Spyri was an author of children's stories, and is best known for her book Heidi. Born Johanna Louise Heusser in the rural area of Hirzel, Switzerland, as a child she spent several summers in the area around Chur in Graubünden, the setting she later would use in her novels.-Biography:In...
Heidi
Heidi
Heidi is a Swiss work of fiction, published in two parts as Heidi's years of learning and travel and Heidi makes use of what she has learned.It is a novel about the events in the life of a young girl in her grandfather's care, in the Swiss Alps...
, and the song "
The Lonely Goatherd
The Lonely Goatherd
"The Lonely Goatherd" is a show tune from the musical The Sound of Music that makes use of yodelling.This song tells the whimsical story of a goatherd whose yodelling is heard from far off and by passers-by, until he falls in love with a girl who wears a pale-pink coat, with her mother joining in...
" from
The Sound of Music
The Sound of Music
The Sound of Music is a musical by Richard Rodgers, lyrics by Oscar Hammerstein II and a book by Howard Lindsay and Russel Crouse. It is based on the memoir of Maria von Trapp, The Story of the Trapp Family Singers...
.
Enid Blyton
Enid Blyton
Enid Blyton was an English children's writer also known as Mary Pollock.Noted for numerous series of books based on recurring characters and designed for different age groups,her books have enjoyed huge success in many parts of the world, and have sold over 600 million copies.One of Blyton's most...
's novel
The Secret of Killimooin
, set in the fictional but probably eastern European country of Baronia, features a blind goatherd called Beowald, who is so in tune with his environment that he can roam the mountains using his other senses, apparently unhindered by his lack of sight. The word capriculturist, which is derived from Latin, began to appear with some frequency in the late 1940s.