 Glassware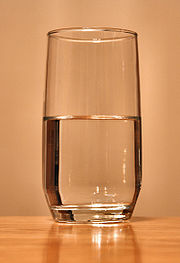 This
list of glassware
includes drinking vessels (drinkware),
tableware
Tableware
Tableware is the dishes or dishware , dinnerware , or china used for setting a table, serving food, and for dining. Tableware can be meant to include flatware and glassware...
, such as dishes, and flatware used to set a table for eating a meal, general glass items such as vases, and glasses used in the catering industry whether made of glass or plastics such as polystyrene and polycarbonate.
Drinkware
Drinkware
,
beverageware
(colloquially referred to as
cups
) is a general term for a vessel intended to contain beverages or liquid
food
Food
Food is any substance consumed to provide nutritional support for the body. It is usually of plant or animal origin, and contains essential nutrients, such as carbohydrates, fats, proteins, vitamins, or minerals...
s for
drink
Drink
A drink, or beverage, is a liquid which is specifically prepared for human consumption. In addition to fulfilling a basic human need, beverages form part of the culture of human society.-Water:...
ing or consumption.
Beaker

Beaker (drinkware)

A beaker is a beverage container, and a term used in parts of the UK. A beaker is typically a non-disposable plastic or ceramic cup or mug without a handle, much like a laboratory beaker....



Beer stein

Beer stein

Beer stein , or simply stein, is an English neologism for either traditional beer mugs made out of stoneware, or specifically ornamental beer mugs that are usually sold as souvenirs or collectibles...



Chalice

Chalice (cup)

A chalice is a goblet or footed cup intended to hold a drink. In general religious terms, it is intended for drinking during a ceremony.-Christian:...



Coffee cup

Coffee cup

A coffee cup may refer to a type of container from which coffee is consumed. Coffee cups are typically made of glazed ceramic, and have a single handle, allowing for portability while still hot...



Cup
Tumblers
Goblet
Mug

Mug

A mug is a sturdily built type of cup often used for drinking hot beverages, such as coffee, tea, or hot chocolate. Mugs, by definition, have handles and often hold a larger amount of fluid than other types of cup. Usually a mug holds approximately 12 fluid ounces of liquid; double a tea cup...



Quaich

Quaich

A quaich , archaically quaigh, is a special kind of shallow two-handled drinking cup or bowl in Scotland. It derives from the Scottish Gaelic cuach meaning a cup....



Sake cup

Sake set

A sake set is a generic term for the flask and cups used to serve sake, the traditional Japanese alcoholic beverage made from rice. Sake sets are commonly ceramic, but may be glass or lacquered plastic...


(ochoko)
Stemware

Stemware

Stemware is drinkware that stands on stems above a base. It is usually made from glass, but may be made from ceramics or metals.Stemware includes:* Wine glasses* Champagne flutes* Chalices and goblets...



Tankard

Tankard

A tankard is a form of drinkware consisting of a large, roughly cylindrical, drinking cup with a single handle. Tankards are usually made of silver, pewter, or glass, but can be made of other materials, for example wood, ceramic or leather. A tankard may have a hinged lid, and tankards featuring...



Teacup

Teacup

A teacup is a small cup, with or without a handle, generally a small one that may be grasped with the thumb and one or two fingers. It is typically made of a ceramic material. It is usually part of a set, composed of a cup and a matching saucer. These in turn may be part of a tea set in...



Wine glass

Wine glass

A wine glass is a type of glass stemware that is used to drink and taste wine. It is generally composed of three parts: the bowl, stem, and foot...



Paper cup

Paper cup

A paper cup is a cup made out of paper and often lined with plastic or wax to prevent liquid from leaking out or soaking through the paper. It may be made of recycled paper and is widely used around the world.-History:...



Pythagorean cup

Pythagorean cup

A Pythagorean cup is a form of drinking cup which forces its user to imbibe only in moderation. Credited to Pythagoras of Samos, it allows the user to fill the cup with wine up to a certain level. If the user fills the cup only up to that level he may enjoy his drink in peace...



Tumblers
Tumblers are flat-bottomed drinking glasses.
Collins glass

Collins glass

A collins glass is a glass tumbler which typically will contain 10 to 14 fluid ounces . It is used to serve mixed drinks, especially Tom Collins cocktails. It is cylindrical in shape and narrower than a highball glass.- External links :*...


, for a tall mixed drink
Dizzy Cocktail glass

Dizzy Cocktail glass

A Dizzy Cocktail glass is a tumbler glass with a shallow bowl, ideal for serving cocktails. It is comparable to a Martini glass or cocktail glass but it has no stem....


, a glass with a wide, shallow bowl, comparable to a normal Cocktail glass but without the stem
Highball glass

Highball glass

A highball glass is a glass tumbler which will contain 8 to 12 fluid ounces . It is used to serve highball cocktails and other mixed drinks.A highball glass is taller than an Old Fashioned glass, and shorter and wider than a Collins glass....


, for mixed drinks
Iced tea glass
Juice glass, for fruit juices
Old Fashioned glass

Old fashioned glass

The Old Fashioned glass, lowball glass, or rocks glass is a short tumbler used for serving an alcoholic beverage, such as whisky, with ice cubes...


, traditionally, for a simple cocktail or liquor "on the rocks

Ice cube

Ice cubes are small, roughly cube-shaped pieces of ice, conventionally used to cool beverages. Ice cubes are often preferred over crushed ice because they melt more slowly; they are standard in mixed drinks that call for ice, in which case the drink is said to be "on the rocks."Ice cubes are...


". Contemporary American "rocks" glasses may be much larger, and used for a variety of beverages over ice
Shot glass

Shot glass

A shot glass is a small glass designed to hold or measure spirits or liquor, which is either drunk straight from the glass or poured into a mixed drink....


, a small glass for up to four ounces of liquor. The modern shot glass has a thicker base and sides than the older whiskey glass

Table-glass

Table-glass

Table-glass or granyonyi stakan or granchak is a type of drinkware made from especially hard and thick glass and having a faceted form. It is a very widespread form of drinking glass in Russia and the former Soviet Union. Granyonyi stakan has certain advantages over the other drinkware, since due...


or stakan granyonyi
Water glass
Whiskey tumbler, a small, thin-walled glass for a straight shot of liquor
Beer glassware
Beer glassware
Beer glassware comprises the drinking vessels made of glass designed or commonly used for drinking beer. Different styles of glassware exist for a number of reasons: they may reflect national traditions; they may reflect legislation regarding serving measures; they may relate to practicalities of...
New Zealand beer glasses
Handle – 425mL New Zealand beer glass
Jug – 750–1000mL served at pubs in New Zealand
Australian beer glasses
Middy – 285mL (10 fl. oz.) Australian beer glass (New South Wales)
Pot – 285mL (10 fl. oz.) Australian beer glass (Queensland & Victoria)
Schooner – 425mL (15 fl. oz.) Australian beer glass, 285 mL (10 fl. oz.) in South Australia
Stemware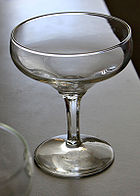 Bordeaux, or claret
Burgundy
Chalice (cup)

Chalice (cup)

A chalice is a goblet or footed cup intended to hold a drink. In general religious terms, it is intended for drinking during a ceremony.-Christian:...


, an ornate stem glass, especially one for ceremonial purposes
Champagne coupe , a stem glass with a wide, shallow bowl, for champagne (similar to a cocktail glass)
Champagne flute, a stem glass with a tall, narrow bowl, for champagne
Cocktail glass

Cocktail glass

A cocktail glass is a stemmed glass which has a cone-shaped bowl placed upon a stem above a flat base. It is mainly used to serve cocktails. Its form derives from the fact that all cocktails are traditionally served chilled and contain an aromatic element...


, a stem glass with a wide, shallow bowl, for cocktails
Cordial
Sherbet, a stem glass for ice cream or sherbet
Sherry glass
Snifter

Snifter

A snifter — also called a balloon — is a type of stemware, a short-stemmed glass whose vessel has a wide bottom and a relatively narrow top. It is mostly used to serve aged brown spirits such as brandy and whisky...


, a liquor glass with a short stem and a wide bowl that narrows at the top, for brandy and liquor
Wine glass

Wine glass

A wine glass is a type of glass stemware that is used to drink and taste wine. It is generally composed of three parts: the bowl, stem, and foot...


, a stem glass
Water, a large stem glass for water
Other
Glass container, container made from glass
Art glass

Art glass

Definitions of art glass can be as complex and contentious as definitions of what constitutes "art" and will inevitably include many refinements and exceptions...


, glassware that is modern art
Laboratory glassware

Laboratory glassware

Laboratory glassware refers to a variety of equipment, traditionally made of glass, used for scientific experiments and other work in science, especially in chemistry and biology laboratories...


, a variety of equipment, traditionally made of glass, used for scientific experiments
Yard glass

Yard glass

A yard of ale or yard glass is a very tall beer glass used for drinking around of beer, depending upon the diameter. The glass is approximately 1 yard long, shaped with a bulb at the bottom, and a widening shaft which constitutes most of the height....


, a very tall, conical beer glass, with a round ball base, usually hung on a wall when empty
Pitcher

Pitcher (container)

A pitcher is a container with a spout used for storing and pouring contents which are liquid in form. Generally a pitcher also has a handle, which makes pouring easier.A ewer is a vase-shaped pitcher, often decorated, with a base and a flaring spout...


, a container, usually with a spout for pouring its contents
Vase

Vase

The vase is an open container, often used to hold cut flowers. It can be made from a number of materials including ceramics and glass. The vase is often decorated and thus used to extend the beauty of its contents....


, an open container often used to hold flowers
Punch bowl

Punch bowl

A punch bowl is a bowl, often large and wide, in which the drink punch is served.-Origins:The word punch is a loanword from Hindi. The original drink was named paantsch, which is Hindi for "five", and the drink was made from five different ingredients: spirit, sugar, lemon, water, and tea or spices...


a bowl that punch is put in, generally used in parties
Beverage coaster a flat ceramic or wood piece that protects tables