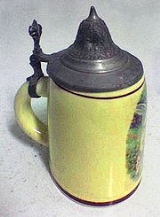 Tankard
A
tankard
is a form of drinkware consisting of a large, roughly
cylindrical
Cylinder (geometry)
A cylinder is one of the most basic curvilinear geometric shapes, the surface formed by the points at a fixed distance from a given line segment, the axis of the cylinder. The solid enclosed by this surface and by two planes perpendicular to the axis is also called a cylinder...
, drinking cup with a single handle. Tankards are usually made of
silver
Silver
Silver is a metallic chemical element with the chemical symbol Ag and atomic number 47. A soft, white, lustrous transition metal, it has the highest electrical conductivity of any element and the highest thermal conductivity of any metal...
,
pewter
Pewter
Pewter is a malleable metal alloy, traditionally 85–99% tin, with the remainder consisting of copper, antimony, bismuth and lead. Copper and antimony act as hardeners while lead is common in the lower grades of pewter, which have a bluish tint. It has a low melting point, around 170–230 °C ,...
, or
glass
Glass
Glass is an amorphous solid material. Glasses are typically brittle and optically transparent.The most familiar type of glass, used for centuries in windows and drinking vessels, is soda-lime glass, composed of about 75% silica plus Na2O, CaO, and several minor additives...
, but can be made of other materials, for example
wood
Wood
Wood is a hard, fibrous tissue found in many trees. It has been used for hundreds of thousands of years for both fuel and as a construction material. It is an organic material, a natural composite of cellulose fibers embedded in a matrix of lignin which resists compression...
,
ceramic
Ceramic
A ceramic is an inorganic, nonmetallic solid prepared by the action of heat and subsequent cooling. Ceramic materials may have a crystalline or partly crystalline structure, or may be amorphous...
or
leather
Leather
Leather is a durable and flexible material created via the tanning of putrescible animal rawhide and skin, primarily cattlehide. It can be produced through different manufacturing processes, ranging from cottage industry to heavy industry.-Forms:...
. A tankard may have a hinged
lid
Lid
LID is an abbreviation for:* Local light injection and detection, a method to determine fibre splice losses, especially in polarisation-maintaining fibre splicing...
, and tankards featuring glass bottoms are also fairly common. Tankards are shaped and used similarly to
beer stein
Beer stein
Beer stein , or simply stein, is an English neologism for either traditional beer mugs made out of stoneware, or specifically ornamental beer mugs that are usually sold as souvenirs or collectibles...
s.
Wooden tankards
The word "tankard" originally meant any wooden vessel (13th century) and later came to mean a drinking vessel. . The earliest tankards were made of wooden staves, similar to a
barrel
Barrel
A barrel or cask is a hollow cylindrical container, traditionally made of vertical wooden staves and bound by wooden or metal hoops. Traditionally, the barrel was a standard size of measure referring to a set capacity or weight of a given commodity. A small barrel is called a keg.For example, a...
, and did not have lids. A 2000 year old wooden tankard of approximately four pint capacity has been unearthed in Wales.
Glass bottoms
Metal tankards are often sometimes with glass bottoms. The legend (but a myth) is that the glass bottomed tankard was developed as a way of refusing the
King's shilling
King's shilling
For many years a soldier's daily pay, before stoppages, was the shilling given as an earnest payment to recruits of the British Army and the Royal Navy of the 18th and 19th centuries...
, i.e. conscription into the British army or navy. The drinker could see the coin in the bottom of the glass and refuse the drink, thereby avoiding conscription.
In a bar fight, the first punch was thrown while the recipient had the tankard raised to his mouth; another legend has it that the glass bottom was implemented so as to see the attack coming.
A further story is that the glass bottom merely allowed the drinker to judge the clarity of their drink while forgoing the expense of a fragile pint glass.
Glass bottoms are sometimes retrofitted to antique tankards, reducing their value and authenticity.
Modern tankards
Metal and ceramic tankards are still manufactured, but are regarded as speciality or novelty items. Modern metal tankards are often engraved to commemorate some occasion.
Glass tankards — that is, straight-sided or inward-sloping glass vessels with strap handles — are still in everyday use.
Lead leaching from pewter
In previous centuries, the
pewter
Pewter
Pewter is a malleable metal alloy, traditionally 85–99% tin, with the remainder consisting of copper, antimony, bismuth and lead. Copper and antimony act as hardeners while lead is common in the lower grades of pewter, which have a bluish tint. It has a low melting point, around 170–230 °C ,...
used to make tankards often contained
lead
Lead
Lead is a main-group element in the carbon group with the symbol Pb and atomic number 82. Lead is a soft, malleable poor metal. It is also counted as one of the heavy metals. Metallic lead has a bluish-white color after being freshly cut, but it soon tarnishes to a dull grayish color when exposed...
, which exposed the drinker to medical effects ranging from heavy metal poisoning to
gout
Gout
Gout is a medical condition usually characterized by recurrent attacks of acute inflammatory arthritis—a red, tender, hot, swollen joint. The metatarsal-phalangeal joint at the base of the big toe is the most commonly affected . However, it may also present as tophi, kidney stones, or urate...
. This effect was exacerbated in
cider
Cider
Cider or cyder is a fermented alcoholic beverage made from apple juice. Cider varies in alcohol content from 2% abv to 8.5% abv or more in traditional English ciders. In some regions, such as Germany and America, cider may be termed "apple wine"...
drinking areas such as Somerset, UK, as the acid qualities of the cider leached out the lead content from the pewter more quickly.
Clay
Clay
Clay is a general term including many combinations of one or more clay minerals with traces of metal oxides and organic matter. Geologic clay deposits are mostly composed of phyllosilicate minerals containing variable amounts of water trapped in the mineral structure.- Formation :Clay minerals...
tankards became prevalent in this area. Pewter is now widely lead-free.
In popular culure
A 1970's TV advertising campaign for
Whitbread
Whitbread
Whitbread PLC is a global hotel, coffee shop and restaurant company headquartered in Dunstable, United Kingdom. Its largest division is Premier Inn, which is the largest hotel brand in the UK with around 580 hotels and over 40,000 rooms. Its Costa Coffee chain has around 1,600 stores across 25...
beer features a pub landlord spinning a
tall story
Tall Story
Tall Story is a 1960 American sports comedy film directed by Joshua Logan and starring Anthony Perkins and Jane Fonda. Future star Robert Redford made his big-screen debut as a basketball player....
to an American tourist, who suspiciously asks: "Are you
really
Lord Tankard?".
External links