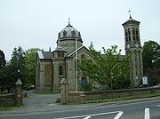 Gerrards Cross
Gerrards Cross
is a village in
Buckinghamshire
Buckinghamshire
Buckinghamshire is a ceremonial and non-metropolitan home county in South East England. The county town is Aylesbury, the largest town in the ceremonial county is Milton Keynes and largest town in the non-metropolitan county is High Wycombe....
,
England
England
England is a country that is part of the United Kingdom. It shares land borders with Scotland to the north and Wales to the west; the Irish Sea is to the north west, the Celtic Sea to the south west, with the North Sea to the east and the English Channel to the south separating it from continental...
. It is in the south of the county, near the border with
Greater London
Greater London
Greater London is the top-level administrative division of England covering London. It was created in 1965 and spans the City of London, including Middle Temple and Inner Temple, and the 32 London boroughs. This territory is coterminate with the London Government Office Region and the London...
, south of
Chalfont St Peter
Chalfont St Peter
Chalfont St Peter is a village and civil parish in Chiltern district in south-east Buckinghamshire, England. It is in a group of villages called The Chalfonts which also includes Chalfont St Giles and Little Chalfont. The villages lie between High Wycombe and Rickmansworth. Chalfont St Peter is...
. Gerrards Cross is also a civil parish within
South Bucks
South Bucks
South Bucks is one of four local government districts in the non-metropolitan county of Buckinghamshire, in South East England.The district was formed on 1 April 1974 by the Local Government Act 1972, by the amalgamation of the area of Beaconsfield Urban District with part of Eton Rural District...
district, which was known as the
Beaconsfield
Beaconsfield
Beaconsfield is a market town and civil parish operating as a town council within the South Bucks district in Buckinghamshire, England. It lies northwest of Charing Cross in Central London, and south-east of the county town of Aylesbury...
district from 1974 to 1980. This had been formed on April 1, 1974 by the merger of part of
Eton Rural District
Eton Rural District
Eton was a rural district in the administrative county of Buckinghamshire, England. It was named after but did not contain Eton, which was an urban district....
(including Gerrards Cross) with
Beaconsfield Urban District
Beaconsfield Urban District
Beaconsfield Urban District was from 1894 to 1974 a local government district in the administrative county of Buckinghamshire, England. The urban district took over the responsibilities of the disbanded Beaconsfield Local Board District. The district contained the whole of the town and civil parish...
.
History
The village name is fairly new, when compared with other villages that surround it. Gerrards Cross did not exist in any formal sense until 1859 when it was formed by taking pieces out of the five parishes of Chalfont St Peter,
Fulmer
Fulmer
Fulmer is a village and civil parish in South Buckinghamshire district in Buckinghamshire, England. The village is now contiguous with Gerrards Cross but remains administratively separate....
,
Iver
Iver
Iver is in the south-east corner of the English county of Buckinghamshire and it forms one of the largest civil parishes in the South Bucks district.Iver railway station is in Richings Park.-Etymology:...
, Langley Marish and
Upton
Upton, Buckinghamshire
Upton is a hamlet in the parish of Dinton-with-Ford and Upton, in Buckinghamshire, England. It is located to the north of the main village of Dinton, on the junction between the new road from Aylesbury to Thame, and the old road before it was rerouted....
to form a new ecclesiastical parish. It is named after the Gerrard family who in the early 17th century owned a
manor
Manorialism
Manorialism, an essential element of feudal society, was the organizing principle of rural economy that originated in the villa system of the Late Roman Empire, was widely practiced in medieval western and parts of central Europe, and was slowly replaced by the advent of a money-based market...
here. At that time it was a
hamlet
Hamlet (place)
A hamlet is usually a rural settlement which is too small to be considered a village, though sometimes the word is used for a different sort of community. Historically, when a hamlet became large enough to justify building a church, it was then classified as a village...
in the parish of Chalfont St Peter. It is the site of an
Iron Age
Iron Age
The Iron Age is the archaeological period generally occurring after the Bronze Age, marked by the prevalent use of iron. The early period of the age is characterized by the widespread use of iron or steel. The adoption of such material coincided with other changes in society, including differing...
hillfort.
Facilities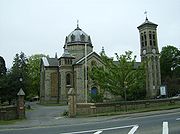 The large and distinctive
parish church
Parish church
A parish church , in Christianity, is the church which acts as the religious centre of a parish, the basic administrative unit of episcopal churches....
is dedicated to St. James
http://www.saintjames.org.uk/
. It was built in 1861 as a memorial to General
Reid
Reid
Reid is a surname of Scottish and Irish origin, and is the 90th most common surname in the UK.It may refer to:* Reid Caldwell, Species undefined.* Reid, Australian Capital Territory, inner suburb of Canberra, Australia...
who was MP for Windsor and designed by Sir
William Tite
William Tite
Sir William Tite, CB was an English architect who served as President of the Royal Institute of British Architects. He was particularly associated with various London buildings, with railway stations and cemetery projects....
in yellow brick with a
Byzantine
Byzantine architecture
Byzantine architecture is the architecture of the Byzantine Empire. The empire gradually emerged as a distinct artistic and cultural entity from what is today referred to as the Roman Empire after AD 330, when the Roman Emperor Constantine moved the capital of the Roman Empire east from Rome to...
style dome, Chinese looking
turret
Turret
In architecture, a turret is a small tower that projects vertically from the wall of a building such as a medieval castle. Turrets were used to provide a projecting defensive position allowing covering fire to the adjacent wall in the days of military fortification...
s and an Italianate
Campanile
Campanile
Campanile is an Italian word meaning "bell tower" . The term applies to bell towers which are either part of a larger building or free-standing, although in American English, the latter meaning has become prevalent.The most famous campanile is probably the Leaning Tower of Pisa...
. In 1969 the singer
Lulu
Lulu (singer)
Lulu Kennedy-Cairns, OBE , best known by her stage name Lulu, is a Scottish singer, actress, and television personality who has been successful in the entertainment business from the 1960s through to the present day...
married
Maurice Gibb
Maurice Gibb
Maurice Ernest Gibb, CBE was a musician, singer-songwriter and record producer. He was born on the Isle of Man, the twin brother of Robin Gibb, and younger brother to Barry. He is best known as a member of the singing/songwriting trio the Bee Gees, formed with his brothers...
of the
Bee Gees
Bee Gees
The Bee Gees are a musical group that originally comprised three brothers: Barry, Robin, and Maurice Gibb. The trio was successful for most of their 40-plus years of recording music, but they had two distinct periods of exceptional success: as a pop act in the late 1960s and early 1970s, and as a...
in the church. Originally named Jarrett's Cross before the times of the Gerrard family, after a highwayman and Jarrett's Hill is still there going up to
WEC International
WEC International
WEC International is a mission agency which focuses on church planting, and emphasises the importance of shared life in a local church as a vital expression of Christian life...
off the A40 and Jarrett's Cottages are also still in existence. The actress
Margaret Rutherford
Margaret Rutherford
Dame Margaret Taylor Rutherford DBE was an English character actress, who first came to prominence following World War II in the film adaptations of Noel Coward's Blithe Spirit, and Oscar Wilde's The Importance of Being Earnest...
is buried in the
St James Church
St James Church, Gerrards Cross
St James is an evangelical Church of England parish church in Gerrards Cross, Buckinghamshire.It is in the Deanery of Amersham, and in the Diocese of Oxford....
graveyard.
Gerrards Cross has its own well stocked library, a two screen cinema and various restaurants.
Independent schools include Maltman's Green School (all girls), St Mary's,
Gayhurst
Gayhurst School
Gayhurst School Trust is a preparatory school in Buckinghamshire, England.-History:Based in Gerrards Cross, Buckinghamshire, Gayhurst was founded in 1908 at Milton Avenue, Gerrards Cross as an independent boarding school preparing boys for entry into the leading English Public Schools...
and Thorpe House. Students of secondary school age attend either one of the local
grammar school
Grammar school
A grammar school is one of several different types of school in the history of education in the United Kingdom and some other English-speaking countries, originally a school teaching classical languages but more recently an academically-oriented secondary school.The original purpose of mediaeval...
s, such as
Dr Challoner's Grammar School
Dr Challoner's Grammar School
Dr Challoner's Grammar School, often abbreviated to DCGS, is an Academy Grammar School of approximately 1,300 boys located in Amersham, Buckinghamshire, England....
(Boys),
Dr Challoner's High School
Dr Challoner's High School
Dr Challoner's High School, abbreviated to DCHS, is a grammar school for girls between the ages of 11 and 18, located in Buckinghamshire, England. In August 2011 the school became an Academy....
(Girls), The
Royal Grammar School, High Wycombe
Royal Grammar School, High Wycombe
See Royal Grammar School for the other schools with the name RGS.The Royal Grammar School High Wycombe is a selective grammar school situated in High Wycombe, Buckinghamshire, England. As a state school it does not charge fees for students to attend, but they must pass an entrance exam...
(Boys),
John Hampden Grammar School
John Hampden Grammar School
John Hampden Grammar School is a boys' grammar school in High Wycombe, Buckinghamshire, England. It is named after politician and English Civil War participant John Hampden.-History:...
(Boys), and
Beaconsfield High School
Beaconsfield High School
Beaconsfield High School is a girls' grammar school in Beaconsfield, Buckinghamshire. It is a Foundation School, which takes girls from the age of 11 through to the age of 18...
(Girls) or the local
Upper School
Upper school
Upper Schools tend to be schools within secondary education. Outside England, the term normally refers to a section of a larger school. There is some variation in the use of the term in England.-State Maintained Schools:...
,
Chalfonts Community College
Chalfonts Community College
Chalfonts Community College is a co-educational secondary school in Chalfont St Peter, Buckinghamshire. It takes children from the age of 11 through to 18 and has approximately 1,784 pupils. In August 2011 the school became an Academy.-About:...
, which is the
catchment
Catchment area (human geography)
In human geography, a catchment area is the area and population from which a city or individual service attracts visitors or customers. For example, a school catchment area is the geographic area from which students are eligible to attend a local school...
school. However some students are sent to leading independent schools.
Just outside Gerrards Cross, on the A40 to Beaconsfield, is one of the UK's largest landfill sites. The landfill operated by Veolia Landfill Ltd can currently accept up to 900,000 tonnes of non hazardous waste each year from south Buckinghamshire, London and other surrounding areas. The site is expected to cease accepting waste and enter a period of restoration and aftercare in 2013, but Veolia announced in 2009 that due to the economic climate this may take longer than expected. The
landfill gas
Landfill gas
Landfill gas is a complex mix of different gases created by the action of microorganisms within a landfill.-Production:Landfill gas production results from chemical reactions and microbes acting upon the waste as the putrescible materials begins to break down in the landfill...
produced from the waste is put to good use with thirteen specially adapted engines producing over 10 megawatts of electricity which is feed back into the local power grid.
Veolia's own website
The future of the landfill site is mired in controversy after an unsuccessful bid by Veolia to build a waste to energy plant in 2009 to dispose of Buckinghamshire's household waste. Despite failing to be selected for this contract Veolia have refused to rule out the possibility of them building their own energy from waste site to dispose of commercial and industrial waste.
Buckinghamshire Residents Against Incineration (Brains)
Reputation
The exclusive Gerrards Cross is one of England's most desirable places to live and is often referred to as 'mini Hollywood' due to its celebrity residents. Gerrards Cross has a reputation for being very upmarket and exclusive, with house prices being considerably higher than average. Located in the commuter belt of
London
London
London is the capital city of :England and the :United Kingdom, the largest metropolitan area in the United Kingdom, and the largest urban zone in the European Union by most measures. Located on the River Thames, London has been a major settlement for two millennia, its history going back to its...
, the village is the most expensive postcode to purchase a property in the country outside London. In February 2010,
Declan Curry
Declan Curry
Declan Curry is an Irish journalist, presenter and businessman, currently employed by the BBC and best known as the former Business Correspondent for BBC Breakfast.-Early career:Curry studied chemistry at Imperial College, London...
of the
BBC
BBC
The British Broadcasting Corporation is a British public service broadcaster. Its headquarters is at Broadcasting House in the City of Westminster, London. It is the largest broadcaster in the world, with about 23,000 staff...
described Gerrards Cross as "Britain's richest town".
Transport
The village has a
railway station
Gerrards Cross railway station
Gerrards Cross railway station serves the villages of Gerrards Cross and Chalfont St Peter in Buckinghamshire. It is in a cutting on the Chiltern Main Line between and ....
on the
Chiltern Line
Chiltern Railways
Chiltern Railways is a British train operating company. It was set up at the privatisation of British Rail in 1996, and operates local passenger trains from Marylebone station in London to Aylesbury and main-line trains on the Chiltern Main Line to Birmingham Snow Hill with its associated branches...
which opened on 2 April 1906. This provides services to London and Birmingham with a commuting time of about 25 minutes to
London Marylebone
Marylebone station
Marylebone station , also known as London Marylebone, is a central London railway terminus and London Underground complex. It stands midway between the mainline stations at Euston and Paddington, about 1 mile from each...
. A tunnel being constructed to allow
Tesco
Tesco
Tesco plc is a global grocery and general merchandise retailer headquartered in Cheshunt, United Kingdom. It is the third-largest retailer in the world measured by revenues and the second-largest measured by profits...
to build a supermarket
collapsed
Gerrards Cross tunnel collapse
Gerrards Cross Tunnel is a railway tunnel in Gerrards Cross, Buckinghamshire, on the Chiltern Main Line. The purpose of the tunnel was to enable a new Tesco supermarket to be built over the railway line...
on 30 June 2005 at 19:30. Nobody was injured but the line was closed for over six weeks, eventually reopening on 20 August 2005. Compensation by Tesco to Chiltern is believed to have cost at least £8.5m and the retailer pledged to fund a media campaign to win back passengers lost by the closure of its route. Construction of the tunnel began again in January 2009.
The village is 14 miles (22.5 km) from London's Heathrow Airport.
Recent history
Many of the houses built during development in the 1950s had defective tiles, leading to the
House of Lords
House of Lords
The House of Lords is the upper house of the Parliament of the United Kingdom. Like the House of Commons, it meets in the Palace of Westminster....
judgment:
Young & Marten Ltd v McManus Childs Ltd
[1969] 1 AC 454 to the effect that a person who contracts to do work and supply materials warrants that the materials will be fit for purpose, even if the purchaser specifies the materials to be used.
Popular culture
Stanley Kubrick
Stanley Kubrick
Stanley Kubrick was an American film director, writer, producer, and photographer who lived in England during most of the last four decades of his career...
filmed some of the exteriors in his feature 1962 film
Lolita
Lolita (1962 film)
Lolita is a 1962 comedy-drama film by Stanley Kubrick based on the classic novel of the same title by Vladimir Nabokov. The film stars James Mason as Humbert Humbert, Sue Lyon as Dolores Haze and Shelley Winters as Charlotte Haze with Peter Sellers as Clare Quilty.Due to the MPAA's restrictions at...
, notably "Charlotte Haze's house", in Gerrards Cross.
"The Italian Lesson" sketch in the first episode of the first series of the
BBC Television
BBC Television
BBC Television is a service of the British Broadcasting Corporation. The corporation, which has operated in the United Kingdom under the terms of a Royal Charter since 1927, has produced television programmes from its own studios since 1932, although the start of its regular service of television...
comedy show
Monty Python's Flying Circus
Monty Python's Flying Circus
Monty Python's Flying Circus is a BBC TV sketch comedy series. The shows were composed of surreality, risqué or innuendo-laden humour, sight gags and observational sketches without punchlines...
(first broadcast in 1969) includes the line
"'Sono Inglese di Gerrard's Cross', I am an Englishman from Gerrard's Cross."
Jethro Tull
Jethro Tull (band)
Jethro Tull are a British rock group formed in 1967. Their music is characterised by the vocals, acoustic guitar, and flute playing of Ian Anderson, who has led the band since its founding, and the guitar work of Martin Barre, who has been with the band since 1969.Initially playing blues rock with...
's song "Journeyman" on their 1978 album
Heavy Horses
Heavy Horses
Heavy Horses is the eleventh studio album by Jethro Tull, released on 10 April 1978. It is considered the second album in a trilogy of folk-rock albums by Jethro Tull, although folk music's influence is evident on a great number of Jethro Tull releases...
includes the line
"Too late to stop for tea at Gerrard's Cross"
.
External links