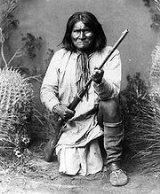 Geronimo
Geronimo was a prominent Native American leader of the
Chiricahua
Chiricahua
Chiricahua are a group of Apache Native Americans who live in the Southwest United States. At the time of European encounter, they were living in 15 million acres of territory in southwestern New Mexico and southeastern Arizona in the United States, and in northern Sonora and Chihuahua in Mexico...
Apache
Apache
Apache is the collective term for several culturally related groups of Native Americans in the United States originally from the Southwest United States. These indigenous peoples of North America speak a Southern Athabaskan language, which is related linguistically to the languages of Athabaskan...
who fought against
Mexico
Mexico
The United Mexican States , commonly known as Mexico , is a federal constitutional republic in North America. It is bordered on the north by the United States; on the south and west by the Pacific Ocean; on the southeast by Guatemala, Belize, and the Caribbean Sea; and on the east by the Gulf of...
and the United States for their expansion into Apache tribal lands for several decades during the
Apache Wars
Apache Wars
The Apache Wars were a series of armed conflicts between the United States and Apaches fought in the Southwest from 1849 to 1886, though other minor hostilities continued until as late as 1924. The Confederate Army participated in the wars during the early 1860s, for instance in Texas, before being...
. Allegedly, "Geronimo" was the name given to him during a Mexican incident. His Chiricahua name is often rendered as Goyathlay or Goyahkla in English.
After an attack by a company of Mexican soldiers killed many members of his family in 1858, Geronimo joined revenge attacks on the Mexicans.
I cannot think we are useless or Usen would not have created us. He created all tribes of men and certainly had a righteous purpose in creating each.

I was no chief and never had been, but because I had been more deeply wronged than others, this honor was conferred upon me, and I resolved to prove worthy of the trust.

I am thankful that the President Of the United States has given me permission to tell my story. I hope that he and those in authority under him will read my story and judge whether my people have been rightly treated.