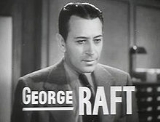 George Raft
George Raft
was an American film actor and dancer identified with portrayals of
gangster
Gangster
A gangster is a criminal who is a member of a gang. Some gangs are considered to be part of organized crime. Gangsters are also called mobsters, a term derived from mob and the suffix -ster....
s in
crime
Crime
Crime is the breach of rules or laws for which some governing authority can ultimately prescribe a conviction...
melodrama
Melodrama
The term melodrama refers to a dramatic work that exaggerates plot and characters in order to appeal to the emotions. It may also refer to the genre which includes such works, or to language, behavior, or events which resemble them...
s (
mob film
Mob film
Mob films are a subgenre of crime films dealing with organized crime, often the Mafia. Especially in early mob films, there is some overlap with film noir.-History:...
s) of the 1930s and 1940s. A stylish leading man in dozens of movies, today George Raft is mostly known for his gangster roles in
Billy Wilder
Billy Wilder
Billy Wilder was an Austro-Hungarian born American filmmaker, screenwriter, producer, artist, and journalist, whose career spanned more than 50 years and 60 films. He is regarded as one of the most brilliant and versatile filmmakers of Hollywood's golden age...
's 1959 comedy
Some Like it Hot
Some Like It Hot
Some Like It Hot is an American comedy film, made in 1958 and released in 1959, which was directed by Billy Wilder and starred Marilyn Monroe, Tony Curtis, Jack Lemmon and George Raft. The supporting cast includes Joe E. Brown, Pat O'Brien and Nehemiah Persoff. The film is a remake by Wilder and I....
, the original
Scarface
Scarface (1932 film)
Scarface is a 1932 American gangster film starring Paul Muni and George Raft, produced by Howard Hughes, directed by Howard Hawks and Richard Rosson, and written by Ben Hecht based on the 1929 novel of the same name by Armitage Trail...
(1932), and
Each Dawn I Die
Each Dawn I Die
Each Dawn I Die is a 1939 gangster film featuring James Cagney and George Raft in their only movie together as leads, although Raft had made an unbilled appearance in a 1932 Cagney vehicle called Taxi! in which he won a dance contest against Cagney, after which he and Cagney brawl...
(1939), and as a dancer in
Bolero
Bolero (1934 film)
Bolero is a musical drama film starring George Raft and Carole Lombard. The movie was a rare chance for Raft to star and to play a dancer, which had been his profession in New York City, rather than a gangster. The film takes its title from the Maurice Ravel composition Boléro .-Plot:The film...
(1934) and a truck driver in
They Drive by Night
They Drive by Night
They Drive by Night is a black-and-white film noir starring George Raft, Ann Sheridan, Ida Lupino, and Humphrey Bogart, and directed by Raoul Walsh. The picture involves a pair of embattled truck drivers and was released in the UK under the title The Road to Frisco. The film was based on A. I...
(1940). Raft's real-life association with the New York mob gave his on-screen image an added realism.
Raft was born
George Ranft
on September 26, 1895 in
Hell's Kitchen
Hell's Kitchen, Manhattan
Hell's Kitchen, also known as Clinton and Midtown West, is a neighborhood of Manhattan in New York City between 34th Street and 59th Street, from 8th Avenue to the Hudson River....
, New York City to German immigrant Conrad Ranft and his wife Eva Glockner.
Part of it went on gambling, and part of it went on women. The rest I spent foolishly

George Raft explaining how he spent a $10 million fortune.