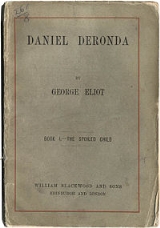 Daniel Deronda
Daniel Deronda
is a
novel
Novel
A novel is a book of long narrative in literary prose. The genre has historical roots both in the fields of the medieval and early modern romance and in the tradition of the novella. The latter supplied the present generic term in the late 18th century....
by
George Eliot
George Eliot
Mary Anne Evans , better known by her pen name George Eliot, was an English novelist, journalist and translator, and one of the leading writers of the Victorian era...
, first published in 1876. It was the last novel she completed and the only one set in the contemporary Victorian society of her day. Its mixture of social
satire
Satire
Satire is primarily a literary genre or form, although in practice it can also be found in the graphic and performing arts. In satire, vices, follies, abuses, and shortcomings are held up to ridicule, ideally with the intent of shaming individuals, and society itself, into improvement...
and moral searching, along with a sympathetic rendering of Jewish proto-Zionist and Kaballistic ideas has made it a controversial final statement of one of the greatest of
Victorian
Victorian literature
Victorian literature is the literature produced during the reign of Queen Victoria . It forms a link and transition between the writers of the romantic period and the very different literature of the 20th century....
novelists.
The novel has been filmed three times, once as a silent feature and twice for television. It has also been adapted for the stage, most notably in a production in the 1960s by the 69 Theatre Company in
Manchester
Manchester
Manchester is a city and metropolitan borough in Greater Manchester, England. According to the Office for National Statistics, the 2010 mid-year population estimate for Manchester was 498,800. Manchester lies within one of the UK's largest metropolitan areas, the metropolitan county of Greater...
with
Vanessa Redgrave
Vanessa Redgrave
Vanessa Redgrave, CBE is an English actress of stage, screen and television, as well as a political activist.She rose to prominence in 1961 playing Rosalind in As You Like It with the Royal Shakespeare Company and has since made more than 35 appearances on London's West End and Broadway, winning...
as Gwendolen Harleth.
Plot summary
Daniel Deronda
contains two main strains of plot, united by the title character. The novel begins in mid-story in late August 1865 with the meeting of Daniel Deronda and Gwendolen Harleth in the fictional town of Leubronn, Germany. Daniel finds himself attracted to, but wary of, the beautiful, stubborn, and selfish Gwendolen, whom he sees lose all her winnings in a game of roulette. The next day, Gwendolen receives a letter from her mother telling her that the family is financially ruined and asking her to come home. In despair at losing all her money, Gwendolen pawns a necklace and debates gambling again in order to make her fortune. In a fateful moment, however, her necklace is returned to her by a porter, and she realises that Daniel saw her pawn the necklace and redeemed it for her. From this point, the plot breaks off into two separate flashbacks, one which gives us the history of Gwendolen Harleth and one of Daniel Deronda.
In October 1864, soon after the death of Gwendolen's stepfather, Gwendolen and her family move to a new neighbourhood. It is here that she meets Henleigh Mallinger Grandcourt, a taciturn and calculating man, who proposes marriage shortly after their first meeting. At first open to his advances, she eventually flees (to the German town in which she meets Deronda) upon discovering that he has several children with his mistress, Lydia Glasher. This portion of the novel sets Gwendolen up as a haughty, selfish, yet affectionate daughter, admired for her beauty but suspected by many in society because of her satirical observations and somewhat
manipulative
Psychological manipulation
Psychological manipulation is a type of social influence that aims to change the perception or behavior of others through underhanded, deceptive, or even abusive tactics. By advancing the interests of the manipulator, often at the other's expense, such methods could be considered exploitative,...
behaviour. She is also prone to fits of terror that shake her otherwise calm and controlling exterior.
Deronda has been raised by a wealthy gentleman, Sir Hugo Mallinger. Deronda's relationship to Sir Hugo is ambiguous and it is widely believed, even by Deronda, that he is Sir Hugo's illegitimate son, though no one is certain. Deronda is an intelligent, light-hearted and compassionate young man who cannot quite decide what to do with his life, and this is a sore point between him and Sir Hugo, who wants him to go into politics. One day in late July 1864, as he is boating on the Thames, Deronda rescues a young Jewish woman, Mirah Lapidoth, from attempting to drown herself. He takes her to the home of friends of his, and it is discovered that Mirah is a singer. She has come to London to search for her mother and brother after running away from her father, who kidnapped her when she was a child and forced her into an acting troupe. She ran away from him finally because she feared he was planning to sell her into an immoral relationship with a friend of his. Moved by her tale, Deronda undertakes to help her look for her mother (who turns out to have died years earlier) and brother and through this, he is introduced to London's Jewish community. Mirah and Daniel grow closer and Daniel, anxious about his growing affection for her, leaves for a short time to join Sir Hugo in Leubronn, where he and Gwendolen first meet.
From here, the story picks up in "real time," and Gwendolen returns from Germany in early September 1865 because her family has lost its fortune in an economic downturn. Gwendolen, having an antipathy to marriage, the only respectable way in which a woman could achieve financial security, attempts to avoid working as a governess by pursuing a career in singing or on the stage, but a prominent musician tells her she does not have the talent. In order to save herself and her family from relative poverty, she marries the wealthy Grandcourt, whom she believes she can manipulate to maintain her freedom to do what she likes, despite having promised Mrs. Glasher she would not marry him and fearing that it is a mistake.
Deronda, searching for Mirah's family, meets a
consumptive
Tuberculosis
Tuberculosis, MTB, or TB is a common, and in many cases lethal, infectious disease caused by various strains of mycobacteria, usually Mycobacterium tuberculosis. Tuberculosis usually attacks the lungs but can also affect other parts of the body...
visionary named Mordecai. Mordecai passionately proclaims his wish that the Jewish people retain their national identity and one day be restored to their Promised Land. Because he is dying, he wants Daniel to become his intellectual heir and continue to pursue his dream and be an advocate for the Jewish people. In spite of being strongly drawn to Mordecai, Deronda hesitates to commit himself to a cause that seems to have no connection to his own identity. Deronda's desire to embrace Mordecai's vision becomes stronger when they discover Mordecai is the brother Mirah has known by the name Ezra and has been seeking. Still, Deronda is not a Jew and cannot reconcile this fact with his affection and respect for Mordecai/Ezra, which would be necessary for him to pursue a life of Jewish advocacy.
Gwendolen, meanwhile, has been emotionally crushed by her cold, self-centered, and manipulative husband. She is consumed with guilt for disinheriting Lydia Glasher's children by marrying their father. On Gwendolen's wedding day, Mrs. Glasher cursed her and told her she would suffer for her treachery, which only exacerbates Gwendolen's feelings of dread and terror. During this time, Gwendolen and Deronda meet regularly, and Gwendolen pours out her troubles to him whenever they meet. During a trip to Italy, Grandcourt is knocked from his boat into the water and drowns. Gwendolen, who was present, is consumed with guilt because she had long wished he would die, although after some hesitation she jumped into the Mediterranean in a futile attempt to save him. Deronda, also in Italy to meet his Jewish mother (whose identity Sir Hugo has finally revealed), comforts Gwendolen and advises her. In love with Deronda, Gwendolen hopes for a future with him, but he urges her onto a path of righteousness in which she will help others in order to alleviate her suffering.
Deronda meets his mother and learns that she was a famous opera singer with whom Sir Hugo was once in love. She tells him that her father, a physician and strictly pious Jew, forced her to marry her cousin whom she did not love, despite her resentment of the rigid piety of her childhood. Daniel was the only child of that union, and on her husband's death, she asked the devoted Sir Hugo to raise her son as an English gentleman, never to know that he was Jewish. Upon learning of his true origins, Deronda finally feels comfortable with his love for Mirah, and on his return to England in October 1866, he tells Mirah of his love for her. Daniel commits himself to be Ezra/Mordecai's disciple, and shortly after Deronda's marriage, Ezra/Mordecai dies with Daniel and Mirah at his side. Before Daniel marries Mirah, he goes to Gwendolen to tell her about his origins, his decision to go to "the East" (per Ezra/Mordecai's wish), and his betrothal to Mirah. Gwendolen is devastated by the news, but it becomes a turning point in her life, inspiring her to finally say, "I shall live." She sends him a letter on his wedding day, telling him not to think of her with sadness but to know that she will be a better person for having known him. The newly-weds then set off for "the East" to investigate what they can do to restore the Jewish nation.
Characters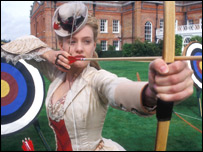 Daniel Deronda — The ward of the wealthy Sir Hugo Mallinger and hero of the novel, Deronda has a tendency to help others at a cost to himself. At the start of the novel, he has failed to win a scholarship at Cambridge because of his focus on helping a friend, has been travelling abroad, and has just started studying law. He often wonders about his birth and whether or not he is a gentleman. As he moves more and more among the world-within-a-world of the Jews of the novel he begins to identify with their cause in direct proportion to the unfolding revelations of his ancestry. Eliot used the story of Moses

Moses

Moses was, according to the Hebrew Bible and Qur'an, a religious leader, lawgiver and prophet, to whom the authorship of the Torah is traditionally attributed...


as part of her inspiration for Deronda. As Moses was a Jew brought up as an Egyptian who ultimately led his people to the Promised Land, so Deronda is a Jew brought up as an Englishman who ends the novel with a plan to do the same. Deronda's name presumably indicates that his ancestors lived in the Spanish city of Ronda

Ronda

Ronda is a city in Spanish province of Málaga. It is located about West from the city of Málaga, within the autonomous community of Andalusia. Its population is approximately 35,000 inhabitants.-History:...


, prior to the expulsion of the Jews from Spain in 1492.
Gwendolen Harleth — The beautiful, spoiled daughter of a widowed mother. Much courted by men, she is flirtatious but ultimately self-involved. Early in the novel, her family suffers a financial crisis, and she is faced with becoming a governess to help support herself and her family. Seeking an escape, she explores the idea of becoming an actress and singer, but Herr Klesmer tells her that she has started too late, that she does not know the meaning of hard work, training, and sacrifice. Gwendolen marries the controlling and cruel Henleigh Grandcourt, although she does not love him. Desperately unhappy, she seeks help from Deronda, who offers her understanding, moral support and the possibility of a way out of her guilt and sorrow. As a psychological study of an immature egoist struggling to achieve greater understanding of herself and others through suffering, Gwendolen is for many Eliot's crowning achievement as a novelist and the real core of the book. F R Leavis famously felt that the novel would have benefited from the complete removal of the Jewish section and the renaming of it as Gwendolen Harleth. It is true that though the novel is named after Deronda, a greater proportion is devoted to Gwendolen than to Deronda himself.
Mirah Lapidoth — A beautiful Jewish girl who was born in England but taken away by her father at a young age to travel the world as a singer. Realising, as a young woman, that her father planned to sell her as a mistress to a European nobleman, to get money for his gambling addiction, she flees from him and returns to London to look for her mother and brother. When she arrived in London she found her old home destroyed and no trace of her family. Giving in to despair, she tries to commit suicide. Rescued by Daniel, she is cared for by his friends while searching for her family and work, so that she can support herself.
Sir Hugo Mallinger — A wealthy gentleman; Sir Hugo fell in love with the operatic diva Maria Alcharisi when she was young and agreed, out of love for her, to raise her son Daniel Deronda.
Henleigh Mallinger Grandcourt — Sir Hugo's nephew and heir-presumptive, a wealthy, manipulative, sadistic man. Grandcourt marries Gwendolen Harleth and then embarks upon a campaign of emotional abuse. He has a mistress, Lydia Glasher, with whom he has several children. He had promised to marry Lydia when her husband died but reneged on the promise in order to marry Gwendolyn instead.
Lush — Henleigh Grandcourt's slavish associate. He and Gwendolen take an immediate dislike to one another.
Lydia Glasher — Henleigh Grandcourt's mistress, a fallen woman who left her husband for Grandcourt and had his children. She confronts Gwendolen, hoping to persuade her not to marry Grandcourt and protect her children's inheritance. In order to punish both women, Grandcourt takes the family diamonds he had given to Lydia and gives them to Gwendolen. He forces Gwendolen to wear them despite her knowing that they had been previously worn by his mistress.
Ezra Mordecai Cohen — Mirah's brother. A young Jewish visionary suffering from consumption

Tuberculosis

Tuberculosis, MTB, or TB is a common, and in many cases lethal, infectious disease caused by various strains of mycobacteria, usually Mycobacterium tuberculosis. Tuberculosis usually attacks the lungs but can also affect other parts of the body...


who befriends Daniel Deronda and teaches him about Judaism

Judaism

Judaism ) is the "religion, philosophy, and way of life" of the Jewish people...


. A Kabbalist

Kabbalah

Kabbalah/Kabala is a discipline and school of thought concerned with the esoteric aspect of Rabbinic Judaism. It was systematized in 11th-13th century Hachmei Provence and Spain, and again after the Expulsion from Spain, in 16th century Ottoman Palestine...


and proto-Zionist, Mordecai sees Deronda as his spiritual successor and inspires him to continue his vision of creating a homeland for the Jews in Palestine

Palestine

Palestine is a conventional name, among others, used to describe the geographic region between the Mediterranean Sea and the Jordan River, and various adjoining lands....


. Named after the biblical character Mordecai

Mordecai

Mordecai or Mordechai is one of the main personalities in the Book of Esther in the Hebrew Bible. He was the son of Jair, of the tribe of Benjamin.-Biblical account:...


, who delivers the Jews from the machinations of Haman in the Book of Esther

Book of Esther

The Book of Esther is a book in the Ketuvim , the third section of the Jewish Tanakh and is part of the Christian Old Testament. The Book of Esther or the Megillah is the basis for the Jewish celebration of Purim...



Herr Klesmer — A German-Jewish musician in Gwendolen Harleth's social circle; Klesmer marries Catherine Arrowpoint, a wealthy girl with whom Gwendolen is friendly. He also advises Gwendolen not to try for a life on the stage. Thought to be partly based on Franz Liszt

Franz Liszt

Franz Liszt ; ), was a 19th-century Hungarian composer, pianist, conductor, and teacher.Liszt became renowned in Europe during the nineteenth century for his virtuosic skill as a pianist. He was said by his contemporaries to have been the most technically advanced pianist of his age...


.
The Princess Halm Eberstein — Daniel Deronda's mother. The daughter of a rabbi, she suffered under her father's dominance; he saw her main purpose was to produce Jewish sons. To please him, she agreed to marry a religious man, her cousin, knowing he adored her and would let her do as she wished after her father died. When her father was dead, she became a renowned singer and actress. After her husband died, she gave her son to Sir Hugo Mallinger to be raised as an English gentleman, free of all the disadvantages she felt she had had as a Jew. Later when her voice seemed to be failing, she converted to Christianity in order to marry a Russian nobleman. Her voice recovered, and she bitterly regretted having given up her life as a performer. Now ill with a fatal disease, she begins to fear retribution for having frustrated her father's plans for his grandson. She contacts Daniel through Sir Hugo, asking him to meet her in Genoa, where she travels under pretense of consulting a doctor. Their confrontation in Italy is one of the novel's important scenes. Afterwards, she tells Deronda where he can recover a chest full of important documents related to his Jewish heritage, gathered by her father.
Influence on Jewish Zionism
Written during a time when Restorationism (similar to 20th century
Christian Zionism
Christian Zionism
Christian Zionism is a belief among some Christians that the return of the Jews to the Holy Land, and the establishment of the State of Israel in 1948, is in accordance with Biblical prophecy. It overlaps with, but is distinct from, the nineteenth century movement for the Restoration of the Jews...
) had a strong following, Eliot's novel had a positive influence on later Jewish Zionism. It has been cited by
Henrietta Szold
Henrietta Szold
Henrietta Szold was a U.S. Jewish Zionist leader and founder of the Hadassah Women's Organization. In 1942, she co-founded Ihud, a political party in Mandate Palestine dedicated to a binational solution.-Biography:...
,
Eliezer Ben-Yehuda
Eliezer Ben-Yehuda
Eliezer Ben‑Yehuda was a Jewish lexicographer and newspaper editor. He was the driving spirit behind the revival of the Hebrew language in the modern era.-Biography:...
, and
Emma Lazarus
Emma Lazarus
Lazarus began to be more interested in her Jewish ancestry after reading the George Eliot novel, Daniel Deronda, and as she heard of the Russian pogroms in the early 1880s. This led Lazarus to write articles on the subject. She also began translating the works of Jewish poets into English...
as having been highly influential in their decision to become Zionists.
Some modern critics, notably
Edward Said
Edward Said
Edward Wadie Saïd was a Palestinian-American literary theorist and advocate for Palestinian rights. He was University Professor of English and Comparative Literature at Columbia University and a founding figure in postcolonialism...
, point to the novel as a propaganda tool to encourage British patriation of Palestine to Jews. The novel is explicit in sending the non-Christians to a non-Christian land, and also in maintaining that "like may only marry like", i.e., Deronda can only marry his beloved if they are the same race/religion/ethnicity. Hostile critics have suggested that the book promotes a fundamentally racist view of marriage. However, the German-Jewish pianist Klesmer marries the Englishwoman Catherine Arrowpoint, suggesting that Eliot's views on this are subtler than these critics suggest.
In its day the Jewish section of the novel was met with bafflement by the non-Jewish reading public, which made up the majority of Eliot's readership. Looking at depictions of Jews in other novels such as Dickens'
Oliver Twist
Oliver Twist
Oliver Twist; or, The Parish Boy's Progress is the second novel by English author Charles Dickens, published by Richard Bentley in 1838. The story is about an orphan Oliver Twist, who endures a miserable existence in a workhouse and then is placed with an undertaker. He escapes and travels to...
and
Trollope
Trollope
The name Trollope is derived from the place-name Troughburn, in Northumberland. Troughburn was originally Trolhop, meaning Troll Valley, and the earliest recorded use is John Andrew Trolope who lived in Thornlaw, Co Durham....
's
The Way We Live Now
The Way We Live Now
The Way We Live Now is a satirical novel published in London in 1875 by Anthony Trollope, after a popular serialisation. In 1872 Trollope returned to England from abroad and was appalled by the greed which was loose in the land. His scolding rebuke was his longest novel.Containing over a hundred...
, it is easy to understand why. In spite of having had a Jewish-born Prime Minister for many years (Benjamin Disraeli was baptised when he was thirteen years old), Britain's view of the Jews at the time comprised derision, revulsion and prejudice, opinions expressed by several of the British characters in one scene. The fact that Eliot makes a point of comparing the world of the Jews favourably with the society of the British could only have served to heighten the hostile reaction to this element of the book. Edward Said criticism of the novel can be interpreted as a disguised disparaging of this favourable view. Some readers felt that the Jewish sections of the book were its weakest, and there were even efforts to rewrite the novel by excising those portions, leaving only the sections pertaining to Gwendolen and deleting references to Daniel's Jewish roots.
Conversely, some Hebrew translations made by East European Zionists in the late 19th and early 20th centuries concentrated on the Jewish-Zionist parts and excised or greatly abbreviated the other portions.
Needless to say, in the Jewish community of Eliot's time,
Daniel Deronda
was greeted with enormous warmth. It was the first time the community felt it had been represented fairly by a major British novelist.
Jewish Zionism in the novel
Daniel Deronda is composed of two interwoven stories and presents two worlds which are never completely reconciled. Indeed, the separation of the two and the eventual parting of one from the other is one of the novel's major themes. There is the fashionable, familiar, upper-class English world of Gwendolen Harleth and the less familiar society-within-a-society inhabited by the Jews, most importantly Mordecai (or Ezra) Cohen and his sister, Mirah. Living between these two worlds is Daniel, who gradually identifies more and more with the Jewish side as he comes to understand the mystery of his birth and develops his relationships with Mordecai and Mirah. In the novel, the Jewish characters' spirituality, moral coherence and sense of community are contrasted favourably with the materialist, philistine, and largely corrupt society of England. The inference seems to be that the Jews' moral values are lacking in the wider British society that surrounds them.
Daniel is ideological, helpful, and wise. In order to give substance to his character, Eliot had to give him a worthy purpose. However, Eliot had become interested in Jewish culture through her acquaintance with Jewish mystic, lecturer and proto-Zionist
Immanuel Oscar Menahem Deutsch
Immanuel Oscar Menahem Deutsch
Immanuel Oscar Menahem Deutsch was a German oriental scholar of Jewish extraction. He was born in Neisse, Prussian Silesia ....
. Part of the inspiration for the novel was her desire to correct English ignorance and prejudice against Jews. Mordecai's story, so easily forgotten beside the glitter and passions of Gwendolen's, nonetheless finishes the novel. Partly based on Deutsch, Mordecai's political and spiritual ideas are among the core messages of the book, just as Felix Holt's politics are the core intellectual element of his novel. In a key scene in
Daniel Deronda
, Deronda follows Mordecai to a tavern where the latter meets with other penniless philosophers to exchange ideas. There follows a lengthy speech in which Mordecai outlines his vision of a homeland for the Jews where, he hopes, they will be able to take their place among the nations of the world for the general good.
It should be remembered that at the time, idealistic people all over Europe were caught up in the nationalistic currents of the era.
Daniel Deronda
is set during the 'epoch-making' Battle of Sadowa, the beginning of the end of Austrian hegemony in Europe. Eliot thus deliberately linked the events of the novel with major historical upheavals. Movements of national unity and self-determination were gathering steam in Germany and Italy and were seen as progressive forces at odds with the reactionary, old regimes of empires such as those of Austria-Hungary and Russia. Eliot's enthusiasm for the Zionist cause should be understood in the context of righting a historical injustice.
Kabbalah in the novel
A major influence on the novel is the Jewish mystical tradition known as
Kabbalah
Kabbalah
Kabbalah/Kabala is a discipline and school of thought concerned with the esoteric aspect of Rabbinic Judaism. It was systematized in 11th-13th century Hachmei Provence and Spain, and again after the Expulsion from Spain, in 16th century Ottoman Palestine...
, which is directly referred to in the text. Mordecai describes himself as the reincarnation of Jewish mystics of Spain and Europe and believes his vision to be the fulfillment of an ancient yearning of the Jewish people. Many of the encounters between Mordecai and Deronda are described in quasi-mystical terms (Mordecai's meeting with Deronda on the River Thames). The inclusion of this overt mysticism is extraordinary in the work of a writer who, for many, embodies the ideals of the liberal,
secular humanism
Secular humanism
Secular Humanism, alternatively known as Humanism , is a secular philosophy that embraces human reason, ethics, justice, and the search for human fulfillment...
of the Victorian age.
Daniel Deronda
is full of references to spiritual, archetypal, and mythological imagery, from the Kabbalism of Mordecai to the encounter of Lydia Glasher with Gwendolen among a group of standing stones and Gwendolen's reaction to the image of a dying man. Of all of Eliot's novels, this is the most mystical with an analysis of religious belief as a progressive force in human nature, albeit a non-Christian one.
See also
Daniel Deronda (TV serial)

Daniel Deronda (TV serial)

Daniel Deronda is a British television serial drama adapted by Andrew Davies from the George Eliot novel of the same name. The serial was directed by Tom Hooper, produced by Louis Marks, and was first broadcast in three parts on BBC One from 24 November to 7 December 2002...


, the 2002 television adaptation
F R Leavis
Judaism

Judaism

Judaism ) is the "religion, philosophy, and way of life" of the Jewish people...



Kabbalah

Kabbalah

Kabbalah/Kabala is a discipline and school of thought concerned with the esoteric aspect of Rabbinic Judaism. It was systematized in 11th-13th century Hachmei Provence and Spain, and again after the Expulsion from Spain, in 16th century Ottoman Palestine...



Zionism

Zionism

Zionism is a Jewish political movement that, in its broadest sense, has supported the self-determination of the Jewish people in a sovereign Jewish national homeland. Since the establishment of the State of Israel, the Zionist movement continues primarily to advocate on behalf of the Jewish state...



External links
(1921) (1970) (TV) (2002) (TV)