 George Clausen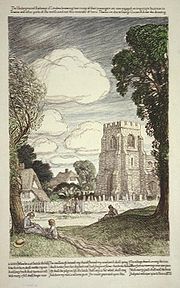 Sir George Clausen
RA (18 April 1852 – 1944), was an artist working in oil and watercolour,
etching
Etching
Etching is the process of using strong acid or mordant to cut into the unprotected parts of a metal surface to create a design in intaglio in the metal...
,
mezzotint
Mezzotint
Mezzotint is a printmaking process of the intaglio family, technically a drypoint method. It was the first tonal method to be used, enabling half-tones to be produced without using line- or dot-based techniques like hatching, cross-hatching or stipple...
,
dry point
Dry point
In geography a dry point is an area of firm or flood-free ground in an area of wetland, marsh or flood plains. The term typically applies to settlements, and dry point settlements were common in history....
and occasionally lithographs. He was knighted in 1927.
Biography
George Clausen was born in London on 18 April 1852, the son of a decorative artist. From 1867 to1873 he attended the design classes at the
South Kensington Schools
Royal College of Art
The Royal College of Art is an art school located in London, United Kingdom. It is the world's only wholly postgraduate university of art and design, offering the degrees of Master of Arts , Master of Philosophy and Doctor of Philosophy...
in London with great success. He then worked in the studio of
Edwin Long
Edwin Long
Edwin Longsden Long RA was an English genre, history, biblical and portrait painter.-Life and works:Long was born in Bath, Somerset, the son of E. Long, an artist , and was educated at Dr. Viner's School in Bath. Adopting the profession of a painter, Long came to London and studied in the British...
RA, and subsequently in Paris under Bouguereau and Robert Fleury. He was an admirer of the naturalism of the painter
Jules Bastien-Lepage
Jules Bastien-Lepage
Jules Bastien-Lepage , was a French naturalist painter, a style related to the Realist movement.-Life and work:...
; about whom he wrote in 1888 and 1892.
Clausen became one of the foremost modern painters of landscape and of peasant life, influenced to a certain extent by the impressionists, with whom he shared the view that light is the real subject of landscape art. His pictures excel in rendering the appearance of things under flecking outdoor sunlight, or in the shady shelter of a barn or stable. His
Girl at the Gate
was acquired by the Chantrey Trustees and is now at the
Tate Gallery
Tate Gallery
The Tate is an institution that houses the United Kingdom's national collection of British Art, and International Modern and Contemporary Art...
.
In 1895 he was elected an Associate of the Royal Academy, and a full Academician in 1906.
As Professor of Painting at the Royal Academy he gave a memorable series of lectures to the students of the Schools, published as
Six Lectures on Painting
(1904) and
Aims and Ideals in Art
(1906).
Clausen was an official
war artist
War artist
A war artist depicts some aspect of war through art; this might be a pictorial record or it might commemorate how "war shapes lives." War artists have explored a visual and sensory dimension of war which is often absent in written histories or other accounts of warfare.- Definition and context:A...
during World War I. During the war his daughter's fiancé was killed; this event may have inspired his painting,
Youth Mourning
.
External links