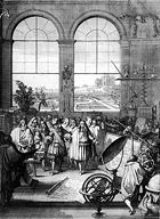 French Academy of Sciences
The
French Academy of Sciences
(
French
:
Académie des sciences
) is a
learned society
Learned society
A learned society is an organization that exists to promote an academic discipline/profession, as well a group of disciplines. Membership may be open to all, may require possession of some qualification, or may be an honor conferred by election, as is the case with the oldest learned societies,...
, founded in 1666 by
Louis XIV
Louis XIV of France
Louis XIV , known as Louis the Great or the Sun King , was a Bourbon monarch who ruled as King of France and Navarre. His reign, from 1643 to his death in 1715, began at the age of four and lasted seventy-two years, three months, and eighteen days...
at the suggestion of
Jean-Baptiste Colbert
Jean-Baptiste Colbert
Jean-Baptiste Colbert was a French politician who served as the Minister of Finances of France from 1665 to 1683 under the rule of King Louis XIV. His relentless hard work and thrift made him an esteemed minister. He achieved a reputation for his work of improving the state of French manufacturing...
, to encourage and protect the spirit of
French
French people
The French are a nation that share a common French culture and speak the French language as a mother tongue. Historically, the French population are descended from peoples of Celtic, Latin and Germanic origin, and are today a mixture of several ethnic groups...
scientific research
Scientific method
Scientific method refers to a body of techniques for investigating phenomena, acquiring new knowledge, or correcting and integrating previous knowledge. To be termed scientific, a method of inquiry must be based on gathering empirical and measurable evidence subject to specific principles of...
. It was at the forefront of scientific developments in
Europe
Europe
Europe is, by convention, one of the world's seven continents. Comprising the westernmost peninsula of Eurasia, Europe is generally 'divided' from Asia to its east by the watershed divides of the Ural and Caucasus Mountains, the Ural River, the Caspian and Black Seas, and the waterways connecting...
in the 17th and 18th centuries.
It is one of the earliest
academies of sciences
Academy of Sciences
An Academy of Sciences is a national academy or another learned society dedicated to sciences.In non-English speaking countries, the range of academic fields of the members of a national Academy of Science often includes fields which would not normally be classed as "science" in English...
.
The Academy of Sciences owes its origin to Colbert's plan to create a general academy.