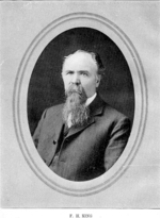 Franklin Hiram King
Franklin Hiram King
was an
American
United States
The United States of America is a federal constitutional republic comprising fifty states and a federal district...
agricultural scientist
Agricultural science
Agricultural science is a broad multidisciplinary field that encompasses the parts of exact, natural, economic and social sciences that are used in the practice and understanding of agriculture. -Agriculture and agricultural science:The two terms are often confused...
who was born on a farm near
Whitewater, Wisconsin
Whitewater, Wisconsin
Whitewater is a city in Jefferson and Walworth Counties in the U.S. state of Wisconsin. Located near the southern portion of the Kettle Moraine State Forest, Whitewater is the home of the University of Wisconsin–Whitewater.-Geography:...
, attended country schools, and received his professional training first at Whitewater State Normal School and then at
Cornell University
Cornell University
Cornell University is an Ivy League university located in Ithaca, New York, United States. It is a private land-grant university, receiving annual funding from the State of New York for certain educational missions...
.
King served as a professor of agricultural physics at the
University of Wisconsin–Madison
University of Wisconsin–Madison
The University of Wisconsin–Madison is a public research university located in Madison, Wisconsin, United States. Founded in 1848, UW–Madison is the flagship campus of the University of Wisconsin System. It became a land-grant institution in 1866...
from 1888 until 1902. Interested in a wide range of subjects throughout his career, King made major contributions during these years in research and teaching that dealt with applications of
physics
Physics
Physics is a natural science that involves the study of matter and its motion through spacetime, along with related concepts such as energy and force. More broadly, it is the general analysis of nature, conducted in order to understand how the universe behaves.Physics is one of the oldest academic...
to agriculture. Most attention was given to
soil
Soil
Soil is a natural body consisting of layers of mineral constituents of variable thicknesses, which differ from the parent materials in their morphological, physical, chemical, and mineralogical characteristics...
physics, for example,
water
Water
Water is a chemical substance with the chemical formula H2O. A water molecule contains one oxygen and two hydrogen atoms connected by covalent bonds. Water is a liquid at ambient conditions, but it often co-exists on Earth with its solid state, ice, and gaseous state . Water also exists in a...
-holding capacities of soils, moisture requirements of
plant
Plant
Plants are living organisms belonging to the kingdom Plantae. Precise definitions of the kingdom vary, but as the term is used here, plants include familiar organisms such as trees, flowers, herbs, bushes, grasses, vines, ferns, mosses, and green algae. The group is also called green plants or...
s, aeration, movement of water in soils, movement of
groundwater
Groundwater
Groundwater is water located beneath the ground surface in soil pore spaces and in the fractures of rock formations. A unit of rock or an unconsolidated deposit is called an aquifer when it can yield a usable quantity of water. The depth at which soil pore spaces or fractures and voids in rock...
, the drafts of plows, and the lifting power of
windmill
Windmill
A windmill is a machine which converts the energy of wind into rotational energy by means of vanes called sails or blades. Originally windmills were developed for milling grain for food production. In the course of history the windmill was adapted to many other industrial uses. An important...
s; he also began studies of soil fertility. The impact of his career was greatest in the field of
soil science
Soil science
Soil science is the study of soil as a natural resource on the surface of the earth including soil formation, classification and mapping; physical, chemical, biological, and fertility properties of soils; and these properties in relation to the use and management of soils.Sometimes terms which...
. He has been called the father of
soil physics
Soil physics
Soil physics is the study of soil physical properties and processes. It is applied to management and prediction under natural and managed ecosystems. Soil physics deals with the dynamics of physical soil components and their phases as solids, liquids, and gases. It draws on the principles of...
in the USA.
King left Wisconsin to become chief of the Division of Soil Management in the USDA Bureau of Soils in
Washington, D.C.
Washington, D.C.
Washington, D.C., formally the District of Columbia and commonly referred to as Washington, "the District", or simply D.C., is the capital of the United States. On July 16, 1790, the United States Congress approved the creation of a permanent national capital as permitted by the U.S. Constitution....
in January 1902. His findings in the next two years, that the concentration of
nutrient
Nutrient
A nutrient is a chemical that an organism needs to live and grow or a substance used in an organism's metabolism which must be taken in from its environment. They are used to build and repair tissues, regulate body processes and are converted to and used as energy...
s in soil solution was correlated with crop yields, began to undermine beliefs held strongly by the chief of the bureau about the relations of soil
chemistry
Chemistry
Chemistry is the science of matter, especially its chemical reactions, but also its composition, structure and properties. Chemistry is concerned with atoms and their interactions with other atoms, and particularly with the properties of chemical bonds....
to plant growth and soil fertility. King was forced to resign but privately published several additional papers from his research during this period.
King returned to Madison, where he devoted the last seven years of his life to summarizing earlier findings and conducting further research in agricultural physics, including the ventilation of
farm
Farm
A farm is an area of land, or, for aquaculture, lake, river or sea, including various structures, devoted primarily to the practice of producing and managing food , fibres and, increasingly, fuel. It is the basic production facility in food production. Farms may be owned and operated by a single...
buildings. Three of his seven books were written during that period, the best known of which is
Farmers of Forty Centuries, or Permanent Agriculture in China, Korea, and Japan
Farmers of Forty Centuries
In 1909, American agronomist F.H. King toured China, Korea and Japan, studying traditional fertilization, tillage and general farming practices. He wrote his observations and findings in Farmers of Forty Centuries, Or Permanent Agriculture in China, Korea, and Japan In 1909, American agronomist...
, which recounted his investigations into what would now be called
sustainable agriculture
Sustainable agriculture
Sustainable agriculture is the practice of farming using principles of ecology, the study of relationships between organisms and their environment...
during a nine-month tour of
Asia
Asia
Asia is the world's largest and most populous continent, located primarily in the eastern and northern hemispheres. It covers 8.7% of the Earth's total surface area and with approximately 3.879 billion people, it hosts 60% of the world's current human population...
in 1909. The last chapter was completed after his death by his wife, Carrie Baker King, and the book was published in 1911.
He is most popularly known for designing the cylindrical
storage silo
Storage silo
A silo is a structure for storing bulk materials. Silos are used in agriculture to store grain or fermented feed known as silage. Silos are more commonly used for bulk storage of grain, coal, cement, carbon black, woodchips, food products and sawdust. Three types of silos are in widespread use...
, which reduces the occurrence of moldy corners in the
silage
Silage
Silage is fermented, high-moisture fodder that can be fed to ruminants or used as a biofuel feedstock for anaerobic digesters. It is fermented and stored in a process called ensiling or silaging, and is usually made from grass crops, including corn , sorghum or other cereals, using the entire...
. Some have speculated that
Frank Lloyd Wright
Frank Lloyd Wright
Frank Lloyd Wright was an American architect, interior designer, writer and educator, who designed more than 1,000 structures and completed 500 works. Wright believed in designing structures which were in harmony with humanity and its environment, a philosophy he called organic architecture...
's design of the
Guggenheim Museum
Solomon R. Guggenheim Museum
The Solomon R. Guggenheim Museum is a well-known museum located on the Upper East Side of Manhattan in New York City, United States. It is the permanent home to a renowned collection of Impressionist, Post-Impressionist, early Modern, and contemporary art and also features special exhibitions...
was influenced by King's designs. King is commemorated at the University of Wisconsin–Madison by King Hall, so renamed in 1934, which is the same Agricultural Physics Hall in which he worked during his tenure there and which now houses part of the Department of Soil Science (formed by the 1904 reorganization of King's original department into the 'Soils Department' and the 'Agricultural Engineering Department'), and by the F.H. King Students of Sustainable Agriculture club, a student organization.
Partial bibliography of books by F. H. King
The Soil (1895)
Irrigation and Drainage (1899)
Ventilation for Dwellings, Rural Schools, and Stables (1908)
FARMERS OF FORTY CENTURIES OR PERMANENT AGRICULTURE IN CHINA, KOREA AND JAPAN (1911)
External links