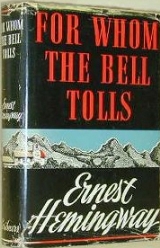 For Whom the Bell Tolls
For Whom the Bell Tolls
is a novel by
Ernest Hemingway
Ernest Hemingway
Ernest Miller Hemingway was an American author and journalist. His economic and understated style had a strong influence on 20th-century fiction, while his life of adventure and his public image influenced later generations. Hemingway produced most of his work between the mid-1920s and the...
published in 1940. It tells the story of Robert Jordan, a young American in the
International Brigades
International Brigades
The International Brigades were military units made up of volunteers from different countries, who traveled to Spain to defend the Second Spanish Republic in the Spanish Civil War between 1936 and 1939....
attached to a
republican
Second Spanish Republic
The Second Spanish Republic was the government of Spain between April 14 1931, and its destruction by a military rebellion, led by General Francisco Franco....
guerrilla unit during the
Spanish Civil War
Spanish Civil War
The Spanish Civil WarAlso known as The Crusade among Nationalists, the Fourth Carlist War among Carlists, and The Rebellion or Uprising among Republicans. was a major conflict fought in Spain from 17 July 1936 to 1 April 1939...
. As an expert in the use of explosives, he is assigned to blow up a bridge during an attack on the city of
Segovia
Segovia
Segovia is a city in Spain, the capital of Segovia Province in the autonomous community of Castile and León. It is situated north of Madrid, 30 minutes by high speed train. The municipality counts some 55,500 inhabitants.-Etymology:...
. Hemingway biographer Jeffrey Meyers writes the novel is regarded as one of Hemingway's best works, along with
The Sun Also Rises
The Sun Also Rises
The Sun Also Rises is a 1926 novel written by American author Ernest Hemingway about a group of American and British expatriates who travel from Paris to the Festival of San Fermín in Pamplona to watch the running of the bulls and the bullfights. An early and enduring modernist novel, it received...
,
The Old Man and the Sea
The Old Man and the Sea
The Old Man and the Sea is a novel written by American author Ernest Hemingway in 1951 in Cuba, and published in 1952. It was the last major work of fiction to be produced by Hemingway and published in his lifetime. One of his most famous works, it centers upon Santiago, an aging fisherman who...
, and
A Farewell to Arms
A Farewell to Arms
A Farewell to Arms is a semi-autobiographical novel written by Ernest Hemingway concerning events during the Italian campaigns during the First World War. The book, which was first published in 1929, is a first-person account of American Frederic Henry, serving as a Lieutenant in the ambulance...
.
Hemingway wrote For Whom the Bell Tolls in Cuba, Key West, and Sun Valley, Idaho in 1939.