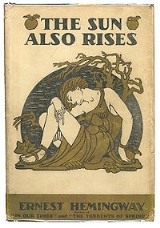 The Sun Also Rises
The Sun Also Rises
is a 1926 novel written by American author
Ernest Hemingway
Ernest Hemingway
Ernest Miller Hemingway was an American author and journalist. His economic and understated style had a strong influence on 20th-century fiction, while his life of adventure and his public image influenced later generations. Hemingway produced most of his work between the mid-1920s and the...
about a group of American and British expatriates who travel from Paris to the
Festival of San Fermín
San Fermín
The festival of San Fermín in the city of Pamplona , is a deeply rooted celebration held annually from 12:00, 6 July, when the opening of the fiesta is marked by setting off the pyrotechnic chupinazo, to midnight 14 July, with the singing of the Pobre de Mí...
in
Pamplona
Pamplona
Pamplona is the historial capital city of Navarre, in Spain, and of the former kingdom of Navarre.The city is famous worldwide for the San Fermín festival, from July 6 to 14, in which the running of the bulls is one of the main attractions...
to watch the running of the bulls and the bullfights. An early and enduring modernist novel, it received mixed reviews upon publication. Hemingway biographer Jeffrey Meyers writes that it is "recognized as Hemingway's greatest work", and Hemingway scholar Linda Wagner-Martin calls it his most important novel.