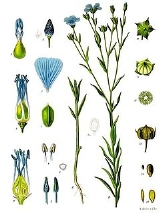 Flax
noun
(1) Plant of the genus Linum that is cultivated for its seeds and for the fibers of its stem
(2) Fiber of the flax plant that is made into thread and woven into linen fabric
English
Etymology
West Germanic, representing , from . Cognate with Old Frisian
flax
, Old Saxon } (Dutch ), Old High German (German ); the Northern Germanic (and most likely the Gothic too) stem is different.
Noun
A plant of the genus Linum, esp. L. usitatissimum, which has a single, slender stalk, about a foot and a half high, with blue flowers. Also known as linseed, especially when referring to the seeds.
Usage notes
The plural flaxes is used to indicate multiple
species
or varieties of flax; otherwise, flax is uncountable.