Flat engine

A
flat engine
is an
internal combustion engine
Internal combustion engine
The internal combustion engine is an engine in which the combustion of a fuel occurs with an oxidizer in a combustion chamber. In an internal combustion engine, the expansion of the high-temperature and high -pressure gases produced by combustion apply direct force to some component of the engine...
with multiple pistons that move in a horizontal plane. Typically, the layout has
cylinder
Cylinder (engine)
A cylinder is the central working part of a reciprocating engine or pump, the space in which a piston travels. Multiple cylinders are commonly arranged side by side in a bank, or engine block, which is typically cast from aluminum or cast iron before receiving precision machine work...
s arranged in two banks on either side of a single
crankshaft
Crankshaft
The crankshaft, sometimes casually abbreviated to crank, is the part of an engine which translates reciprocating linear piston motion into rotation...
and is sometimes known as the
boxer
, or horizontally opposed engine. The concept was
patent
Patent
A patent is a form of intellectual property. It consists of a set of exclusive rights granted by a sovereign state to an inventor or their assignee for a limited period of time in exchange for the public disclosure of an invention....
ed in 1896 by engineer
Karl Benz
Karl Benz
Karl Friedrich Benz, was a German engine designer and car engineer, generally regarded as the inventor of the gasoline-powered car, and together with Bertha Benz pioneering founder of the automobile manufacturer Mercedes-Benz...
. It should not to be confused with the opposed-piston engine, in which each cylinder has a piston at both ends and no cylinder head.
Another widely used form of flat engine consists of a
straight engine
Straight engine
Usually found in four- and six-cylinder configurations, the straight engine, or inline engine is an internal-combustion engine with all cylinders aligned in one row, with no offset...
with two, three, four or more cylinders canted 90 degrees into the horizontal plane, however this is not generally considered significantly different from other straight engines.
Configuration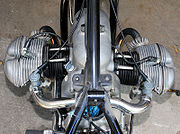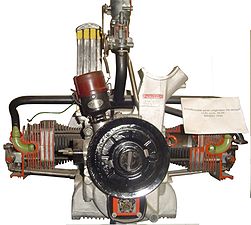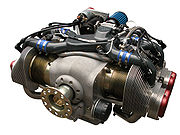 Flat engines offer a low
centre of gravity
Center of mass
In physics, the center of mass or barycenter of a system is the average location of all of its mass. In the case of a rigid body, the position of the center of mass is fixed in relation to the body...
and thereby may offer a drive configuration with better stability and control. Flat engines lend themselves well to
aircraft engine
Aircraft engine
An aircraft engine is the component of the propulsion system for an aircraft that generates mechanical power. Aircraft engines are almost always either lightweight piston engines or gas turbines...
s.
Front-mounted air-cooled flat-twin engines were used in
Tatra 11
Tatra 11
The Tatra T11 was the first Tatra model to use the unique combination of major components that are still in use on the trucks produced by Tatra to this day.-Origins:...
and
Tatra 30
Tatra 30
Tatra 30 is a model of vintage automobile made by Czech manufacturer Tatra.It was manufactured between 1926 and 1928. From 1928 to 1931 the car was fitted with newer engine and is therefore caller Tatra 30/52.-Tatra 30:...
, by
Citroën
Citroën
Citroën is a major French automobile manufacturer, part of the PSA Peugeot Citroën group.Founded in 1919 by French industrialist André-Gustave Citroën , Citroën was the first mass-production car company outside the USA and pioneered the modern concept of creating a sales and services network that...
in their model
2CV
Citroën 2CV
The Citroën 2CV |tax horsepower]]") was an economy car produced by the French automaker Citroën between 1948 and 1990. It was technologically advanced and innovative, but with uncompromisingly utilitarian unconventional looks, and deceptively simple Bauhaus inspired bodywork, that belied the sheer...
and its derivatives, while the
GS and GSA
Citroën GS
The Citroën GS and Citroën GSA are small family cars produced by the French automaker Citroën. The GS was voted European Car of the Year for 1971, and was probably the most technologically advanced car in its class when launched, with class leading comfort, safety and aerodynamics.-Market...
.
Oltcit
Oltcit
The Oltcit was a Romanian car developed in co-operation with Citroën of France in the 1980s. It is a small three-door hatchback, based on the Citroën Prototype Y and built in Craiova at the Automobile Craiova plant.-History:...
used a flat-four and a flat-six was proposed for the
Citroën DS
Citroën DS
The Citroën DS is an executive car produced by the French manufacturer Citroën between 1955 and 1975. Styled by Italian sculptor and industrial designer Flaminio Bertoni and the French aeronautical engineer André Lefèbvre, the DS was known for its aerodynamic futuristic body design and innovative...
but rejected.
BMW
BMW Motorrad
BMW Motorrad is the motorcycle brand of the German company BMW, part of its Corporate and Brand Development division. The current General Director of the unit is Hendrik von Kuenheim....
has used air- or air/oil-cooled flat-twin engines in its motorcycles from 1923 until the present day. Cars such as the
Porsche 911
Porsche 911
The Porsche 911 is a luxury 2-door sports coupe made by Porsche AG of Stuttgart, Germany. It has a distinctive design, rear-engined and with independent rear suspension, an evolution of the swing axle on the Porsche 356. The engine was also air-cooled until the introduction of the Type 996 in 1998...
use a flat-engine (in that particular case a six-cylinder) at the rear of the car, where its extra width does not interfere with the steering of the front wheels and there is a weight-saving since no prop-shaft is required.
All versions of the
Subaru Impreza
Subaru Impreza
Introduced in November 1993, the Impreza was offered in either front-wheel drive or all-wheel drive versions and as a four-door sedan/saloon or five-door station wagon/estate. According to a Motor Trend article written March 1992 on page 26, the name of Subaru's new compact was, initially, to be...
,
Forester
Subaru Forester
The Subaru Forester is an all-wheel drive crossover wagon manufactured since 1997 by Fuji Heavy Industries and sold under the Subaru brand...
,
Tribeca
Subaru Tribeca
The Subaru Tribeca is a mid-size crossover SUV sold since 2005 by Subaru, the automobile manufacturing division of Japanese transportation conglomerate Fuji Heavy Industries . Released in some markets as the Subaru B9 Tribeca, the name "Tribeca" derives from the TriBeCa neighborhood of New York City...
,
Legacy
Subaru Legacy
The Subaru Legacy is a mid-size car built by the Japanese company Fuji Heavy Industries, and manufactured by its division Subaru since 1989, and is available as a sedan or wagon. Part of the original design goals for the Legacy model was to provide Subaru a vehicle in which they could compete in...
,
Outback
Subaru Outback
The Subaru Outback is a station wagon manufactured by Fuji Heavy Industries since 1995. Its original concept originated with Subaru of America, which was suffering from slumping sales in the mid-1990s partly due to a lack of an entry in the then-burgeoning sport utility vehicle market...
,
Baja
Subaru Baja
The Subaru Baja is a light-utility, all-wheel-drive, four passenger, four-door, open-bed vehicle manufactured from 2003-2006 by Subaru. The Baja combines the handling and passenger carrying characteristics of a car with the open-bed versatility, and to a lesser degree, load capacity of a pickup...
and
SVX
Subaru Alcyone SVX
The Subaru Alcyone SVX, also known outside of its home market Japan as the Subaru SVX, is a two-door grand tourer coupé that was sold by Subaru, the automobile manufacturing division of Japanese transportation conglomerate Fuji Heavy Industries . Produced from 1991 to 1997, it was FHI's first...
use either a flat-4 or flat-6 engine.
True boxers have each crankpin controlling only one piston/cylinder while 180° engines, which superficially appear very similar, share crankpins.
The boxer engine has corresponding pistons reaching top dead centre

Dead centre

In a reciprocating engine, the dead centre is the position of a piston in which it is farthest from, or nearest to, the crankshaft. The former is known as top dead centre while the latter is known as bottom dead centre ....


(TDC) simultaneously.
The 180° V engine

V engine

A V engine, or Vee engine is a common configuration for an internal combustion engine. The cylinders and pistons are aligned, in two separate planes or 'banks', so that they appear to be in a "V" when viewed along the axis of the crankshaft...


has corresponding pistons sharing a crankpin on the crankshaft and reaching TDC half a crankshaft revolution apart. They may use regular connecting rod

Connecting rod

In a reciprocating piston engine, the connecting rod or conrod connects the piston to the crank or crankshaft. Together with the crank, they form a simple mechanism that converts linear motion into rotating motion....


s side by side, or use a master/slave system, or a fork-and-blade system. Flat engines with more than eight cylinders are most commonly V engines.
Boxer engines must not be confused with opposed-piston engines, which are essentially the inverse, with two pistons compressing a single combustion space. These can be used in vehicles such as tanks.
Boxer engines
Boxer engines got their name because each pair of pistons moves simultaneously in and out rather than alternately, like boxers showing they are ready by clashing their gloved fists against each other before a fight. Boxer engines of up to eight cylinders have proved highly successful in
automobile
Automobile
An automobile, autocar, motor car or car is a wheeled motor vehicle used for transporting passengers, which also carries its own engine or motor...
s and up to six cylinders in motorcycles and continue to be popular for
light aircraft
Light aircraft
A light aircraft is an aircraft that has a maximum gross take-off weight of or less.Many aircraft used commercially for freight, sightseeing, photography and scheduled flights are light aircraft.Examples of light aircraft include:...
engines.
Boxers are one of only three cylinder layouts that have a natural dynamic balance; the others being the
straight-6
Straight-6
The straight-six engine or inline-six engine is a six-cylinder internal combustion engine with all six cylinders mounted in a straight line along the crankcase...
and the
V12
V12 engine
A V12 engine is a V engine with 12 cylinders mounted on the crankcase in two banks of six cylinders, usually but not always at a 60° angle to each other, with all 12 pistons driving a common crankshaft....
. These engines can run very smoothly and free of unbalanced forces with a four-stroke cycle and do not require a
balance shaft
Balance shaft
In piston engine engineering, a balance shaft is an eccentric weighted shaft which offsets vibrations in engine designs that are not inherently balanced...
or counterweights on the
crankshaft
Crankshaft
The crankshaft, sometimes casually abbreviated to crank, is the part of an engine which translates reciprocating linear piston motion into rotation...
to balance the weight of the reciprocating parts, which are required in other engine configurations. Note that this is generally true of boxer engines regardless of the number of cylinders (assumed to be even), but not true for all V or inline engines. However, in the case of boxer engines with fewer than six cylinders, unbalanced moments (a reciprocating torque also known as a "rocking couple") are unavoidable due to the "opposite" cylinders being slightly out of line with each other.
Boxer engines (and flat engines in general) tend to be noisier than other common engines for both intrinsic and other reasons, e.g., in cars, valve clatter from under the hood is not damped by large air filters and other components. Boxers need no balance weights on the crankshaft, which is lighter and fast-accelerating. They have a characteristic smoothness throughout the rev range and offer a low centre of gravity.
Notable flat engines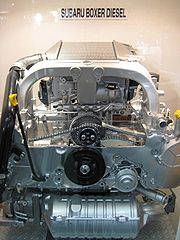 Flat engine designs
Flat-twin engine
Flat-four engine
Flat-six engine
Flat-eight engine
Flat-ten engine
Flat-twelve engine
Flat-sixteen engine
H engine

H engine

An H engine is an engine configuration in which the cylinders are aligned so that if viewed from the front, they appear to be in a vertical or horizontal letter H....



Controlled Combustion Engine

Controlled Combustion Engine

Controlled Combustion Engine is a term used by Revetec, an engine design company, to identify a type of experimental internal combustion engine designed by Brad Howell-Smith. It uses two counter-rotating cams instead of a crankshaft...



External links