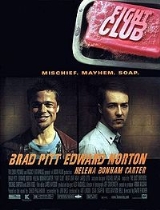 Fight Club (film)
Fight Club
is a 1999 American film based on the 1996
novel of the same name
Fight Club (novel)
Fight Club is a 1996 novel by Chuck Palahniuk. It follows the experiences of an unnamed protagonist struggling with insomnia. Inspired by his doctor's exasperated remark that insomnia is not suffering, he finds relief by impersonating a seriously ill person in several support groups...
by
Chuck Palahniuk
Chuck Palahniuk
Charles Michael "Chuck" Palahniuk is an American transgressional fiction novelist and freelance journalist. He is best known for the award-winning novel Fight Club, which was later made into a film directed by David Fincher and starring Brad Pitt, Edward Norton, and Helena Bonham Carter...
. The film was directed by
David Fincher
David Fincher
David Andrew Leo Fincher is an American film and music video director. Known for his dark and stylish thrillers, such as Seven , The Game , Fight Club , Panic Room , and Zodiac , Fincher received Academy Award nominations for Best Director for his 2008 film The Curious Case of Benjamin Button and...
and stars
Edward Norton
Edward Norton
Edward Harrison Norton is an American actor, screenwriter, film director and producer. In 1996, his supporting role in the courtroom drama Primal Fear garnered him a nomination for the Academy Award for Best Supporting Actor...
,
Brad Pitt
Brad Pitt
William Bradley "Brad" Pitt is an American actor and film producer. Pitt has received two Academy Award nominations and four Golden Globe Award nominations, winning one...
and
Helena Bonham Carter
Helena Bonham Carter
Helena Bonham Carter is an English actress of film, stage, and television. She made her acting debut in a television adaptation of K. M. Peyton's A Pattern of Roses before winning her first film role as the titular character in Lady Jane...
. Norton plays the unnamed protagonist, an "
everyman
Everyman
In literature and drama, the term everyman has come to mean an ordinary individual, with whom the audience or reader is supposed to be able to identify easily, and who is often placed in extraordinary circumstances...
" who is discontented with his
white-collar job
White-collar worker
The term white-collar worker refers to a person who performs professional, managerial, or administrative work, in contrast with a blue-collar worker, whose job requires manual labor...
. He forms a "fight club" with soap maker Tyler Durden, played by Pitt, and becomes embroiled in a relationship with him and a dissolute woman, Marla Singer, played by Bonham Carter.
Palahniuk's novel was optioned by
20th Century Fox
20th Century Fox
Twentieth Century Fox Film Corporation — also known as 20th Century Fox, or simply 20th or Fox — is one of the six major American film studios...
producer
Laura Ziskin
Laura Ziskin
Laura Ellen Ziskin was an American film producer. In 1990, Ziskin was the sole executive producer of the hit comedy Pretty Woman...
, who hired
Jim Uhls
Jim Uhls
Jim Uhls born as James Walter Uhls is an American screenwriter and producer who rose to fame with his script adaptation of the critically acclaimed novel Fight Club...
to write the film adaptation.
People are always asking me if I know Tyler Durden.

If you wake up at a different time, in a different place, could you wake up as a different person?

After fighting, everything else in your life got the volume turned down. You could deal with anything.

In the world I see -- you're stalking elk through the damp canyon forests around the ruins of Rockefeller Center. You will wear leather clothes that last you the rest of your life. You will climb the wrist thick kudzu vines that wrap the Sears Tower. You will see tiny figures pounding corn and laying strips of venison on the empty car pool lane of an abandoned superhighway.

It's only after we've lost everything that we're free to do anything.

You are not your job. You're not how much money you have in the bank. You're not the car you drive. You're not the contents of your wallet. You're not your fucking khakis. You're the all-singing, all-dancing crap of the world.

You are not a beautiful or unique snowflake.