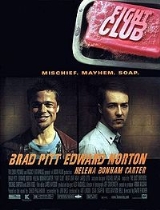 Fight Club (film)
Topics
Fight Club (film)
Quotations

Quotations
Fight Club
is a
1999 film
based around an unnamed protagonist who struggles with his growing discomfort with consumerism and changes in the state of masculinity in American culture. In an attempt to overcome this, he creates an underground fighting club as a radical form of psychotherapy. It was adapted from the
book of the same name
by
Chuck Palahniuk
. Directed by
David Fincher
. Screenplay by Jim Uhls, based on the novel by Chuck Palahniuk.
Mischief. Mayhem. Soap.
Narrator
People are always asking me if I know Tyler Durden.
If you wake up at a different time, in a different place, could you wake up as a different person?
After fighting, everything else in your life got the volume turned down. You could deal with anything.
Tyler Durden
The first rule of Fight Club is: you do not talk about Fight Club. The second rule of Fight Club is: you do NOT talk about Fight Club. Third rule of Fight Club: someone yells stop, goes limp, taps out, the fight is over. Fourth rule: only two guys to a fight. Fifth rule: one fight at a time, fellas. Sixth rule: no shirts, no shoes. Seventh rule: fights will go on as long as they have to. And the eighth and final rule: if this is your first night at Fight Club, you have to fight.
Man, I see in Fight Club the strongest and smartest men who've ever lived. I see all this potential, and I see it squandered. God damn it, an entire generation pumping gas, waiting tables — slaves with white collars. Advertising has us chasing cars and clothes, working jobs we hate so we can buy shit we don't need. We're the middle children of history, man. No purpose or place. We have no Great War. No Great Depression. Our great war is a spiritual war. Our great depression is our lives. We've all been raised on television to believe that one day we'd all be millionaires, and movie gods, and rock stars, but we won't. We're slowly learning that fact. And we're very, very pissed off.
In the world I see -- you're stalking elk through the damp canyon forests around the ruins of Rockefeller Center. You will wear leather clothes that last you the rest of your life. You will climb the wrist thick kudzu vines that wrap the Sears Tower. You will see tiny figures pounding corn and laying strips of venison on the empty car pool lane of an abandoned superhighway.
It's only after we've lost everything that we're free to do anything.
You are not your job. You're not how much money you have in the bank. You're not the car you drive. You're not the contents of your wallet. You're not your fucking khakis. You're the all-singing, all-dancing crap of the world.
You are not a beautiful or unique snowflake.
Dialogue
Narrator: Let me tell you a little bit about Tyler Durden. Tyler was a night person. While the rest of us were sleeping, he worked. He had one part time job as a projectionist. See, a movie doesn't come all on one big reel. It comes on a few. So someone has to be there to switch the projectors at the exact moment that one reel ends and the next one begins. If you look for it, you can see these little dots come into the upper right-hand corner of the screen.
Tyler Durden: In the industry, we call them cigarette burns.
Narrator: That's the cue for a changeover. He flips the projectors, the movie keeps right on going, and nobody in the audience has any idea.
Tyler Durden: And why would anyone want this shit job?
Narrator: Because it affords him other interesting opportunities.
Tyler Durden: Like splicing single frames of pornography into family films.
Narrator: So when the snooty cat and the courageous dog with the celebrity voices meet for the first time in reel three, that's when you'll catch a flash of Tyler's contribution to the film. [As the audience is watching the film, pornography flashes for a split second.] Nobody knows that they saw it, but they did.
Tyler Durden: A nice, big cock... [Several audience members look rattled. A little girl cries.]
Narrator: Even a hummingbird couldn't catch Tyler at work.
---
Narrator: A new car built by my company leaves somewhere traveling at 60 mph. The rear differential locks up. The car crashes and burns with everyone trapped inside. Now, should we initiate a recall? Take the number of vehicles in the field, A, multiply by the probable rate of failure, B, multiply by the average out-of-court settlement, C. A times B times C equals X. If X is less than the cost of a recall, we don't do one.
Woman on plane: Are there a lot of these kinds of accidents?
Narrator: You wouldn't believe.
Woman on plane: Which car company do you work for?
Narrator: A major one.
---
Narrator: I felt like putting a bullet between the eyes of every Panda that wouldn't screw to save its species. I wanted to open the dump valves on oil tankers and smother all those French beaches I'd never see. I wanted to breathe smoke.
Tyler Durden: Where'd you go, psycho boy?
Narrator: I felt like destroying something beautiful.