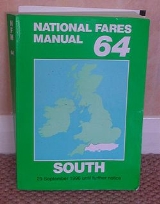 Fare avoidance
Fare avoidance
, as distinct from
fare evasion
Fare evasion
Fare evasion, as distinct from fare avoidance, is the act of travelling on public transport in disregard of the law and/or regulation, having deliberately not purchased the required ticket to travel . It is a problem in many parts of the world, and revenue protection officers operate on many systems...
is the lawful use of knowledge to travel using tickets which cost significantly less than the 'normal' fare for a given journey, which is what one might be expected to use. It has become somewhat of an art in some parts of the world with complex travel networks, notably the
National Rail
National Rail
National Rail is a title used by the Association of Train Operating Companies as a generic term to define the passenger rail services operated in Great Britain...
network of
Great Britain
Great Britain
Great Britain or Britain is an island situated to the northwest of Continental Europe. It is the ninth largest island in the world, and the largest European island, as well as the largest of the British Isles...
.
Typical loopholes that lead to fare avoidance
Apart from mileage, some rail systems or
airline
Airline
An airline provides air transport services for traveling passengers and freight. Airlines lease or own their aircraft with which to supply these services and may form partnerships or alliances with other airlines for mutual benefit...
s calculate fare based on an individual route's popularity and a host of other factors. Therefore, instead of a fare directly from A to B, a passenger may go from A to P and then P to B for less. This price advantage is more pronounced if P is en route between A and B.
Even if mileage is the sole factor in pricing apart from discounts, applicable to journeys exceeding a certain mileage, paradox may result for borderline cases. For example, a rail system practises a fare structure of $100 for the first 100 km and $6 for each additional 10 km. A ticket from A to B, 380 km apart, costs $268. If a discount of 15% applies to mileages exceeding 400 km only, a ticket from A to C, 420 km apart, would cost $292 × 85% = $248.2. A traveller may buy a ticket from A to C and alight at B, avoiding the $19.80.
U.K.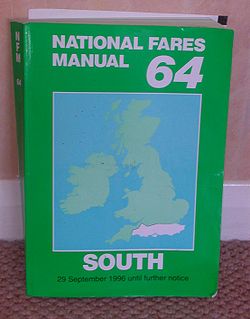 In the case of the latter, privatisation has resulted in a highly complex fare structure, with passengers regularly mis-sold tickets, or not aware of the full entitlement a ticket gives them. Enthusiasts, and those with connections to the industry, use the Great Britain railway technical manuals to identify which fares offer best value. This often involves purchasing tickets for stations which one has no intention of actually visiting, for a number of reasons. Since rail journeys in Great Britain are not priced on distance, often it is cheaper to buy a ticket from A to D via B and C, solely to travel from B to C (in some cases A = B or C = D). UK train operators have responded by often levying stiff penalty fares on passengers who attempt to leave the train before their ticketed destination. When splitting a journey it is important to have separate tickets covering the exact start and finish destination of each leg. It is even possible for two or more legs to involve the same train with no need to alight.
Hong Kong
In the
MTR system
MTR
Mass Transit Railway is the rapid transit railway system in Hong Kong. Originally opened in 1979, the system now includes 211.6 km of rail with 155 stations, including 86 railway stations and 69 light rail stops...
of
Hong Kong
Hong Kong
Hong Kong is one of two Special Administrative Regions of the People's Republic of China , the other being Macau. A city-state situated on China's south coast and enclosed by the Pearl River Delta and South China Sea, it is renowned for its expansive skyline and deep natural harbour...
, Lo Wu and Lok Ma Chau Station of East Rail Line serve as checkpoints for rail passengers between Hong Kong and
mainland China
Mainland China
Mainland China, the Chinese mainland or simply the mainland, is a geopolitical term that refers to the area under the jurisdiction of the People's Republic of China . According to the Taipei-based Mainland Affairs Council, the term excludes the PRC Special Administrative Regions of Hong Kong and...
and vice-versa. Passengers using these stations will be charged departure/arrival tax which is included in the fare. However, if a passenger travels to/from stations from urban area (on or before Kowloon Tong), it is possible to save money by splitting the journey into 2 legs. For example, travelling directly from Hung Hom to Lo Wu costs HK$31.30. If the passenger exits and enters again at Sheung Shui Station, the journey costs HK$27.70 (Hung Hom - Sheung Shui: HK$8.20, Sheung Shui - Lo Wu: $19.50), which is HK$3.60 lower than the direct journey.