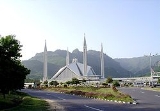 Faisal Mosque
The
Faisal Mosque
is the largest
mosque
Mosque
A mosque is a place of worship for followers of Islam. The word is likely to have entered the English language through French , from Portuguese , from Spanish , and from Berber , ultimately originating in — . The Arabic word masjid literally means a place of prostration...
in
Pakistan
Pakistan
Pakistan , officially the Islamic Republic of Pakistan is a sovereign state in South Asia. It has a coastline along the Arabian Sea and the Gulf of Oman in the south and is bordered by Afghanistan and Iran in the west, India in the east and China in the far northeast. In the north, Tajikistan...
and is located in the national capital city of
Islamabad
Islamabad
Islamabad is the capital of Pakistan and the tenth largest city in the country. Located within the Islamabad Capital Territory , the population of the city has grown from 100,000 in 1951 to 1.7 million in 2011...
.
Faisal Mosque is conceived as the National Mosque of Pakistan. It is the largest mosque in
South Asia
South Asia
South Asia, also known as Southern Asia, is the southern region of the Asian continent, which comprises the sub-Himalayan countries and, for some authorities , also includes the adjoining countries to the west and the east...
and one of the largest mosques in the world.
The Faisal Mosque is named after the late
King
House of Saud
The House of Saud , also called the Al Saud, is the ruling royal family of Saudi Arabia and one of the wealthiest and most powerful dynasties in the world. The family holds thousands of members...
Faisal bin Abdul-Aziz
Faisal of Saudi Arabia
Faisal bin Abdul-Aziz Al Saud was King of Saudi Arabia from 1964 to 1975. As king, he is credited with rescuing the country's finances and implementing a policy of modernization and reform, while his main foreign policy themes were pan-Islamic Nationalism, anti-Communism, and pro-Palestinian...
of
Saudi Arabia
Saudi Arabia
The Kingdom of Saudi Arabia , commonly known in British English as Saudi Arabia and in Arabic as as-Sa'ūdiyyah , is the largest state in Western Asia by land area, constituting the bulk of the Arabian Peninsula, and the second-largest in the Arab World...
, who supported and financed the project.
The impetus for the mosque began in 1966 when the late King Faisal bin Abdul-Aziz supported the initiative of the Pakistani Government to build a national mosque in Islamabad during an official visit to Pakistan.