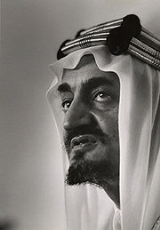 Faisal of Saudi Arabia
Faisal bin Abdul-Aziz Al Saud
(1906 – March 25, 1975) ( ) was King of
Saudi Arabia
Saudi Arabia
The Kingdom of Saudi Arabia , commonly known in British English as Saudi Arabia and in Arabic as as-Sa'ūdiyyah , is the largest state in Western Asia by land area, constituting the bulk of the Arabian Peninsula, and the second-largest in the Arab World...
from 1964 to 1975. As king, he is credited with rescuing the country's finances and implementing a policy of modernization and reform, while his main foreign policy themes were pan-Islamic Nationalism,
anti-Communism
Anti-communism
Anti-communism is opposition to communism. Organized anti-communism developed in reaction to the rise of communism, especially after the 1917 October Revolution in Russia and the beginning of the Cold War in 1947.-Objections to communist theory:...
, and
pro-Palestinian nationalism
Palestinian nationalism
Palestinian nationalism is the national movement of the Palestinian people. It has roots in Pan-Arabism and other movements rejecting colonialism and calling for national independence. More recently, Palestinian Nationalism is expressed through the Israeli–Palestinian conflict...
. He successfully stabilized the kingdom's bureaucracy and his reign had significant popularity among Saudis.