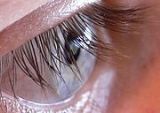 Eyelash
An
eyelash
or simply
lash
is one of the hairs that grow at the edge of the
eyelid
Eyelid
An eyelid is a thin fold of skin that covers and protects an eye. With the exception of the prepuce and the labia minora, it has the thinnest skin of the whole body. The levator palpebrae superioris muscle retracts the eyelid to "open" the eye. This can be either voluntarily or involuntarily...
. Eyelashes protect the
eye
Human eye
The human eye is an organ which reacts to light for several purposes. As a conscious sense organ, the eye allows vision. Rod and cone cells in the retina allow conscious light perception and vision including color differentiation and the perception of depth...
from debris and perform some of the same function as
whiskers
Vibrissae
Vibrissae , or whiskers, are specialized hairs usually employed for tactile sensation. The term may also refer to the thick hairs found inside human nostrils, but these have no sensorial function and only operate as an airborne particulate barrier...
do on a
cat
Cat
The cat , also known as the domestic cat or housecat to distinguish it from other felids and felines, is a small, usually furry, domesticated, carnivorous mammal that is valued by humans for its companionship and for its ability to hunt vermin and household pests...
or a
mouse
Mouse
A mouse is a small mammal belonging to the order of rodents. The best known mouse species is the common house mouse . It is also a popular pet. In some places, certain kinds of field mice are also common. This rodent is eaten by large birds such as hawks and eagles...
in the sense that they are sensitive to being touched, thus providing a warning that an object (such as an
insect
Insect
Insects are a class of living creatures within the arthropods that have a chitinous exoskeleton, a three-part body , three pairs of jointed legs, compound eyes, and two antennae...
or
dust
Dust
Dust consists of particles in the atmosphere that arise from various sources such as soil dust lifted up by wind , volcanic eruptions, and pollution...
mite) is near the eye (which is then closed
reflexively
Reflex action
A reflex action, also known as a reflex, is an involuntary and nearly instantaneous movement in response to a stimulus. A true reflex is a behavior which is mediated via the reflex arc; this does not apply to casual uses of the term 'reflex'.-See also:...
).
The Greek word for eyelash is "blepharis". This word is often used as a root in biological terms (
Blepharis
Blepharis
Blepharis is a genus of plant in family Acanthaceae. It contains the following species :* Blepharis attenuata Napper* Blepharis ciliaris* Blepharis crinita Juss.* Blepharis dhofarensis, A.G.Mill....
,
Kathablepharis
Kathablepharis
Kathablepharis is a genus of single-celled eukaryotes comprising five to six species. They are heterotrophic and live in both freshwater and seawater...
, etc.)
Human eyelashes
The eyelashes of the embryo develop between the 22nd and 26th week of pregnancy. Eyelashes take about seven to eight weeks to grow back if pulled out. Their color may differ from that of the hair, although they tend to be dark on someone with dark hair and lighter on someone with light hair.
The
follicles
Hair follicle
A hair follicle is a skin organ that produces hair. Hair production occurs in phases, including a growth phase , and cessation phase , and a rest phase . Stem cells are principally responsible for the production of hair....
of eyelashes are associated with a number of
gland
Gland
A gland is an organ in an animal's body that synthesizes a substance for release of substances such as hormones or breast milk, often into the bloodstream or into cavities inside the body or its outer surface .- Types :...
s known as the
Glands of Zeis
Glands of Zeis
Glands of Zeis are unilobar sebaceous glands located on the margin of the eyelid. The glands of Zeis service the eyelash. These glands produce an oily substance that is issued through the excretory ducts of the sebaceous lobule into the middle portion of the hair follicle...
and the
Glands of Moll
Glands of Moll
Glands of Moll, also known as ciliary glands, are modified apocrine sweat glands that are found on the margin of the eyelid. They are next to the base of the eyelashes, and anterior to the Meibomian glands within the distal eyelid margin. These glands are relatively large and tubular-shaped.Moll's...
.
Cosmetics

Long eyelashes are considered a sign of femininity in many cultures. Accordingly, some women seek to enhance their eyelash length artificially, using
eyelash extensions
Eyelash extensions
Like hair extensions, eyelash extensions add length, thickness and fullness to natural eyelashes. Synthetic single fiber polyester thread-like materials are applied to individual eyelashes to create a fuller, longer look.- Materials :...
. On the other hand, Hadza women are known to trim their own eyelashes.
Kohl
Kohl (cosmetics)
Kohl is an ancient eye cosmetic. It was made by grinding galena and other ingredients. It is widely used in South Asia, the Middle East, North Africa, the Horn of Africa, and parts of West Africa to darken the eyelids and as mascara for the eyelashes...
has been worn as far back as the
Bronze Age
Bronze Age
The Bronze Age is a period characterized by the use of copper and its alloy bronze as the chief hard materials in the manufacture of some implements and weapons. Chronologically, it stands between the Stone Age and Iron Age...
to protect and enhance lashes. In Ancient Egypt it was used as well by the wealthy and the royal to protect their eyes from the sand, dust and bugs. Modern eye makeup includes
mascara
Mascara
Mascara is a cosmetic commonly used to enhance the eyes. It may darken, thicken, lengthen, and/or define the eyelashes. Normally in one of three forms—liquid, cake, or cream—the modern mascara product has various formulas; however, all contain the same basic components of pigments, oils, waxes, and...
, eyeliner, eye putty, and
eye shadow
Eye shadow
Eye shadow is a cosmetic that is applied on the eyelids and under the eyebrows. It is commonly used to make the wearer's eyes stand out or look more attractive....
to emphasize the eyes. The twentieth century saw the beginning of convincing-looking false eyelashes, popular in the 1960s. There is also different tools that can be use on the lashes like
eyelash curler
Eyelash curler
An eyelash curler is a hand-operated mechanical device for curling eyelashes for cosmetic purposes. Usually only the upper eyelashes are curled. Before using, the device can be shortly heated with hair dryer, but not to the extent to burn the delicate skin above the eyes...
or mascara shield (also name mascara guard or eye makeup helper).
Permanent eyelash tints and eyelash extensions have also become popular procedures, even in fairly basic salons. It is also possible to get eyelash transplants, which are similar in nature to
hair transplantation
Hair transplantation
Hair transplantation is a surgical technique that involves moving individual hair follicles from one part of the body to bald or balding parts . It is primarily used to treat male pattern baldness. It this case, grafts containing hair follicles that are genetically resistant to balding are...
often done on the head. Since the hair is tranplanted from the hair on the head, the new eyelashes will continue to grow like head hair and will need to be trimmed regularly.
Latisse
Bimatoprost
Bimatoprost is a prostaglandin analog/prodrug used topically to control the progression of glaucoma and in the management of ocular hypertension. It reduces intraocular pressure by increasing the outflow of aqueous fluid from the eyes...
was introduced in the first quarter of 2009 by
Allergan
Allergan
Allergan, Inc., is a global specialty pharmaceutical company. Their product ranges include ophthalmic pharmaceuticals, dermatology products, and neurological products.-Profile:...
as the first drug to receive FDA approval for eyelash growth. Latisse is a solution of bimatoprost, the active component of the
glaucoma
Glaucoma
Glaucoma is an eye disorder in which the optic nerve suffers damage, permanently damaging vision in the affected eye and progressing to complete blindness if untreated. It is often, but not always, associated with increased pressure of the fluid in the eye...
medication Lumigan. According to Allergan, noticeable eyelash growth occurs within 16 weeks. Growth is reported to occur primarily on the upper eyelashes. In addition, the past decade has seen the rapid increase in the development of eyelash conditioners. These conditioners are designed to increase the health and length of your lashes. Many utilize seed extract, minerals, and other chemicals to achieve these results.
Health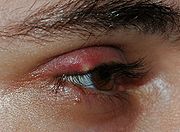 There are a number of diseases or disorders involving the eyelashes:
Madarosis

Madarosis

Madarosis is the absence or loss of the eyelashes , either as a congenital condition or as a result of an infection.E.g. Leprosy,alopecia totalis etc....


is the loss of eyelashes.
Blepharitis

Blepharitis

Blepharitis is an ocular condition characterized by chronic inflammation of the eyelid, the severity and time course of which can vary. Onset can be acute, resolving without treatment within 2–4 weeks , but more generally is a long standing inflammation varying in severity...


is the irritation of the lid margin, where eyelashes join the eyelid. The eyelids are red and itching, the skin often becomes flaky, and the eyelashes may fall out.
Distichiasis is the abnormal growth of lashes from certain areas of the eyelid.
Trichiasis

Trichiasis

Trichiasis is a medical term for abnormally positioned eyelashes that grow back toward the eye, touching the cornea or conjunctiva. This can be caused by infection, inflammation, autoimmune conditions, congenital defects, eyelid agenesis and trauma such as burns or eyelid injury.Standard treatment...


is ingrown eyelashes.
Eyelashes may become infested with parasitic crab louse

Crab louse

Crab lice are parasitic insects notorious for infesting human pubic hair. The species may also live on other areas with hair, including the eyelashes. They feed exclusively on blood...


.
An external hordeolum

Stye

An external stye or sty , also hordeolum , is an infection of the sebaceous glands of Zeis at the base of the eyelashes, or an infection of the apocrine sweat glands of Moll. External styes form on the outside of the lids and can be seen as small red bumps. Internal styes are infections of the...


, or stye, is a purulent inflammation of infected eyelash follicles and surrounding sebaceous (Zeis) and apocrine (Moll) glands of the lid margin.
Trichotillomania

Trichotillomania

Trichotillomania, which is classified as an impulse control disorder by DSM-IV, is the compulsive urge to pull out one's own hair leading to noticeable hair loss, distress, and social or functional impairment. It is often chronic and difficult to treat....


is a disorder that urges the sufferer to pull out scalp hair, eyelashes, etc.
Demodex folliculorum

Demodex folliculorum

Demodex folliculorum is a species of face mite. D. folliculorum is one of the parasitic face mites that occur on people . Demodex derives from the Greek roots, demos- fat, and dex- worm. When large numbers of D...


(or the demodicid) is a small mite

Mite

Mites, along with ticks, are small arthropods belonging to the subclass Acari and the class Arachnida. The scientific discipline devoted to the study of ticks and mites is called acarology.-Diversity and systematics:...


that lives harmlessly in eyelash and other hair follicle

Hair follicle

A hair follicle is a skin organ that produces hair. Hair production occurs in phases, including a growth phase , and cessation phase , and a rest phase . Stem cells are principally responsible for the production of hair....


s, and about 98% of people have these mites living on them. Occasionally they may cause blepharitis.
Eyelash and eyebrow transplant surgeries may be help to reconstruct or thicken lashes or eyebrow hair.
Nonhumans
Lashes, being hair, are found in
mammal
Mammal
Mammals are members of a class of air-breathing vertebrate animals characterised by the possession of endothermy, hair, three middle ear bones, and mammary glands functional in mothers with young...
s.
Camel
Camel
A camel is an even-toed ungulate within the genus Camelus, bearing distinctive fatty deposits known as humps on its back. There are two species of camels: the dromedary or Arabian camel has a single hump, and the bactrian has two humps. Dromedaries are native to the dry desert areas of West Asia,...
s' lashes are remarkably long and thick.
Horse
Horse
The horse is one of two extant subspecies of Equus ferus, or the wild horse. It is a single-hooved mammal belonging to the taxonomic family Equidae. The horse has evolved over the past 45 to 55 million years from a small multi-toed creature into the large, single-toed animal of today...
s, cows, and also
ostrich
Ostrich
The Ostrich is one or two species of large flightless birds native to Africa, the only living member of the genus Struthio. Some analyses indicate that the Somali Ostrich may be better considered a full species apart from the Common Ostrich, but most taxonomists consider it to be a...
es (vestigial feathers without barbs) feature eyelashes as well. Inherited eyelash problems are common in some breeds of dogs.
Eyelash vipers
Bothriechis schlegelii
The Eyelash Viper is a venomous pitviper species found in Central and South America. Small and arboreal, these snakes are characterized by their wide array of color variations, as well as the superciliary scales over the eyes. Often present in zoological exhibits. Named after the German...
show a set of modified
scales
Scale (zoology)
In most biological nomenclature, a scale is a small rigid plate that grows out of an animal's skin to provide protection. In lepidopteran species, scales are plates on the surface of the insect wing, and provide coloration...
over the eyes which look much like eyelashes. Hornbills have prominent feather eyelashes, an uncommon feature in birds.