 Estonian Song Festival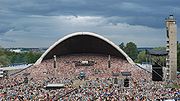 The
Estonian Song Festival
(In Estonian:
Laulupidu
) is one of the largest amateur choral events in the world, a
Masterpiece of the Oral and Intangible Heritage of Humanity
Masterpieces of the Oral and Intangible Heritage of Humanity
The Proclamation of Masterpieces of the Oral and Intangible Heritage of Humanity was made by the Director-General of UNESCO starting in 2001 to raise awareness on intangible cultural heritage and encourage local communities to protect them and the local people who sustain these forms of cultural...
. It is held every five years in July on the
Tallinn Song Festival Grounds
Tallinn Song Festival Grounds
-History of Song Festivals:In 1869 Johann Voldemar Jannsen established the Estonian Song Festival while the nation was still a province of the Russian Empire. This festival was considered responsible for fostering an Estonian national awakening...
(
Lauluväljak
).
The joint choir has usually comprised 25,000 singers while in 2009, there were more than 30,000 participants performing to an audience of 80,000.
History
The tradition of the song festival was born along with
Estonian national awakening
Estonian national awakening
The Estonian Age of Awakening is a period in history where Estonians came to acknowledge themselves as a nation deserving the right to govern themselves. This period is considered to begin in 1850s with greater rights being granted to commoners and to end with the declaration of the Republic of...
. The first national song festival was held in
Tartu
Tartu
Tartu is the second largest city of Estonia. In contrast to Estonia's political and financial capital Tallinn, Tartu is often considered the intellectual and cultural hub, especially since it is home to Estonia's oldest and most renowned university. Situated 186 km southeast of Tallinn, the...
in the summer of 1869. One of the organisers of the first song festival was
Johann Voldemar Jannsen
Johann Voldemar Jannsen
Johann Voldemar Jannsen was an Estonian journalist and poet active in Livonia....
. In the first three festivals only men's choirs and brass orchestras participated. 822 singers and 56 brass players participated in the first festival. Starting with the fourth festival, mixed choirs were also participating. Starting with the sixth festival in 1896, the festival tradition moved to Tallinn.
Starting from 1947, the Soviet authorities forced foreign songs into the repertoire. Because of the inclusion of children's and boys' choirs the total number of participants rose to 25,000 – 30,000 people. The Dance and Gymnastic Festival of the First Estonian Games started in 1934 became predecessors of later National Dance Festivals accompanying the song festival.
External links
Photos and videos