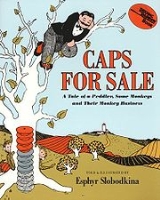 Esphyr Slobodkina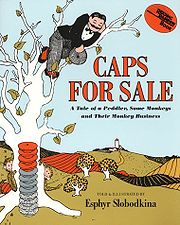 Esphyr Slobodkina
was a popular artist, author, and illustrator, best known for her classic 1940 children's book
Caps for Sale
Caps for Sale
Caps for Sale: A Tale of a Peddler, Some Monkeys and Their Monkey Business is a 1938 classic children's book by Esphyr Slobodkina. It's a sly take on the saying, "Monkey see, monkey do."-Summary:...
.
Biography
Esphyr Slobodkina (ess-FEER sloh-BOD-kee-nah) was born in
Chelyabinsk
Chelyabinsk
Chelyabinsk is a city and the administrative center of Chelyabinsk Oblast, Russia, located in the northwestern side of the oblast, south of Yekaterinburg, just to the east of the Ural Mountains, on the Miass River. Population: -History:...
,
Siberia
Siberia
Siberia is an extensive region constituting almost all of Northern Asia. Comprising the central and eastern portion of the Russian Federation, it was part of the Soviet Union from its beginning, as its predecessor states, the Tsardom of Russia and the Russian Empire, conquered it during the 16th...
in 1908. During the
Russian Revolution of 1917
Russian Revolution of 1917
The Russian Revolution is the collective term for a series of revolutions in Russia in 1917, which destroyed the Tsarist autocracy and led to the creation of the Soviet Union. The Tsar was deposed and replaced by a provisional government in the first revolution of February 1917...
, she emigrated with her family to
Harbin
Harbin
Harbin ; Manchu language: , Harbin; Russian: Харби́н Kharbin ), is the capital and largest city of Heilongjiang Province in Northeast China, lying on the southern bank of the Songhua River...
,
Manchuria
Manchuria
Manchuria is a historical name given to a large geographic region in northeast Asia. Depending on the definition of its extent, Manchuria usually falls entirely within the People's Republic of China, or is sometimes divided between China and Russia. The region is commonly referred to as Northeast...
(
China
China
Chinese civilization may refer to:* China for more general discussion of the country.* Chinese culture* Greater China, the transnational community of ethnic Chinese.* History of China* Sinosphere, the area historically affected by Chinese culture...
), where she studied art and architecture. Slobodkina immigrated to the
United States
United States
The United States of America is a federal constitutional republic comprising fifty states and a federal district...
in 1929. She enrolled at the
National Academy of Design
National Academy of Design
The National Academy Museum and School of Fine Arts, founded in New York City as the National Academy of Design – known simply as the "National Academy" – is an honorary association of American artists founded in 1825 by Samuel F. B. Morse, Asher B. Durand, Thomas Cole, Martin E...
. It was there that she met her future husband, Russian-born Ilya Bolotowsky (they got divorced in 1938). Along with Ilya, Slobodkina was a founding member of the
American Abstract Artists
American Abstract Artists
American Abstract Artists was formed in 1936 in New York City, to promote and foster public understanding of abstract art. American Abstract Artists exhibitions, publications, and lectures helped to establish the organization as a major forum for the exchange and discussion of ideas, and for...
group, which began amid controversy in 1936. Like other Russian modernists, surrounded by ancient icons and a rich craft tradition, Slobodkina developed a lifelong appreciation of clear, rich colors, and flat, stylized forms.

In 1937 Slobodkina met the children's author Margaret Wise Brown

Margaret Wise Brown

Margaret Wise Brown was a prolific American author of children's literature, including the books Goodnight Moon and The Runaway Bunny, both illustrated by Clement Hurd.-Biography:...


. In an effort to find work as an illustrator, Slobodkina wrote and illustrated a story with collage called Mary And The Poodies to present to Brown. This began a new career for Slobodkina, who illustrated many children's stories for Ms. Brown (including Sleepy ABCs and the Big and Little series) while still continuing her work as an abstract artist.

In the late 1930s, Slobodkina began to write and illustrate her own children's books. Among her 24 published works
Caps for Sale
(1940) is considered a children's book classic; it has sold more than two million copies and has been translated into more than a dozen languages.
Caps for Sale
won the
Lewis Carroll Shelf Award
Lewis Carroll Shelf Award
The Lewis Carroll Shelf Award was started in 1958 by Dr. David C. Davis with the assistance of Prof. Lola Pierstorff, Director Instructional Materials Center, Univ. of Wisconsin and Madeline Allen Davis, WHA Wisconsin Public Radio. Awards were presented annually at the Wisconsin Book Conference...
in 1958. Other children's works include
The Wonderful Feast
(written in 1928, first published in 1955),
The Clock
(1956),
The Long Island Ducklings
(1961), and
Pezzo the Peddler and the Circus Elephant
(1967), reissued as
Circus Caps for Sale
(2002).
In 1948, feeling the need to get out of New York City and having saved some money, Slobodkina built a house in
Great Neck, New York
Great Neck, New York
The term Great Neck is commonly applied to a peninsula on the North Shore of Long Island, which includes the village of Great Neck, the village of Great Neck Estates, the village of Great Neck Plaza, and others, as well as an area south of the peninsula near Lake Success and the border of Queens...
and moved there with her mother; they remained in the house until 1977.

During this period she was invited back to the Yaddo

Yaddo

Yaddo is an artists' community located on a 400 acre estate in Saratoga Springs, New York. Its mission is "to nurture the creative process by providing an opportunity for artists to work without interruption in a supportive environment."...


artist's colony and also accepted a residency at the MacDowell Colony

MacDowell Colony

The MacDowell Colony is an art colony in Peterborough, New Hampshire, U.S.A., founded in 1907 by Marian MacDowell, pianist and wife of composer Edward MacDowell. She established the institution and its endowment chiefly with donated funds...


in New Hampshire. In 1960, Slobodkina married William Urquhart, a business owner whom she had met in 1942 at an American Abstract Artists show. They were married for three years, but in 1963, Urquhart died after suffering from a prolonged illness. Slobodkina stated that "it took me some six years to just recover from the grief and life in general was never the same"... In 1967, Slobodkina and her mother began travelling to Florida to be close to her sister. Annual trips to the southern state soon became impractical because of her mother's failing health and in 1979, they permanently relocated to Hallandale, Florida. After the death of Slobodkina's brother-in-law in 1974 and her mother in 1975, her sister Tamara joined her in her Hallandale home. The two sisters continued to live together for the rest of Slobodkina's life, moving from Hallandale to West Hartford, CT, then back to Great Neck before settling in Glen Head, Long Island.

Slobodkina died in 2002.
Work
Through the 1930s Slobodkina developed her unique method of working in oils; a flattened, abstracted style that incorporated line, suspended or interlocking forms. But by the late 30s and 40s Slobodkina was using a variety of techniques and materials. Many of her works are collages and constructions, integrating paint, wood, plastic, and metal with everyday objects such as parts of disassembled typewriters and computers into amusing and often great art. Slobodkina's work eventually received high acclaim.
"Her life's work pulled imagery and objects together into magnificent compositions time and time again," stated Harold Porcher, an authority on Slobodkina's art. "I equate an artist like Esphyr to the American mockingbird. A mockingbird borrows and embellishes the songs of other birds around him. Often he changes the phrasing as he incorporates each element into an orchestration of birdsong. The abstract expressionist movement shifted the center of the art world from Paris to New York City – where it remains today – and Esphyr and her contemporaries were the torchbearers, establishing abstraction as a viable form of expression in America."
In the last years of the 20th century, Slobodkina continued her productivity, alternating serious work on abstract paintings with the more relaxing activities - to her - of creating sculpture, wall hangings, multimedia constructions, dolls and jewelry, often made out of old typewriter and computer parts.
As Anne Cohen DePietro wrote, "Traversing nearly a century of inspiration, it is Slobodkina's enduring delight in the creative act and her single-minded pursuit of her aesthetic vision in a multiplicity of media that continues to enchant."
Slobodkina's Legacy and the Slobodkina Foundation
In April 2000, at age 91, Slobodkina established the Slobodkina Foundation, dedicated to the conservation, preservation, and exhibition of art. The Slobodkina Foundation was designed to educate the public about Slobodkina's work and encourage others to pursue their dreams through awareness of Slobodkina's accomplishments.
Before her death in 2002, Slobodkina redesigned her home in
Long Island
Long Island
Long Island is an island located in the southeast part of the U.S. state of New York, just east of Manhattan. Stretching northeast into the Atlantic Ocean, Long Island contains four counties, two of which are boroughs of New York City , and two of which are mainly suburban...
,
New York
New York
New York is a state in the Northeastern region of the United States. It is the nation's third most populous state. New York is bordered by New Jersey and Pennsylvania to the south, and by Connecticut, Massachusetts and Vermont to the east...
, as a mini-museum and reading room for children, a place where guests can view more than 500 works of art. There, the charitable Slobodkina Foundation preserves the legacy of Slobodkina's prolific, multifaceted career.
Slobodkina was a celebrated avant garde artist and feminist in the early part of the last century. Her paintings, sculptures and literary works are part of the collections of The Metropolitan Museum, New York; the Smithsonian; the
Philadelphia Museum of Art
Philadelphia Museum of Art
The Philadelphia Museum of Art is among the largest art museums in the United States. It is located at the west end of the Benjamin Franklin Parkway in Philadelphia's Fairmount Park. The Museum was established in 1876 in conjunction with the Centennial Exposition of the same year...
; the
Heckscher Museum of Art
Heckscher Museum of Art
The Heckscher Museum of Art is named after its benefactor, August Heckscher, who in 1920 donated 185 works of art to be housed in a new Beaux-Arts building located in Heckscher Park, in Huntington, New York...
; Hillwood Art Museum, the Whitney Museum, New York; the Northeast Children's Literature Collection,
Thomas J. Dodd Research Center
Thomas J. Dodd Research Center
The Thomas J. Dodd Research Center houses the Archives & Special Collections for the University of Connecticut Libraries. It also houses the Human Rights Institute and the Center for Judaic Studies and Contemporary Jewish Life at the University of Connecticut...
,
University of Connecticut
University of Connecticut
The admission rate to the University of Connecticut is about 50% and has been steadily decreasing, with about 28,000 prospective students applying for admission to the freshman class in recent years. Approximately 40,000 prospective students tour the main campus in Storrs annually...
, Storrs, Connecticut; the Corcoran Gallery, Boston Museum; the de Grummond Children's Literature Collection,
The University of Southern Mississippi
The University of Southern Mississippi
The University of Southern Mississippi, informally known as Southern Miss, is a large public research university located in Hattiesburg, Mississippi, United States. It is situated north of Gulfport, Mississippi and northeast of New Orleans, Louisiana...
; the
New York Public Library
New York Public Library
The New York Public Library is the largest public library in North America and is one of the United States' most significant research libraries...
; among others.
Sources
Esphyr Slobodkina, Notes for a Biographer, a three-volume, limited edition autobiography.
Gail Stavitsky and Elizabeth Wylie, The Life and Art of Esphyr Slobodkina, Tufts Univ Art Gallery (1992), ISBN 9992778644.
Ann Marie Sayer et al., Rediscovering Slobodkina: A Pioneer of American Abstraction, Hudson Hills Press (2009), ISBN 1555953123.
External links