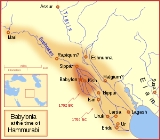 Eshnunna
Eshnunna
was an ancient
Sumer
Sumer
Sumer was a civilization and historical region in southern Mesopotamia, modern Iraq during the Chalcolithic and Early Bronze Age....
ian city and
city-state
City-state
A city-state is an independent or autonomous entity whose territory consists of a city which is not administered as a part of another local government.-Historical city-states:...
in central
Mesopotamia
Mesopotamia
Mesopotamia is a toponym for the area of the Tigris–Euphrates river system, largely corresponding to modern-day Iraq, northeastern Syria, southeastern Turkey and southwestern Iran.Widely considered to be the cradle of civilization, Bronze Age Mesopotamia included Sumer and the...
. Although situated in the
Diyala Valley
Diyala River
The Diyala River after Darban-e Khan Dam:Kurdish: Sirwan, سيروان, , Persian: سیروان دیاله, is a river and tributary of the Tigris that runs mainly through Eastern Iraq but also Western Iran. It covers a total distance of ....
north-east of Sumer proper, the city nonetheless belonged securely within the Sumerian cultural milieu.
The tutelary deity of the city was
Tishpak
Tishpak
Tishpak is an Akkadian god, the tutelary deity of the city of Esnumma .Likely, identical with the Hurrian god "Teshup".- References :Michael Jordon Encyclopedia of Gods. Kyle Cathie Limited....
(Tišpak).
History
Occupied from the
Jemdet Nasr period
Jemdet Nasr period
The Jemdet Nasr period is an archaeological culture in southern Mesopotamia that is generally dated to 3100–2900 BCE. It is named after the type-site Jemdet Nasr, where the assemblage typical for this period was first recognized. Its geographical distribution is limited to south–central Iraq...
about 3000 BCE, Eshnunna was a major city during the Early Dynastic period. Starting with the rise of the Akkadian Empire, Eshnunna oscillated between times of independence and domination by empires such as the
Third Dynasty of Ur
Third Dynasty of Ur
The Third Dynasty of Ur, also known as the Neo-Sumerian Empire or the Ur III Empire refers simultaneously to a 21st to 20th century BC Sumerian ruling dynasty based in the city of Ur and a short-lived territorial-political state that some historians regard as a nascent empire...
and
Isin
Isin
Isin was an ancient city-state of lower Mesopotamia about 20 miles south of Nippur at the site of modern Ishan al-Bahriyat in Iraq's Al-Qādisiyyah Governorate.-History:...
. Because of its control over lucrative trade routes, Eshnunna did function somewhat as a gateway between Mesopotamian and Elamite culture. The trade routes gave it access to many exotic sought-after goods such as
horse
Horse
The horse is one of two extant subspecies of Equus ferus, or the wild horse. It is a single-hooved mammal belonging to the taxonomic family Equidae. The horse has evolved over the past 45 to 55 million years from a small multi-toed creature into the large, single-toed animal of today...
s from the north,
copper
Copper
Copper is a chemical element with the symbol Cu and atomic number 29. It is a ductile metal with very high thermal and electrical conductivity. Pure copper is soft and malleable; an exposed surface has a reddish-orange tarnish...
,
tin
Tin
Tin is a chemical element with the symbol Sn and atomic number 50. It is a main group metal in group 14 of the periodic table. Tin shows chemical similarity to both neighboring group 14 elements, germanium and lead and has two possible oxidation states, +2 and the slightly more stable +4...
, and other metals and
precious stones
Gemstone
A gemstone or gem is a piece of mineral, which, in cut and polished form, is used to make jewelry or other adornments...
.
In a grave, a pendant made of
copal
Copal
Copal is a name given to tree resin that is particularly identified with the aromatic resins used by the cultures of pre-Columbian Mesoamerica as ceremonially burned incense and other purposes...
from
Zanzibar
Zanzibar
Zanzibar ,Persian: زنگبار, from suffix bār: "coast" and Zangi: "bruin" ; is a semi-autonomous part of Tanzania, in East Africa. It comprises the Zanzibar Archipelago in the Indian Ocean, off the coast of the mainland, and consists of numerous small islands and two large ones: Unguja , and Pemba...
was found
After rising to prominence as an independent state in the early second
millennium, during the time of
Shamshi-Adad
Shamshi-Adad
Shamshi-Adad may refer to:*Shamshi-Adad I*Shamshi-Adad II*Shamshi-Adad III*Shamshi-Adad IV*Shamshi-Adad V...
, it was occupied by
Elam
Elam
Elam was an ancient civilization located in what is now southwest Iran. Elam was centered in the far west and the southwest of modern-day Iran, stretching from the lowlands of Khuzestan and Ilam Province, as well as a small part of southern Iraq...
, then conquered by
Hammurabi
Hammurabi
Hammurabi Hammurabi Hammurabi (Akkadian from Amorite ʻAmmurāpi, "the kinsman is a healer", from ʻAmmu, "paternal kinsman", and Rāpi, "healer"; (died c...
of
Babylon
Babylon
Babylon was an Akkadian city-state of ancient Mesopotamia, the remains of which are found in present-day Al Hillah, Babil Province, Iraq, about 85 kilometers south of Baghdad...
in the 38th year of his reign, and absorbed within the Old Babylonian Empire (sometimes called the
First Babylonian Dynasty
First Babylonian Dynasty
The chronology of the first dynasty of Babylonia is debated as there is a Babylonian King List A and a Babylonian King List B. In this chronology, the regnal years of List A are used due to their wide usage...
). Thereafter, the city appears but rarely in
cuneiform
Cuneiform script
Cuneiform script )) is one of the earliest known forms of written expression. Emerging in Sumer around the 30th century BC, with predecessors reaching into the late 4th millennium , cuneiform writing began as a system of pictographs...
textual sources, reflecting a probable decline and eventual disappearance.
Archaeology
The remains of the ancient city are now preserved in the mound of Tell Asmar, near
Baqubah
Baqubah
Baqubah is the capital of Iraq's Diyala Governorate.The city is located some to the northeast of Baghdad, on the Diyala River. In 2003 it had an estimated population of some 467,900 people....
, excavated in six seasons between 1930 and 1936 by an Oriental Institute of the
University of Chicago
University of Chicago
The University of Chicago is a private research university in Chicago, Illinois, USA. It was founded by the American Baptist Education Society with a donation from oil magnate and philanthropist John D. Rockefeller and incorporated in 1890...
team led by
Henri Frankfort
Henri Frankfort
Henri 'Hans' Frankfort was a Dutch Egyptologist, archaeologist and orientalist.-Biography:Born in Amsterdam, Frankfort studied history at the University of Amsterdam and then moved to London, where in 1924, he took an MA under Sir Flinders Petrie at the University College. In 1927 he gained a...
with
Thorkild Jacobsen
Thorkild Jacobsen
Thorkild Jacobsen was a renowned historian specializing in Assyriology and Sumerian literature.He was one of the foremost scholars on the ancient Near East.-Biography:...
and
Seton Lloyd
Seton Lloyd
Seton Howard Frederick Lloyd, CBE , was an English archaeologist. He was President of the British School of Archaeology in Iraq, Director of the British Institute of Archaeology at Ankara , Professor of Western Asiatic Archaeology in the Institute of Archaeology, University of London...
.
Despite the long passage of time since the excavations at Tell Asmar,
the work of examining and publishing the remaining finds from
that dig continues to this day. These finds include roughly 1500 cuneiform tablets.
In the late 1990s, Iraqi archaeologists
worked at Tell Asmar. The results from that excavation have not yet been published.
Laws of Eshnunna
The Laws of Eshnunna consist of two tablets, found at
Shaduppum
Shaduppum
Shaduppum , is an ancientSumerian city which now lies within the borders of present-day Baghdad.- History :...
(Tell Harmal) and a fragment found at Tell Haddad, the ancient Mê-Turan. They were written sometime around the
reign of king Dadusha of Eshnunna and appear to not be official copies. When the actual laws were composed is unknown. They are similar to the
Code of Hammurabi
Code of Hammurabi
The Code of Hammurabi is a well-preserved Babylonian law code, dating to ca. 1780 BC . It is one of the oldest deciphered writings of significant length in the world. The sixth Babylonian king, Hammurabi, enacted the code, and partial copies exist on a human-sized stone stele and various clay...
.
Square Temple of Abu
During the Early Dynastic period, the Abu Temple at Tell Asmar (Eshnunna) went through a number of phases. This included the Early Dynastic Archaic Shrine, Square Temple, and Single-Shrine phases of construction. They, along with sculpture found there, helped form the basis for the three part archaeological separation of the Early Dynastic period into ED I, ED II, and ED III for the ancient Near East. A cache of 12 gypsum sculptures, in a geometric style, were found in the Square Temple. They're some of the best known examples of ancient Near East sculpture.
Rulers of Eshnunna
Ruler
Proposed reign
Notes
Urguedinna
~2000 BC
Governor under Shulgi

Shulgi

Shulgi of Urim was the second king of the "Sumerian Renaissance". He reigned for 48 years, dated to 2029 BCE–1982 BCE...


of the Ur III

Third Dynasty of Ur

The Third Dynasty of Ur, also known as the Neo-Sumerian Empire or the Ur III Empire refers simultaneously to a 21st to 20th century BC Sumerian ruling dynasty based in the city of Ur and a short-lived territorial-political state that some historians regard as a nascent empire...



Kallamu
Governor under Shulgi

Shulgi

Shulgi of Urim was the second king of the "Sumerian Renaissance". He reigned for 48 years, dated to 2029 BCE–1982 BCE...


of the Ur III

Third Dynasty of Ur

The Third Dynasty of Ur, also known as the Neo-Sumerian Empire or the Ur III Empire refers simultaneously to a 21st to 20th century BC Sumerian ruling dynasty based in the city of Ur and a short-lived territorial-political state that some historians regard as a nascent empire...



Ituria
Governor under Shu-Sin

Shu-Sin

Shu-sin was king of Sumer and Akkad, and was the penultimate king of the Ur III dynasty. He succeeded his brother Amar-Sin, and reigned circa 1972-1964 BC....


of the Ur III

Third Dynasty of Ur

The Third Dynasty of Ur, also known as the Neo-Sumerian Empire or the Ur III Empire refers simultaneously to a 21st to 20th century BC Sumerian ruling dynasty based in the city of Ur and a short-lived territorial-political state that some historians regard as a nascent empire...



Ilushuilia
Governor under Ibbi-Sin

Ibbi-Sin

Ibbi-Sin, son of Shu-Sin, was king of Sumer and Akkad and last king of the Ur III dynasty, and reigned circa 1963 BC-1940 BC . During his reign, the Sumerian empire was attacked repeatedly by Amorites...


of the Ur III

Third Dynasty of Ur

The Third Dynasty of Ur, also known as the Neo-Sumerian Empire or the Ur III Empire refers simultaneously to a 21st to 20th century BC Sumerian ruling dynasty based in the city of Ur and a short-lived territorial-political state that some historians regard as a nascent empire...



Nurakhum
Governor under Ibbi-Sin

Ibbi-Sin

Ibbi-Sin, son of Shu-Sin, was king of Sumer and Akkad and last king of the Ur III dynasty, and reigned circa 1963 BC-1940 BC . During his reign, the Sumerian empire was attacked repeatedly by Amorites...


of the Ur III

Third Dynasty of Ur

The Third Dynasty of Ur, also known as the Neo-Sumerian Empire or the Ur III Empire refers simultaneously to a 21st to 20th century BC Sumerian ruling dynasty based in the city of Ur and a short-lived territorial-political state that some historians regard as a nascent empire...


, Contemporary of Ishbi-Erra of Isin

Isin

Isin was an ancient city-state of lower Mesopotamia about 20 miles south of Nippur at the site of modern Ishan al-Bahriyat in Iraq's Al-Qādisiyyah Governorate.-History:...



Kirikiri
Bilalama
Contemporary of Tan-Ruhuratir of Elam

Elam

Elam was an ancient civilization located in what is now southwest Iran. Elam was centered in the far west and the southwest of modern-day Iran, stretching from the lowlands of Khuzestan and Ilam Province, as well as a small part of southern Iraq...



Isharramashu
Usurawasu
Ur-Ninmar
Ur-Ningizzida
Ipiq-Adad I
Contemporary of Abdi-Erah of Khafajah

Khafajah

Khafajah or Khafaje was the ancient town of Tutub in the city-state of Eshnunna...


and Sumu-abum

Sumu-abum

Sumu-Adama was the first King of the First Dynasty of Babylon. He reigned from 1830-1817 BC. He is credited with founding the city of Babylon .-References:...


of Babylon

Babylon

Babylon was an Akkadian city-state of ancient Mesopotamia, the remains of which are found in present-day Al Hillah, Babil Province, Iraq, about 85 kilometers south of Baghdad...



Sarriia
Warassa
Belakum
Ibal-pi-El I
Ipiq-Adad II
~1700 BC
Reigned at least 36 years
Naram-Sin

Naram-Suen of Eshnunna

Naram-Suen was a king who ruled over Eshnunna during the later 19th century BCE, during its brief time of political power. He may or may not be the same person as a contemporaneous King of Assyria named Naram-Suen.-References:...



Son of Ipiq-Adad II, Contemporary of Shamshi-Adad

Shamshi-Adad

Shamshi-Adad may refer to:*Shamshi-Adad I*Shamshi-Adad II*Shamshi-Adad III*Shamshi-Adad IV*Shamshi-Adad V...



Dannum-tahaz
Approximate position
Dadusha
Son of Ipiq-Adad II, Contemporary of Shamshi-Adad

Shamshi-Adad

Shamshi-Adad may refer to:*Shamshi-Adad I*Shamshi-Adad II*Shamshi-Adad III*Shamshi-Adad IV*Shamshi-Adad V...



Ibal-pi-El II
Contemporary of Zimri-Lim of Mari

Mari, Syria

Mari was an ancient Sumerian and Amorite city, located 11 kilometers north-west of the modern town of Abu Kamal on the western bank of Euphrates river, some 120 km southeast of Deir ez-Zor, Syria...


, Killed by Siwe-palar-huppak of Elam

Elam

Elam was an ancient civilization located in what is now southwest Iran. Elam was centered in the far west and the southwest of modern-day Iran, stretching from the lowlands of Khuzestan and Ilam Province, as well as a small part of southern Iraq...


who captured Eshnunna
Silli-Sin
External links