 Erik Bye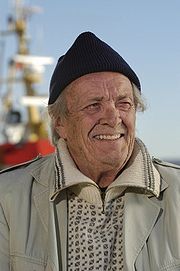 Erik Erikssønn Bye
was a versatile
Norwegian
Norway
Norway , officially the Kingdom of Norway, is a Nordic unitary constitutional monarchy whose territory comprises the western portion of the Scandinavian Peninsula, Jan Mayen, and the Arctic archipelago of Svalbard and Bouvet Island. Norway has a total area of and a population of about 4.9 million...
journalist
Journalist
A journalist collects and distributes news and other information. A journalist's work is referred to as journalism.A reporter is a type of journalist who researchs, writes, and reports on information to be presented in mass media, including print media , electronic media , and digital media A...
,
artist, author, film actor, folk singer and radio and television personality. He was one of the 20th century's most well-known and popular
radio
Radio
Radio is the transmission of signals through free space by modulation of electromagnetic waves with frequencies below those of visible light. Electromagnetic radiation travels by means of oscillating electromagnetic fields that pass through the air and the vacuum of space...
and
television
Television
Television is a telecommunication medium for transmitting and receiving moving images that can be monochrome or colored, with accompanying sound...
figures in
Norway
Norway
Norway , officially the Kingdom of Norway, is a Nordic unitary constitutional monarchy whose territory comprises the western portion of the Scandinavian Peninsula, Jan Mayen, and the Arctic archipelago of Svalbard and Bouvet Island. Norway has a total area of and a population of about 4.9 million...
.
Born in Brooklyn, New York to Rønnaug (née Dahl) and opera singer
Erik Ole Bye
Erik Ole Bye
Erik Ole Bye was a Norwegian operatic baritone. He studied singing with Morgenstierne in Oslo, zur Muhlen in London and R. Willani in Paris. He made his professional opera debut in 1913 at the National Theatre, Oslo as Don Basilio in Gioachino Rossini's The Barber of Seville...
, his family moved home to Norway when he was six years old. After a few years in
Ringerike
Ringerike
oskar er kjempe kulRingerike is a municipality in Buskerud county, Norway. It is part of the traditional region of Ringerike...
they settled in the
Nordstrand
Nordstrand, Norway
Nordstrand is a borough of the city of Oslo, Norway.The borough is located in the southern part of the city and is the second most populated district of Oslo with over 40,000 inhabitants...
borough
in
Oslo
Oslo
Oslo is a municipality, as well as the capital and most populous city in Norway. As a municipality , it was established on 1 January 1838. Founded around 1048 by King Harald III of Norway, the city was largely destroyed by fire in 1624. The city was moved under the reign of Denmark–Norway's King...
, where they took over a bed and breakfast. In his teens, Bye joined the
Norwegian resistance movement
Norwegian resistance movement
The Norwegian resistance to the occupation of Norway by Nazi Germany began after Operation Weserübung in 1940 and ended in 1945. It took several forms:...
during the
occupation of Norway by Nazi Germany
Occupation of Norway by Nazi Germany
The occupation of Norway by Nazi Germany started with the German invasion of Norway on April 9, 1940, and ended on May 8, 1945, after the capitulation of German forces in Europe. Throughout this period, Norway was continuously occupied by the Wehrmacht...
during
World War II
World War II
World War II, or the Second World War , was a global conflict lasting from 1939 to 1945, involving most of the world's nations—including all of the great powers—eventually forming two opposing military alliances: the Allies and the Axis...
. Following the war, he returned to the United States for his university education, studying English, journalism and drama at
Midland Lutheran College
Midland Lutheran College
Midland University, formerly Midland Lutheran College, is a private liberal arts college, located in Fremont, Nebraska, USA, and is affiliated with the Evangelical Lutheran Church in America...
,
Nebraska
Nebraska
Nebraska is a state on the Great Plains of the Midwestern United States. The state's capital is Lincoln and its largest city is Omaha, on the Missouri River....
and the
University of Wisconsin
University of Wisconsin–Madison
The University of Wisconsin–Madison is a public research university located in Madison, Wisconsin, United States. Founded in 1848, UW–Madison is the flagship campus of the University of Wisconsin System. It became a land-grant institution in 1866...
in
Madison
Madison, Wisconsin
Madison is the capital of the U.S. state of Wisconsin and the county seat of Dane County. It is also home to the University of Wisconsin–Madison....
. During his studies he also traveled extensively throughout the United States, taking odd jobs and gathering impressions.
In 1953, Bye took his first job as a reporter with the
Associated Press
Associated Press
The Associated Press is an American news agency. The AP is a cooperative owned by its contributing newspapers, radio and television stations in the United States, which both contribute stories to the AP and use material written by its staff journalists...
and as a freelancer for the Norwegian Broadcasting Corporation. In 1955, he moved to
London
London
London is the capital city of :England and the :United Kingdom, the largest metropolitan area in the United Kingdom, and the largest urban zone in the European Union by most measures. Located on the River Thames, London has been a major settlement for two millennia, its history going back to its...
and worked three years at the BBC Overseas Services as an apprentice to
Anthony Martin
Anthony Martin
Anthony Martin is a French footballer, who currently plays in the Championnat de France amateur for La Vitréenne FC.-Career:...
before returning home. Bye enjoyed immense popularity with generations of Norwegians, and his songs and programs on radio and television were magnets to audiences of all ages. He was noted for his gift of being equally comfortable with the King of Norway and a random character met on the street. His roaming reports from around the world ranged from searching America for an old Apache chief to bringing an African chieftain from Ghana who answered a message in a bottle released by NRK to Norway.
Bye was well known for his support of Norwegian sailors. He also spent much time helping the Norwegian Society for Sea Rescue and their cause; as a result one of their rescue vessels is named after him.
In 1978 the King of Norway made him a Knight, 1st Class in the Royal Norwegian Order of St. Olav. In 2005 he was voted the third greatest Norwegian of the 20th century by the viewers of NRK, behind King Olav V and
Einar Gerhardsen
Einar Gerhardsen
was a Norwegian politician from the Labour Party of Norway. He was Prime Minister for three periods, 1945–1951, 1955–1963 and 1963–1965. With 17 years in office, he is the longest serving Prime Minister in Norway since the introduction of parliamentarism...
.
Bye was married to politician Tove Billington Jørgensen from 1953 until his death from cancer.
Discography
Vi går ombord (1960)
Erik Bye Synger Skjæraasen (1966)
Jeg Vet en Vind (1972)
Gjensyn (1974)
Gammel Er Min Fjord (1974)
Blow Silver Wind (1976)
En Dobbel Deylighet (1978) with Birgitte Grimstad
Norske Folketoner (1978)
Vandring på Vår Herres Klinkeule (1985)
Langt Nord i Livet (1994)
En sang under skjorta- Et Visevalg Fra Skattkammeret (1995)
I dur og brott (2003) with Royal Norwegian Navy Band
External links
Erik Bye 1926-2004 – Summary obituary, Aftenposten

Aftenposten

Aftenposten is Norway's largest newspaper. It retook this position in 2010, taking it from the tabloid Verdens Gang which had been the largest newspaper for several decades. It is based in Oslo. The morning edition, which is distributed across all of Norway, had a circulation of 250,179 in 2007...


, 14 October 2004
Erik Bye – sound and audio – From the archive of the Norwegian Broadcasting System (NRK)

Norsk Rikskringkasting

The Norwegian Broadcasting Corporation , which is usually known as NRK, is the Norwegian government-owned radio and television public broadcasting company, and the largest media organisation in Norway...