 Erfurt Cathedral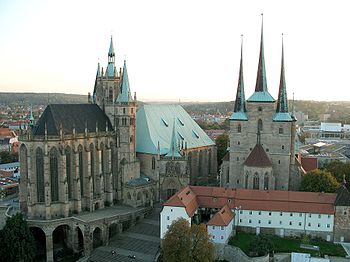 The Catholic
Erfurt Cathedral
is a 1200 year old church located on Cathedral Hill of
Erfurt
Erfurt
Erfurt is the capital city of Thuringia and the main city nearest to the geographical centre of Germany, located 100 km SW of Leipzig, 150 km N of Nuremberg and 180 km SE of Hannover. Erfurt Airport can be reached by plane via Munich. It lies in the southern part of the Thuringian...
, in
Thuringia
Thuringia
The Free State of Thuringia is a state of Germany, located in the central part of the country.It has an area of and 2.29 million inhabitants, making it the sixth smallest by area and the fifth smallest by population of Germany's sixteen states....
,
Germany
Germany
Germany , officially the Federal Republic of Germany , is a federal parliamentary republic in Europe. The country consists of 16 states while the capital and largest city is Berlin. Germany covers an area of 357,021 km2 and has a largely temperate seasonal climate...
. It is of a
International Gothic
International Gothic
International Gothic is a phase of Gothic art which developed in Burgundy, Bohemia, France and northern Italy in the late 14th century and early 15th century...
style, and is also known as St Mary's Cathedral, and is located, uniquely, on a hillside.
History
The site where the
Cathedral
Cathedral
A cathedral is a Christian church that contains the seat of a bishop...
is now situated has been the location of many other church-like abuildings in history, such as a Romanesque
basilica
Basilica
The Latin word basilica , was originally used to describe a Roman public building, usually located in the forum of a Roman town. Public basilicas began to appear in Hellenistic cities in the 2nd century BC.The term was also applied to buildings used for religious purposes...
and a
hall church
Hall church
A hall church is a church with nave and side aisles of approximately equal height, often united under a single immense roof. The term was first coined in the mid-19th century by the pioneering German art historian Wilhelm Lübke....
.
Martin Luther
Martin Luther
Martin Luther was a German priest, professor of theology and iconic figure of the Protestant Reformation. He strongly disputed the claim that freedom from God's punishment for sin could be purchased with money. He confronted indulgence salesman Johann Tetzel with his Ninety-Five Theses in 1517...
was ordained in the cathedral in 1507.
Architecture
The
architecture
Architecture
Architecture is both the process and product of planning, designing and construction. Architectural works, in the material form of buildings, are often perceived as cultural and political symbols and as works of art...
of the Erfurt Cathedral is, mostly, of a Gothic styling, and exists from around the 14th and 15th centuries.
There are many things of note as far as the architecture is concerned, not least the
stained glass
Stained glass
The term stained glass can refer to coloured glass as a material or to works produced from it. Throughout its thousand-year history, the term has been applied almost exclusively to the windows of churches and other significant buildings...
windows and furnishings of the interior of the cathedral. The central spire of the three towers that sit aloft the cathedral harbours the Maria Gloriosa which, at the time of its casting by Geert van Wou in 1497, was the world's largest free-swinging bell. It is known to have purity and beauty of tone.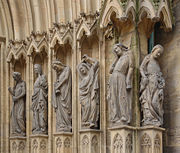 Relics and treasures
The Cathedral is house to many rare and rich furnishings and sculptures, including the tomb of the bigamous Count von Gleichen,
accompanied by both of his wives, a
stucco
Stucco
Stucco or render is a material made of an aggregate, a binder, and water. Stucco is applied wet and hardens to a very dense solid. It is used as decorative coating for walls and ceilings and as a sculptural and artistic material in architecture...
altar
Altar
An altar is any structure upon which offerings such as sacrifices are made for religious purposes. Altars are usually found at shrines, and they can be located in temples, churches and other places of worship...
, a bronze candelebra of Romanesque antiquity called Wolfram, the oldest free standing cast work in Germany, and, out on the porch, several statues of the Wise and Foolish Virgins.