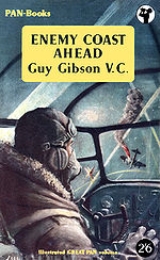 Enemy Coast Ahead
Enemy Coast Ahead
is an autobiographical book recounting the
World War II
World War II
World War II, or the Second World War , was a global conflict lasting from 1939 to 1945, involving most of the world's nations—including all of the great powers—eventually forming two opposing military alliances: the Allies and the Axis...
flying career of
Wing Commander
Wing Commander (rank)
Wing commander is a commissioned rank in the Royal Air Force and the air forces of many other Commonwealth countries...
Guy Gibson
Guy Gibson
Wing Commander Guy Penrose Gibson VC, DSO & Bar, DFC & Bar, RAF , was the first CO of the Royal Air Force's 617 Squadron, which he led in the "Dam Busters" raid in 1943, resulting in the destruction of two large dams in the Ruhr area...
VC
Victoria Cross
The Victoria Cross is the highest military decoration awarded for valour "in the face of the enemy" to members of the armed forces of various Commonwealth countries, and previous British Empire territories....
,
DSO
Distinguished Service Order
The Distinguished Service Order is a military decoration of the United Kingdom, and formerly of other parts of the British Commonwealth and Empire, awarded for meritorious or distinguished service by officers of the armed forces during wartime, typically in actual combat.Instituted on 6 September...
,
DFC
Distinguished Flying Cross (United Kingdom)
The Distinguished Flying Cross is a military decoration awarded to personnel of the United Kingdom's Royal Air Force and other services, and formerly to officers of other Commonwealth countries, for "an act or acts of valour, courage or devotion to duty whilst flying in active operations against...
. It covers his time in
Bomber Command
Bomber Command
Bomber Command is an organizational military unit, generally subordinate to the air force of a country. Many countries have a "Bomber Command", although the most famous ones were in Britain and the United States. A Bomber Command is generally used for Strategic bombing , and is composed of bombers...
from the very earliest days of war in 1939 through to 1943.
Gibson wrote the book aged 25 in 1944 whilst off operations. He had by this time completed two full tours with Bomber Command (with
83
No. 83 Squadron RAF
No. 83 Squadron RAF was a Royal Flying Corps and Royal Air Force squadron active from 1917 until 1969. It was operative during both World War I and World War II.-Establishment and early service:...
and
106 Squadrons
No. 106 Squadron RAF
No. 106 Squadron RAF was a Royal Flying Corps and Royal Air Force squadron active from 1917 until 1919. It was also operative during World War II and in the post war period until 1963.- Establishment and early service :...
), another one as a night-fighter pilot with
29 Squadron
No. 29 Squadron RAF
No. 29 Squadron of the Royal Air Force was first raised in 1915, and is one of the world's oldest fighter squadrons. The second British squadron to receive the Eurofighter Typhoon, it is currently the Operational Conversion Unit for the RAF's newest fighter.-Service in World War I:This unit was...
and, as leader of the famous Dam Busters against raid the dams of the
Ruhr
Ruhr Area
The Ruhr, by German-speaking geographers and historians more accurately called Ruhr district or Ruhr region , is an urban area in North Rhine-Westphalia, Germany. With 4435 km² and a population of some 5.2 million , it is the largest urban agglomeration in Germany...
Valley (
Operation Chastise
Operation Chastise
Operation Chastise was an attack on German dams carried out on 16–17 May 1943 by Royal Air Force No. 617 Squadron, subsequently known as the "Dambusters", using a specially developed "bouncing bomb" invented and developed by Barnes Wallis...
) with
617 Squadron
No. 617 Squadron RAF
No. 617 Squadron is a Royal Air Force aircraft squadron based at RAF Lossiemouth in Scotland. It currently operates the Tornado GR4 in the ground attack and reconnaissance role...
in May 1943.
It was first published in book form in 1946, to much critical acclaim and a fully uncensored account released in 2003. The book was serialised in the Sunday Express during the winter of 1944-45, following his death in September 1944, when his
Mosquito
De Havilland Mosquito
The de Havilland DH.98 Mosquito was a British multi-role combat aircraft that served during the Second World War and the postwar era. It was known affectionately as the "Mossie" to its crews and was also nicknamed "The Wooden Wonder"...
crashed near
Steenbergen
Steenbergen
Steenbergen can mean:*Steenbergen, a town and municipality in North Brabant, the Netherlands*Steenbergen , a hamlet in the south of Drenthe, the Netherlands*Steenbergen , a hamlet in the north of Drenthe, the Netherlands...
in
Holland
.
Synopsis
Gibson joined the RAF prior to the war, and he recounts the early stages of combat and the daily struggle with old and decrepit aeroplanes on long and arduous missions into enemy airspace. He also clearly recounts the issues facing the early pilots
taking the war to Germany
from within what seemed an almost amateurish Bomber Command. He quickly learned how to stay alive and rapidly grew in experience and maturity, rising from Pilot Officer to a highly decorated Wing Commander.
2003 Reprint
Using Gibson's original draft, the reprint restored elements originally omitted – such as Gibson's views on fellow pilots and staff, air tactics and the deployment of Bomber Command.
Film
The 1954 film,
The Dam Busters
The Dam Busters (film)
The Dam Busters is a 1955 British Second World War war film starring Michael Redgrave and Richard Todd and directed by Michael Anderson. The film recreates the true story of Operation Chastise when in 1943 the RAF's 617 Squadron attacked the Möhne, Eder and Sorpe dams in Germany with Wallis's...
, was based on both Gibson's
Enemy Coast Ahead
and on
Paul Brickhill
Paul Brickhill
Paul Chester Jerome Brickhill was an Australian writer, whose World War II books were turned into popular movies.-Biography:...
's
The Dam Busters
The Dam Busters (book)
The Dam Busters is a 1951 book by Paul Brickhill about Royal Air Force Squadron 617, originally commanded by Wing Commander Guy Gibson V.C. during World War II...
. The movie starred
Richard Todd
Richard Todd
Richard Todd OBE was an Irish-born British stage and film actor and soldier.-Early life:Richard Todd was born as Richard Andrew Palethorpe-Todd in Dublin, Ireland. His father, Andrew William Palethorpe Todd, was an Irish physician and an international Irish rugby player who gained three caps for...
as Gibson and
Michael Redgrave
Michael Redgrave
Sir Michael Scudamore Redgrave, CBE was an English stage and film actor, director, manager and author.-Youth and education:...
as
Wallis
Barnes Wallis
Sir Barnes Neville Wallis, CBE FRS, RDI, FRAeS , was an English scientist, engineer and inventor. He is best known for inventing the bouncing bomb used by the RAF in Operation Chastise to attack the dams of the Ruhr Valley during World War II...
.