Emergency department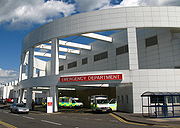 An
emergency department
(
ED
), also known as
accident & emergency
(
A&E
),
emergency room
(
ER
),
emergency ward
(
EW
), or
casualty department
is a medical treatment facility specialising in
acute
Acute (medicine)
In medicine, an acute disease is a disease with either or both of:# a rapid onset, as in acute infection# a short course ....
care of patients who present without prior appointment, either by their own means or by
ambulance
Ambulance
An ambulance is a vehicle for transportation of sick or injured people to, from or between places of treatment for an illness or injury, and in some instances will also provide out of hospital medical care to the patient...
. The emergency department is usually found in a
hospital
Hospital
A hospital is a health care institution providing patient treatment by specialized staff and equipment. Hospitals often, but not always, provide for inpatient care or longer-term patient stays....
or other
primary care
Primary care
Primary care is the term for the health services by providers who act as the principal point of consultation for patients within a health care system...
center.
Due to the unplanned nature of patient attendance, the department must provide initial treatment for a broad spectrum of illnesses and injuries, some of which may be
life-threatening
Medical emergency
A medical emergency is an injury or illness that is acute and poses an immediate risk to a person's life or long term health. These emergencies may require assistance from another person, who should ideally be suitably qualified to do so, although some of these emergencies can be dealt with by the...
and require immediate attention. In some countries, emergency departments have become important entry points for those without other means of access to medical care.
The emergency departments of most hospitals operate 24 hours a day, although staffing levels may be varied in an attempt to mirror patient volume.
History
The first specialized trauma care center in the world was opened in 1911 in the United States at the
University of Louisville
University of Louisville
The University of Louisville is a public university in Louisville, Kentucky. When founded in 1798, it was the first city-owned public university in the United States and one of the first universities chartered west of the Allegheny Mountains. The university is mandated by the Kentucky General...
Hospital in
Louisville, Kentucky
Louisville, Kentucky
Louisville is the largest city in the U.S. state of Kentucky, and the county seat of Jefferson County. Since 2003, the city's borders have been coterminous with those of the county because of a city-county merger. The city's population at the 2010 census was 741,096...
, and was developed by surgeon Arnold Griswold during the 1930s. Griswold also equipped police and fire vehicles with medical supplies and trained officers to give emergency care while en route to the hospital.
Department operation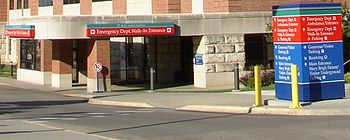 As patients can present at any time and with any complaint, a key part of the operation of an emergency department is the prioritization of cases based on clinical need. This is usually achieved though the application of
triage
Triage
Triage or ) is the process of determining the priority of patients' treatments based on the severity of their condition. This rations patient treatment efficiently when resources are insufficient for all to be treated immediately. The term comes from the French verb trier, meaning to separate,...
.
Triage is normally the first stage the patient passes through, and most emergency departments have a dedicated area for this to take place, and may have staff dedicated to performing nothing but a triage role. In most departments, this role is fulfilled by a nurse, although dependant on training levels in the country and area, other health care professionals may perform the triage sorting, including
paramedic
Paramedic
A paramedic is a healthcare professional that works in emergency medical situations. Paramedics provide advanced levels of care for medical emergencies and trauma. The majority of paramedics are based in the field in ambulances, emergency response vehicles, or in specialist mobile units such as...
s or
doctors
Physician
A physician is a health care provider who practices the profession of medicine, which is concerned with promoting, maintaining or restoring human health through the study, diagnosis, and treatment of disease, injury and other physical and mental impairments...
.
Most patients will be assessed and then passed to another area of the department, or another area of the hospital, with their waiting time determined by their clinical need. However, some patients may complete their treatment at the triage stage, for instance if the condition is very minor and can be treated quickly, if only advice is required, or if the emergency department is not a suitable point of care for the patient. Conversely, patients with evidently serious conditions, such as cardiac arrest, will bypass triage altogether and move straight to the appropriate part of the department.
The
resuscitation
Cardiopulmonary resuscitation
Cardiopulmonary resuscitation is an emergency procedure which is performed in an effort to manually preserve intact brain function until further measures are taken to restore spontaneous blood circulation and breathing in a person in cardiac arrest. It is indicated in those who are unresponsive...
area is key in most departments and the most serious patients will be dealt with in this area, and it contains the equipment and staff required for dealing with immediately life threatening illnesses and injuries.
Patients whose condition is not immediately life threatening will be sent to an area suitable to deal with them, and these areas might typically be termed as a
majors
or
minors
area. Such patients may still have been found to have significant problems, including fractures,
dislocation
Dislocation (medicine)
Joint dislocation, or luxation , occurs when bones in a joint become displaced or misaligned. It is often caused by a sudden impact to the joint. The ligaments always become damaged as a result of a dislocation...
s, and
laceration
Wound
A wound is a type of injury in which skin is torn, cut or punctured , or where blunt force trauma causes a contusion . In pathology, it specifically refers to a sharp injury which damages the dermis of the skin.-Open:...
s requiring suturing.
Children can present particular challenges in treatment and some departments have dedicated
pediatrics
Pediatrics
Pediatrics or paediatrics is the branch of medicine that deals with the medical care of infants, children, and adolescents. A medical practitioner who specializes in this area is known as a pediatrician or paediatrician...
areas and some departments employ a
play therapist
whose job is to put children at ease to reduce the anxiety caused by visiting the emergency department, as well as provide distraction therapy for simple procedures.
Many hospitals have a separate area for evaluation of
psychiatric problems
Mental illness
A mental disorder or mental illness is a psychological or behavioral pattern generally associated with subjective distress or disability that occurs in an individual, and which is not a part of normal development or culture. Such a disorder may consist of a combination of affective, behavioural,...
. These are often staffed by
psychiatrist
Psychiatrist
A psychiatrist is a physician who specializes in the diagnosis and treatment of mental disorders. All psychiatrists are trained in diagnostic evaluation and in psychotherapy...
s and mental health nurses and social workers. There is typically at least one room for people who are actively a risk to themselves or others (e.g.
suicidal
Suicide
Suicide is the act of intentionally causing one's own death. Suicide is often committed out of despair or attributed to some underlying mental disorder, such as depression, bipolar disorder, schizophrenia, alcoholism, or drug abuse...
).
Fast decisions on life-and-death cases are critical in hospital emergency rooms. As a result, doctors face great pressures to overtest and overtreat. The fear of missing something often leads to extra blood tests and imaging scans for what may be harmless chest pains, run-of-the-mill head bumps, and non-threatening stomachaches, with a high cost on the Health Care system.
Nomenclature
Emergency Department
became the preferred term when Emergency Medicine was recognised as a medical speciality and hospitals and medical centers developed Departments of Emergency Medicine to provide services.
Historic terminology still exists across the world, especially in vernacular usage. The previously accepted formal term 'Accident and Emergency' or 'A&E' is still widely known in countries such as the United Kingdom and its former territories, as are common informal terms such as 'Casualty', or 'Casualty Department'. The same applies to 'Emergency Room' or 'ER' in North America, originating when emergency facilities were provided in a single room of the hospital by the Department of Surgery.
In the cases of both 'ER' in North America and 'Casualty' in the United Kingdom, the continued prevalence can be to some extent linked to the existence of long running television dramas bearing those respective names. See
ER (TV series)
ER (TV series)
ER is an American medical drama television series created by novelist Michael Crichton that aired on NBC from September 19, 1994 to April 2, 2009. It was produced by Constant c Productions and Amblin Entertainment, in association with Warner Bros. Television...
and
Casualty (TV series)
Casualty (TV series)
Casualty, stylised as Casual+y, is a British weekly television show broadcast on BBC One, and the longest-running emergency medical drama television series in the world. Created by Jeremy Brock and Paul Unwin, it was first broadcast on 6 September 1986, and transmitted in the UK on BBC One. The...
.
The term "Urgency" instead of "Emergency" is used in some Latin American countries. Emergency Departments are known as
"Servicios de Urgencia"
and they function in a similar fashion to European Emergency Departments.
Signage
Regardless of naming convention, there is a widespread usage of directional signage in white text on a red background across the world, which indicates the location of the emergency department, or a hospital with such facilities.
Signs on emergency departments may contain additional information. In some American states there is close regulation of the design and content of such signs. For example, California requires wording such as "Comprehensive Emergency Medical Service" and "Physician On Duty", to prevent persons in need of critical care from presenting to facilities that are not fully equipped and staffed.
In some countries, including the
United States
United States
The United States of America is a federal constitutional republic comprising fifty states and a federal district...
and Canada, a smaller facility that may provide assistance in medical emergencies is known as a
clinic
Clinic
A clinic is a health care facility that is primarily devoted to the care of outpatients...
. Larger communities often have walk-in clinics where people with medical problems that would not be considered serious enough to warrant an emergency department visit can be seen. These clinics often do not operate on a 24 hour basis.
US
United States
Many U.S. emergency departments are exceedingly busy. A survey of New York area doctors in February 2007 found that injuries and even deaths have been caused by excessive waits for hospital beds by ED patients. A 2005 patient survey found an average ED wait time from 2.3 hours in Iowa to 5.0 hours in Arizona.
One inspection of Los Angeles area hospitals by Congressional staff found the EDs operating at an average of 116% of capacity (meaning there were more patients than available treatment spaces) with insufficient beds to accommodate victims of a terrorist attack the size of the 2004 Madrid train bombings. Three of the five Level I trauma centers were on "diversion", meaning ambulances with all but the most severely injured patients were being directed elsewhere because the ED could not safely accommodate any more patients. This controversial practice was banned in Massachusetts (except for major incidents, such as a fire in the ED), effective January 1, 2009; in response, hospitals have devoted more staff to the ED at peak times and moved some elective procedures to non-peak times.
In 2009, there were 1,800 EDs in the country.
United Kingdom

All A&E departments throughout the United Kingdom are financed and managed publicly by the
NHS
National Health Service
The National Health Service is the shared name of three of the four publicly funded healthcare systems in the United Kingdom. They provide a comprehensive range of health services, the vast majority of which are free at the point of use to residents of the United Kingdom...
of each constituent country (
England
National Health Service (England)
The National Health Service or NHS is the publicly funded healthcare system in England. It is both the largest and oldest single-payer healthcare system in the world. It is able to function in the way that it does because it is primarily funded through the general taxation system, similar to how...
,
Scotland
NHS Scotland
NHS Scotland is the publicly funded healthcare system of Scotland. Although they are separate bodies the organisational separation between NHS Scotland and the other three healthcare organisations each commonly called the National Health Service in the United Kingdom tends to be hidden from its...
,
Wales
and Northern Ireland). As with most other
NHS
National Health Service
The National Health Service is the shared name of three of the four publicly funded healthcare systems in the United Kingdom. They provide a comprehensive range of health services, the vast majority of which are free at the point of use to residents of the United Kingdom...
services, emergency care is provided to all, both resident citizens and those not ordinarily resident in the UK, free at the point of need and regardless of any ability to pay.
Historically, waits for assessment in A&E were very long in some areas of the UK. In October 2002, the
Department of Health
Department of Health (United Kingdom)
The Department of Health is a department of the United Kingdom government with responsibility for government policy for health and social care matters and for the National Health Service in England along with a few elements of the same matters which are not otherwise devolved to the Scottish,...
introduced a four-hour target in emergency departments that required departments in England to assess and treat patients within four hours of arrival, with referral and assessment by other departments if deemed necessary. Present policy is that 95% of all patient cases do not "breach" this four-hour wait.
The 4-hour target triggered the introduction of the
acute assessment unit
Acute assessment unit
An acute assessment unit, or acute admissions unit, is a short-stay department in some hospitals that is sometimes part of the emergency department, although a separate department. The AAU acts as a gateway between a patient's general practitioner, the emergency department, and the wards of the...
(also known as the medical assessment unit), which works alongside the emergency department but is outside it for statistical purposes in the
bed management
Bed management
Bed management is the allocation and provision of beds, especially in a hospital where beds in specialist wards are a scarce resource. The "bed" in this context represents not simply a place for the patient to sleep, but the services that go with being cared for by the medical facility: admission...
cycle. It is claimed that though A&E targets have resulted in significant improvements in completion times, the current target would not have been possible without some form of patient re-designation or re-labeling taking place, so true improvements are somewhat less than headline figures might suggest and it is doubtful that a single target (fitting all A&E and related services) is sustainable.
Cardiac arrest
Cardiac arrest
Cardiac arrest
Cardiac arrest, is the cessation of normal circulation of the blood due to failure of the heart to contract effectively...
may occur in the ED/A&E or a patient may be transported by ambulance to the emergency department already in this state. Treatment is
basic life support
Basic life support
Basic life support is the level of medical care which is used for patients with life-threatening illnesses or injuries until the patient can be given full medical care at a hospital. It can be provided by trained medical personnel, including emergency medical technicians, paramedics, and by...
and
advanced life support
Advanced Life Support
Advanced Life Support is a set of life-saving protocols and skills that extend Basic Life Support to further support the circulation and provide an open airway and adequate ventilation .-Components of ALS:These include:...
as taught in advanced life support and
advanced cardiac life support
Advanced cardiac life support
Advanced cardiac life support or Advanced Cardiovascular Life Support refers to a set of clinical interventions for the urgent treatment of cardiac arrest and other life threatening medical emergencies, as well as the knowledge and skills to deploy those interventions.Extensive medical knowledge...
courses. This is an immediately life-threatening condition which requires immediate action in salvageable cases.
Heart attack
See main article: Myocardial infarction

Myocardial infarction

Myocardial infarction or acute myocardial infarction , commonly known as a heart attack, results from the interruption of blood supply to a part of the heart, causing heart cells to die...



Patients arriving to the emergency department with a myocardial infarction (heart attack) are likely to be triaged to the resuscitation area. They will receive oxygen and monitoring and have an early
ECG
Electrocardiogram
Electrocardiography is a transthoracic interpretation of the electrical activity of the heart over a period of time, as detected by electrodes attached to the outer surface of the skin and recorded by a device external to the body...
; aspirin will be given if not
contraindicated
Contraindication
In medicine, a contraindication is a condition or factor that serves as a reason to withhold a certain medical treatment.Some contraindications are absolute, meaning that there are no reasonable circumstances for undertaking a course of action...
or not already administered by the ambulance team; morphine or diamorphine will be given for pain; sub lingual (under the tongue) or buccal (between cheek and upper gum) glyceryl trinitrate [nitroglycerin] (GTN or NTG) will be given, unless contraindicated by the presence of other drugs, such as drugs that treat
erectile dysfunction
Erectile dysfunction
Erectile dysfunction is sexual dysfunction characterized by the inability to develop or maintain an erection of the penis during sexual performance....
.
An
ECG
Electrocardiogram
Electrocardiography is a transthoracic interpretation of the electrical activity of the heart over a period of time, as detected by electrodes attached to the outer surface of the skin and recorded by a device external to the body...
that reveals ST segment elevation or new
left bundle branch block
Bundle branch block
A bundle branch block refers to a defect of the heart's electrical conduction system.-Anatomy and physiology:The heart's electrical activity begins in the sinoatrial node , which is situated on the upper right atrium. The impulse travels next through the left and right atria and summates at the...
suggests complete blockage of one of the main coronary arteries. These patients require immediate reperfusion (re-opening) of the occluded vessel. This can be achieved in two ways:
thrombolysis
Thrombolysis
Thrombolysis is the breakdown of blood clots by pharmacological means. It is colloquially referred to as clot busting for this reason...
(clot-busting medication) or
percutaneous transluminal coronary angioplasty
Angioplasty
Angioplasty is the technique of mechanically widening a narrowed or obstructed blood vessel, the latter typically being a result of atherosclerosis. An empty and collapsed balloon on a guide wire, known as a balloon catheter, is passed into the narrowed locations and then inflated to a fixed size...
(PTCA). Both of these are effective in reducing significantly the mortality of myocardial infarction. Many centers are now moving to the use of PTCA as it is somewhat more effective than thrombolysis if it can be administered early. This may involve transfer to a nearby facility with facilities for angioplasty.
Trauma
Major trauma, the term for patients with multiple injuries, often from a road traffic accident or a major fall, is sometimes handled in the Emergency Department. However, trauma is a separate (surgical) specialty from emergency medicine (which is a medical specialty, and has certifications in the United states from the American Board of Emergency Medicine).
Trauma is treated by a
trauma team
Trauma team
A Trauma team is a group of healthcare workers who tend to seriously ill or injured patients who arrive at a hospital emergency department. The team is composed of a number of specific roles, with a typical team consisting of:...
who have been trained using the principles taught in the internationally recognized
Advanced Trauma Life Support
Advanced Trauma Life Support
Advanced Trauma Life Support is a training program for medical doctors in the management of acute trauma cases, developed by the American College of Surgeons. Similar programs exist for nurses and paramedics...
(ATLS) course of the
American College of Surgeons
American College of Surgeons
The American College of Surgeons is an educational association of surgeons created in 1913 to improve the quality of care for the surgical patient by setting high standards for surgical education and practice.-Membership:...
. Some other international training bodies have started to run similar courses based on the same principles.
The services that are provided in an emergency department can range from simple x-rays and the setting of broken bones to those of a full-scale
trauma center
Trauma center
A trauma center is a hospital equipped to provide comprehensive emergency medical services to patients suffering traumatic injuries. Trauma centers grew into existence out of the realization that traumatic injury is a disease process unto itself requiring specialized and experienced...
. A patient's chance of survival is greatly improved if the patient receives definitive treatment (i.e. surgery or reperfusion) within one hour of an accident (such as a car accident) or onset of acute illness (such as a heart attack). This critical time frame is commonly known as the "
golden hour
Golden hour (medicine)
In emergency medicine, the golden hour refers to a time period lasting from a few minutes to several hours following traumatic injury being sustained by a casualty, during which there is the highest likelihood that prompt medical treatment will prevent death...
".
Some emergency departments in smaller hospitals are located near a helipad which is used by helicopters to transport a patient to a trauma center. This inter-hospital transfer is often done when a patient requires advanced medical care unavailable at the local facility. In such cases the emergency department can only stabilize the patient for transport.
Mental illness
Some patients arrive at an emergency department for a complaint of mental illness. In many jurisdictions (including many U.S. states), patients who appear to be mentally ill and to present a danger to themselves or others may be brought against their will to an emergency department by law enforcement officers for psychiatric examination. The emergency department conducts medical clearance rather than treats acute behavioral disorders. From the emergency department, patients with significant mental illness may be transferred to a psychiatric unit (in many cases involuntarily).
Asthma and COPD
Acute exacerbations of chronic respiratory diseases, mainly
asthma
Asthma
Asthma is the common chronic inflammatory disease of the airways characterized by variable and recurring symptoms, reversible airflow obstruction, and bronchospasm. Symptoms include wheezing, coughing, chest tightness, and shortness of breath...
and
chronic obstructive pulmonary disease
Chronic obstructive pulmonary disease
Chronic obstructive pulmonary disease , also known as chronic obstructive lung disease , chronic obstructive airway disease , chronic airflow limitation and chronic obstructive respiratory disease , is the co-occurrence of chronic bronchitis and emphysema, a pair of commonly co-existing diseases...
(COPD), are assessed as emergencies and treated with
oxygen therapy
Oxygen therapy
Oxygen therapy is the administration of oxygen as a medical intervention, which can be for a variety of purposes in both chronic and acute patient care...
,
bronchodilator
Bronchodilator
A bronchodilator is a substance that dilates the bronchi and bronchioles, decreasing resistance in the respiratory airway and increasing airflow to the lungs. Bronchodilators may be endogenous , or they may be medications administered for the treatment of breathing difficulties...
s,
steroid
Glucocorticoid
Glucocorticoids are a class of steroid hormones that bind to the glucocorticoid receptor , which is present in almost every vertebrate animal cell...
s or
theophylline
Theophylline
Theophylline, also known as dimethylxanthine, is a methylxanthine drug used in therapy for respiratory diseases such as COPD and asthma under a variety of brand names. Because of its numerous side-effects, the drug is now rarely administered for clinical use. As a member of the xanthine family, it...
, have an urgent
chest X-ray
Chest X-ray
In medicine, a chest radiograph, commonly called a chest X-ray , is a projection radiograph of the chest used to diagnose conditions affecting the chest, its contents, and nearby structures...
and
arterial blood gas
Arterial blood gas
An arterial blood gas is a blood test that is performed using blood from an artery. It involves puncturing an artery with a thin needle and syringe and drawing a small volume of blood. The most common puncture site is the radial artery at the wrist, but sometimes the femoral artery in the groin or...
es and are referred for intensive care if necessary.
Non invasive ventilation
Mechanical ventilation
In medicine, mechanical ventilation is a method to mechanically assist or replace spontaneous breathing. This may involve a machine called a ventilator or the breathing may be assisted by a physician, respiratory therapist or other suitable person compressing a bag or set of bellows...
in the ED has reduced the requirement for
tracheal intubation
Tracheal intubation
Tracheal intubation, usually simply referred to as intubation, is the placement of a flexible plastic or rubber tube into the trachea to maintain an open airway or to serve as a conduit through which to administer certain drugs...
in many cases of severe exacerbations of COPD.
Special facilities, training, and equipment
An ED requires different equipment and different approaches than most other hospital divisions. Patients frequently arrive with unstable conditions, and so must be treated quickly. They may be unconscious, and information such as their medical history, allergies, and blood type may be unavailable. ED staff are trained to work quickly and effectively even with minimal information.
ED staff must also interact efficiently with pre-hospital care providers such as EMTs, paramedics, and others who are occasionally based in an ED. The pre-hospital providers may use equipment unfamiliar to the average physician, but ED physicians must be expert in using (and safely removing) specialized equipment, since devices such as
Military Anti-Shock Trousers
Military Anti-Shock Trousers
Military anti-shock trousers are medical devices used to treat severe blood loss. They are also indicated for the stabilization of unstable pelvic fractures in the field prior to transport....
("MAST") and
traction splint
Traction splint
A traction splint most commonly refers to a splinting device that uses straps attaching over the pelvis or hip as an anchor, a metal rod to mimic normal bone stability and limb length, and a mechanical device to apply traction to the limb...
s require special procedures. Among other reasons, given that they must be able to handle specialized equipment, physicians can now specialize in emergency medicine, and EDs employ many such specialists.
ED staff have much in common with ambulance and fire crews,
combat medic
Combat medic
Combat medics are trained military personnel who are responsible for providing first aid and frontline trauma care on the battlefield. They are also responsible for providing continuing medical care in the absence of a readily available physician, including care for disease and battle injury...
s,
search and rescue
Search and rescue
Search and rescue is the search for and provision of aid to people who are in distress or imminent danger.The general field of search and rescue includes many specialty sub-fields, mostly based upon terrain considerations...
teams, and
disaster response
Disaster response
Disaster response is a phase of the disaster management cycle. Its preceding cycles aim to reduce the need for a disaster response, or to avoid it altogether.The level of disaster response depends on a number of factors and particular situation awareness...
teams. Often, joint training and practice drills are organized to improve the coordination of this complex response system. Busy EDs exchange a great deal of equipment with ambulance crews, and both must provide for replacing, returning, or reimbursing for costly items.
Cardiac arrest and major trauma are relatively common in EDs, so defibrillators, automatic ventilation and
CPR
Cardiopulmonary resuscitation
Cardiopulmonary resuscitation is an emergency procedure which is performed in an effort to manually preserve intact brain function until further measures are taken to restore spontaneous blood circulation and breathing in a person in cardiac arrest. It is indicated in those who are unresponsive...
machines, and bleeding control dressings are used heavily. Survival in such cases is greatly enhanced by shortening the wait for key interventions, and in recent years some of this specialized equipment has spread to pre-hospital settings. The best-known example is defibrillator's, which spread first to ambulances, then in an automatic version to police cars, and most recently to public spaces such as airports, office buildings, hotels, and even shopping malls.
Because time is such an essential factor in emergency treatment, EDs typically have their own diagnostic equipment to avoid waiting for equipment installed elsewhere in the hospital. Nearly all have an X-ray room, and many now have full radiology facilities including CT scanners and ultrasonography equipment. Laboratory services may be handled on a priority basis by the hospital lab, or the ED may have its own "STAT Lab" for basic labs (blood counts, blood typing, toxicology screens, etc.) that must be returned very rapidly.
Non-emergency use
Metrics applicable to the ED can be grouped into three main categories, volume, cycle time, and patient satisfaction. Volume metrics including arrivals per hour, percentage of ED beds occupied and age of patients are understood at a basic level at all hospitals as an indication for staffing requirements. Cycle time metrics are the mainstays of the evaluation and tracking of process efficiency and are less widespread since an active effort is needed to collect and analyze this data. Patient satisfaction metrics, already commonly collected by physician groups and hospitals, are useful in demonstrating the impact of changes in patient perception of care over time. Since patient satisfaction metrics are derivative and subjective, they are less useful in primary process improvement.
In many Primary Care Trusts there may be out of hours doctor services sometimes known as Keydoc or something similar (varying by area) provided by volunteer
General Practitioner
General practitioner
A general practitioner is a medical practitioner who treats acute and chronic illnesses and provides preventive care and health education for all ages and both sexes. They have particular skills in treating people with multiple health issues and comorbidities...
s.
Patients attending the ED for minor complaints do not contribute significantly to the overall workload of the department. (Despite the level of complaints in the general public and by health staff.) Studies, in Australia at least, have shown that improved after-hours GP access has no effect on ED workload or waiting times.
In the United States, and many other countries, hospitals are beginning to create areas in their emergency rooms for people with minor injuries. These are commonly referred as
fast track
or Minor Care units. These units are for people with non life-threatening injuries. The use of these units within a department have been shown to significantly improve the flow of patients through a department and to reduce waiting times.
Urgent care
Urgent care
Urgent care is the delivery of ambulatory care in a facility dedicated to the delivery of medical care outside of a hospital emergency department, usually on an unscheduled, walk-in basis. Urgent care centers are primarily used to treat patients who have an injury or illness that requires immediate...
clinics are another alternative, where patients can go to receive immediate care for non-life-threatening conditions.
Doctors in training
Doctors in training provide a large portion of the medical care in emergency departments.
In the United States, they are called residents and most are supervised by ABEM or AOBEM board certified attending physicians.
In the United Kingdom, many doctors rotate through the emergency department, such as during their second foundation year (F2), or as part of a rotational specialty training programme in General Practice or Acute Care Common Stem training (Emergency Medicine,
Acute medicine
Acute medicine
Acute medicine is that part of internal medicine concerned with the immediate and early specialist management of adult patients with a wide range of medical conditions who present in hospital as emergencies. It developed in the United Kingdom in the early 2000s as a dedicated field of medicine,...
,
Anaesthetics
Anesthesiologist
An anesthesiologist or anaesthetist is a physician trained in anesthesia and peri-operative medicine....
, and Intensive Care).
Emergency departments in the military
Emergency departments in the military benefit from the added support of enlisted personnel who are capable of performing any task they have been trained for, regardless of actual education obtained from civilian schooling. For example, in Naval hospitals, Hospital Corpsmen perform tasks that fall under the scope of practice of both doctors (i.e. sutures and incision and drainages) and nurses (i.e. medication administration and foley catheter insertion). Often, some civilian education and/or certification will be required such as an EMT certification, in case of the need to provide care outside of the base where the member is actually stationed.
See also
On Call
Emergency department in France
Acute Assessment Unit

Acute Assessment Unit

An acute assessment unit, or acute admissions unit, is a short-stay department in some hospitals that is sometimes part of the emergency department, although a separate department. The AAU acts as a gateway between a patient's general practitioner, the emergency department, and the wards of the...



External links