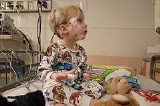 Pediatrics
Pediatrics
or
paediatrics
is the branch of
medicine
Medicine
Medicine is the science and art of healing. It encompasses a variety of health care practices evolved to maintain and restore health by the prevention and treatment of illness....
that deals with the medical care of
infant
Infant
A newborn or baby is the very young offspring of a human or other mammal. A newborn is an infant who is within hours, days, or up to a few weeks from birth. In medical contexts, newborn or neonate refers to an infant in the first 28 days after birth...
s,
child
Child
Biologically, a child is generally a human between the stages of birth and puberty. Some vernacular definitions of a child include the fetus, as being an unborn child. The legal definition of "child" generally refers to a minor, otherwise known as a person younger than the age of majority...
ren, and adolescents. A
medical practitioner
Physician
A physician is a health care provider who practices the profession of medicine, which is concerned with promoting, maintaining or restoring human health through the study, diagnosis, and treatment of disease, injury and other physical and mental impairments...
who specializes in this area is known as a
pediatrician
or
paediatrician
. The word
pediatrics
and its cognates mean
healer of children
; they derive from two
Greek
Ancient Greek
Ancient Greek is the stage of the Greek language in the periods spanning the times c. 9th–6th centuries BC, , c. 5th–4th centuries BC , and the c. 3rd century BC – 6th century AD of ancient Greece and the ancient world; being predated in the 2nd millennium BC by Mycenaean Greek...
words: (
pais
= child) and (
iatros
= doctor or healer).
There may be other differences in spelling: in the USA, a
pediatrician
(US spelling) is often a
primary care physician
General practitioner
A general practitioner is a medical practitioner who treats acute and chronic illnesses and provides preventive care and health education for all ages and both sexes. They have particular skills in treating people with multiple health issues and comorbidities...
who specializes in children, whereas in the
Commonwealth
Commonwealth of Nations
The Commonwealth of Nations, normally referred to as the Commonwealth and formerly known as the British Commonwealth, is an intergovernmental organisation of fifty-four independent member states...
a
paediatrician
(British spelling) generally is a medical specialist not in primary general practice.