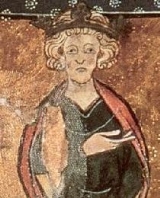 Edward the Confessor
Edward the Confessor
also known as
St. Edward the Confessor
, son of Æthelred the Unready and
Emma of Normandy
Emma of Normandy
Emma , was a daughter of Richard the Fearless, Duke of Normandy, by his second wife Gunnora. She was Queen consort of England twice, by successive marriages: first as second wife to Æthelred the Unready of England ; and then second wife to Cnut the Great of Denmark...
, was one of the last
Anglo-Saxon
Anglo-Saxon
Anglo-Saxon may refer to:* Anglo-Saxons, a group that invaded Britain** Old English, their language** Anglo-Saxon England, their history, one of various ships* White Anglo-Saxon Protestant, an ethnicity* Anglo-Saxon economy, modern macroeconomic term...
kings of England
and is usually regarded as the last king of the
House of Wessex
House of Wessex
The House of Wessex, also known as the House of Cerdic, refers to the family that ruled a kingdom in southwest England known as Wessex. This House was in power from the 6th century under Cerdic of Wessex to the unification of the Kingdoms of England....
, ruling from 1042 to 1066.
He has traditionally been seen as unworldly and pious, and his reign as notable for the disintegration of royal power in England and the advance in power of the Godwin family.