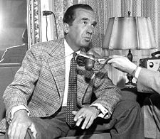 Edward R. Murrow
Edward Roscoe Murrow, KBE (born Egbert Roscoe Murrow; April 25, 1908 – April 27, 1965) was an American broadcast
journalist
Journalist
A journalist collects and distributes news and other information. A journalist's work is referred to as journalism.A reporter is a type of journalist who researchs, writes, and reports on information to be presented in mass media, including print media , electronic media , and digital media A...
. He first came to prominence with a series of
radio news
Radio News
Radio News was an American monthly technology magazine published from 1919 to 1971. The magazine was started by Hugo Gernsback as a magazine for amateur radio enthusiasts, but it evolved to cover all the technical aspects to radio and electronics. In 1929 a bankruptcy forced the sale of Gernsback's...
broadcasts during
World War II
World War II
World War II, or the Second World War , was a global conflict lasting from 1939 to 1945, involving most of the world's nations—including all of the great powers—eventually forming two opposing military alliances: the Allies and the Axis...
, which were followed by millions of listeners in the
United States
United States
The United States of America is a federal constitutional republic comprising fifty states and a federal district...
and
Canada
Canada
Canada is a North American country consisting of ten provinces and three territories. Located in the northern part of the continent, it extends from the Atlantic Ocean in the east to the Pacific Ocean in the west, and northward into the Arctic Ocean...
.
Fellow journalists
Eric Sevareid
Eric Sevareid
Arnold Eric Sevareid was a CBS news journalist from 1939 to 1977. He was one of a group of elite war correspondents—dubbed "Murrow's Boys"—because they were hired by pioneering CBS newsman Edward R. Murrow....
,
Ed Bliss
Ed Bliss
Edward "Ed" Bliss, Jr. was an American broadcast journalist and author of several books. He died in Alexandria, Virginia.- Bliss Before CBS :...
, and
Alexander Kendrick
Alexander Kendrick
Alexander Kendrick was a broadcast journalist. He worked for CBS during World War II and was part of a second generation of reporters known as Murrow's Boys.- Kendrick Before CBS :Before hooking up with Edward R...
considered Murrow one of journalism's greatest figures, noting his honesty and integrity in delivering the news.
A pioneer of television news broadcasting, Murrow produced a series of TV news reports that helped lead to the censure of Senator
Joseph McCarthy
Joseph McCarthy
Joseph Raymond "Joe" McCarthy was an American politician who served as a Republican U.S. Senator from the state of Wisconsin from 1947 until his death in 1957...
.
Murrow was born Egbert Roscoe Murrow at Polecat Creek, near
Greensboro
Greensboro, North Carolina
Greensboro is a city in the U.S. state of North Carolina. It is the third-largest city by population in North Carolina and the largest city in Guilford County and the surrounding Piedmont Triad metropolitan region. According to the 2010 U.S...
, in
Guilford County, North Carolina
Guilford County, North Carolina
Guilford County is a county located in the U.S. state of North Carolina. In 2010, the Census Bureau estimated the county's population to be 491,230. Its seat is Greensboro. Since 1938, an additional county court has been located in High Point, North Carolina, making Guilford one of only a handful...
, the son of Roscoe C.
This... is London.

Lead in line to his broadcasts from London, England during World War II|World War II
Good night, and good luck.

Sign off line of his radio and TV broadcasts.
No one can terrorize a whole nation, unless we are all his accomplices.

CBS television broadcast, on See It Now (7 March 1954)
He mobilized the English language and sent it into battle.

On Sir Winston Churchill, in a CBS broadcast (30 November 1954)
Everyone is a prisoner of his own experiences. No one can eliminate prejudices — just recognize them.

Television broadcast, (31 December 1955)
The politician in my country seeks votes, affection and respect, in that order…. With few notable exceptions, they are simply men who want to be loved.

Address at London Guildhall (19 October 1959)
The politician is … trained in the art of inexactitude. His words tend to be blunt or rounded, because if they have a cutting edge they may later return to wound him.

Address at London Guildhall (19 October 1959)
After last night's debate, the reputation of Messieurs Abraham Lincoln|Lincoln and Stephen Douglas|Douglas is secure.

On the televised debate between John F. Kennedy and Richard M. Nixon (26 September 1960)
Difficulty is the excuse history never accepts.

Comments after President John F. Kennedy's inaugural address.