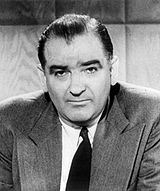 Joseph McCarthy
Joseph Raymond "Joe" McCarthy
(November 14, 1908 May 2, 1957) was an
American
United States
The United States of America is a federal constitutional republic comprising fifty states and a federal district...
politician who served as a
Republican
Republican Party (United States)
The Republican Party is one of the two major contemporary political parties in the United States, along with the Democratic Party. Founded by anti-slavery expansion activists in 1854, it is often called the GOP . The party's platform generally reflects American conservatism in the U.S...
U.S. Senator
United States Senate
The United States Senate is the upper house of the bicameral legislature of the United States, and together with the United States House of Representatives comprises the United States Congress. The composition and powers of the Senate are established in Article One of the U.S. Constitution. Each...
from the state of
Wisconsin
Wisconsin
Wisconsin is a U.S. state located in the north-central United States and is part of the Midwest. It is bordered by Minnesota to the west, Iowa to the southwest, Illinois to the south, Lake Michigan to the east, Michigan to the northeast, and Lake Superior to the north. Wisconsin's capital is...
from 1947 until his death in 1957. Beginning in 1950, McCarthy became the most visible public face of a period in which
Cold War
Cold War
The Cold War was the continuing state from roughly 1946 to 1991 of political conflict, military tension, proxy wars, and economic competition between the Communist World—primarily the Soviet Union and its satellite states and allies—and the powers of the Western world, primarily the United States...
tensions fueled fears of widespread
Communist
Communist party
A political party described as a Communist party includes those that advocate the application of the social principles of communism through a communist form of government...
subversion
Subversion (politics)
Subversion refers to an attempt to transform the established social order, its structures of power, authority, and hierarchy; examples of such structures include the State. In this context, a "subversive" is sometimes called a "traitor" with respect to the government in-power. A subversive is...
.
He was noted for making claims that there were large numbers of Communists and
Soviet
Soviet Union
The Soviet Union , officially the Union of Soviet Socialist Republics , was a constitutionally socialist state that existed in Eurasia between 1922 and 1991....
spies and sympathizers inside the United States federal government and elsewhere.