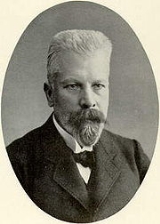 Eduard Buchner
Eduard Buchner
was a
German
Germany
Germany , officially the Federal Republic of Germany , is a federal parliamentary republic in Europe. The country consists of 16 states while the capital and largest city is Berlin. Germany covers an area of 357,021 km2 and has a largely temperate seasonal climate...
chemist
Chemistry
Chemistry is the science of matter, especially its chemical reactions, but also its composition, structure and properties. Chemistry is concerned with atoms and their interactions with other atoms, and particularly with the properties of chemical bonds....
and zymologist, awarded with the 1907
Nobel Prize in Chemistry
Nobel Prize in Chemistry
The Nobel Prize in Chemistry is awarded annually by the Royal Swedish Academy of Sciences to scientists in the various fields of chemistry. It is one of the five Nobel Prizes established by the will of Alfred Nobel in 1895, awarded for outstanding contributions in chemistry, physics, literature,...
thanks to his work on
fermentation
Fermentation (biochemistry)
Fermentation is the process of extracting energy from the oxidation of organic compounds, such as carbohydrates, using an endogenous electron acceptor, which is usually an organic compound. In contrast, respiration is where electrons are donated to an exogenous electron acceptor, such as oxygen,...
.
Early years
Buchner was born in
Munich
Munich
Munich The city's motto is "" . Before 2006, it was "Weltstadt mit Herz" . Its native name, , is derived from the Old High German Munichen, meaning "by the monks' place". The city's name derives from the monks of the Benedictine order who founded the city; hence the monk depicted on the city's coat...
to a physician and Doctor Extraordinary of Forensic Medicine. His older brother was
Hans Ernst August Buchner
Hans Ernst August Buchner
Hans Ernst August Buchner was a German bacteriologist who was born and raised in Munich. He studied medicine in Munich and Leipzig, earning his MD from the University of Leipzig in 1874. and afterwards served as a physician in the Bavarian Army...
. In 1884, he began studies of chemistry with
Adolf von Baeyer
Adolf von Baeyer
Johann Friedrich Wilhelm Adolf von Baeyer was a German chemist who synthesized indigo, and was the 1905 recipient of the Nobel Prize in Chemistry. Born in Berlin, he initially studied mathematics and physics at Berlin University before moving to Heidelberg to study chemistry with Robert Bunsen...
and of botany with
Professor C. von Naegeli
Karl Wilhelm von Nägeli
Karl Wilhelm von Nägeli was a Swiss botanist. He studied cell division and pollination, but became known as the man who discouraged Gregor Mendel from further work on genetics.-Birth and education:...
, at the Botanic Institute in Munich. After a period working with Otto Fischer in
Erlangen
Erlangen
Erlangen is a Middle Franconian city in Bavaria, Germany. It is located at the confluence of the river Regnitz and its large tributary, the Untere Schwabach.Erlangen has more than 100,000 inhabitants....
, Buchner was awarded a doctorate from the
University of Munich
Ludwig Maximilians University of Munich
The Ludwig Maximilian University of Munich , commonly known as the University of Munich or LMU, is a university in Munich, Germany...
in 1888.
Research
The experiment for which Buchner won the Nobel Prize consisted of producing a cell-free extract of
yeast
Yeast
Yeasts are eukaryotic micro-organisms classified in the kingdom Fungi, with 1,500 species currently described estimated to be only 1% of all fungal species. Most reproduce asexually by mitosis, and many do so by an asymmetric division process called budding...
cells and showing that this "press juice" could ferment sugar. This dealt yet another blow to
vitalism
Vitalism
Vitalism, as defined by the Merriam-Webster dictionary, is#a doctrine that the functions of a living organism are due to a vital principle distinct from biochemical reactions...
by showing that the presence of living yeast cells was not needed for fermentation. The cell-free extract was produced by combining dry yeast cells,
quartz
Quartz
Quartz is the second-most-abundant mineral in the Earth's continental crust, after feldspar. It is made up of a continuous framework of SiO4 silicon–oxygen tetrahedra, with each oxygen being shared between two tetrahedra, giving an overall formula SiO2. There are many different varieties of quartz,...
and kieselguhr and then pulverizing the yeast cells with a pestle and mortar. This mixture would then become moist as the yeast cells' contents would come out of the cells. Once this step was done, the moist mixture would be put through a press and the resulting "press juice" had
glucose
Glucose
Glucose is a simple sugar and an important carbohydrate in biology. Cells use it as the primary source of energy and a metabolic intermediate...
,
fructose
Fructose
Fructose, or fruit sugar, is a simple monosaccharide found in many plants. It is one of the three dietary monosaccharides, along with glucose and galactose, that are absorbed directly into the bloodstream during digestion. Fructose was discovered by French chemist Augustin-Pierre Dubrunfaut in 1847...
, or
maltose
Maltose
Maltose , or malt sugar, is a disaccharide formed from two units of glucose joined with an αbond, formed from a condensation reaction. The isomer "isomaltose" has two glucose molecules linked through an α bond. Maltose is the second member of an important biochemical series of glucose chains....
added and
carbon dioxide
Carbon dioxide
Carbon dioxide is a naturally occurring chemical compound composed of two oxygen atoms covalently bonded to a single carbon atom...
was seen to evolve, sometimes for days. Microscopic investigation revealed no living yeast cells in the extract. One interesting thing is that Buchner hypothesized that yeast cells secrete proteins into their environment in order to ferment sugars, instead of the fermentation occurring inside the yeast cells, which is the actual mechanism.
Though it is believed by some that the
Büchner flask
Büchner flask
A Büchner flask, also known as a vacuum flask, filter flask, side-arm flask or Kitasato flask, is a thick-walled Erlenmeyer flask with a short glass tube and hose barb protruding about an inch from its neck. The short tube and hose barb effectively acts as an adapter over which the end of a...
and the
Büchner funnel
Büchner funnel
A Büchner funnel is a piece of laboratory equipment used in suction filtration. It is traditionally made of porcelain, but glass and plastic funnels are also available. On top of the funnel-shaped part there is a cylinder with a perforated plate separating it from the funnel. The Hirsch funnel has...
are named for him, they are actually named for the industrial chemist
Ernst Büchner
Ernst Büchner
Ernst Wilhelm Büchner was an industrial chemist and the inventor of the Büchner funnel and Büchner flask. Ernst was the nephew of the playwright Georg Büchner.-External links:...
.
Buchner received the
Nobel Prize in Chemistry
Nobel Prize in Chemistry
The Nobel Prize in Chemistry is awarded annually by the Royal Swedish Academy of Sciences to scientists in the various fields of chemistry. It is one of the five Nobel Prizes established by the will of Alfred Nobel in 1895, awarded for outstanding contributions in chemistry, physics, literature,...
in 1907.
Personal life
Buchner married Lotte Stahl in 1900. During
World War I
World War I
World War I , which was predominantly called the World War or the Great War from its occurrence until 1939, and the First World War or World War I thereafter, was a major war centred in Europe that began on 28 July 1914 and lasted until 11 November 1918...
, Buchner served as a Major in a front-line
field hospital
Field hospital
A field hospital is a large mobile medical unit that temporarily takes care of casualties on-site before they can be safely transported to more permanent hospital facilities...
at
Focşani
Focsani
Focşani is the capital city of Vrancea County in Romania on the shores the Milcov river, in the historical region of Moldavia. It has a population of 101,854.-Geography:...
,
Romania
Romania
Romania is a country located at the crossroads of Central and Southeastern Europe, on the Lower Danube, within and outside the Carpathian arch, bordering on the Black Sea...
. He was wounded on August 3, 1917 and died of these wounds nine days later in Munich at age 57.
External links