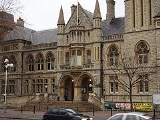 Ealing
Ealing
is a suburban area of west
London
London
London is the capital city of :England and the :United Kingdom, the largest metropolitan area in the United Kingdom, and the largest urban zone in the European Union by most measures. Located on the River Thames, London has been a major settlement for two millennia, its history going back to its...
, England and the administrative centre of the
London Borough of Ealing
London Borough of Ealing
The London Borough of Ealing is a borough in west London.-Location:The London Borough of Ealing borders the London Borough of Hillingdon to the west, the London Borough of Harrow and the London Borough of Brent to the north, the London Borough of Hammersmith and Fulham to the east and the London...
. It is located 7.9 miles (12.7 km) west of
Charing Cross
Charing Cross
Charing Cross denotes the junction of Strand, Whitehall and Cockspur Street, just south of Trafalgar Square in central London, England. It is named after the now demolished Eleanor cross that stood there, in what was once the hamlet of Charing. The site of the cross is now occupied by an equestrian...
and around 12 miles (19.3 km) from the
City of London
City of London
The City of London is a small area within Greater London, England. It is the historic core of London around which the modern conurbation grew and has held city status since time immemorial. The City's boundaries have remained almost unchanged since the Middle Ages, and it is now only a tiny part of...
. It is one of the major metropolitan centres identified in the
London Plan
London Plan
The London Plan is a planning document written by the Mayor of London, England in the United Kingdom and published by the Greater London Authority. The plan was first published in final form on 10 February 2004 and has since been amended. The current version was published in February 2008...
. It was historically a rural village in the county of
Middlesex
Middlesex
Middlesex is one of the historic counties of England and the second smallest by area. The low-lying county contained the wealthy and politically independent City of London on its southern boundary and was dominated by it from a very early time...
and formed an ancient parish. Improvement in communications with London, culminating with the opening of the railway station in 1838, shifted the local economy to market garden supply and eventually to suburban development.