 Dutch baby pancake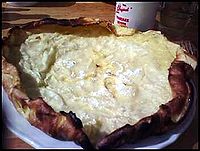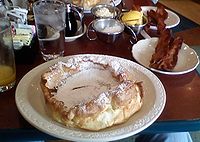 A
Dutch baby pancake
, sometimes called a
German
Germany
Germany , officially the Federal Republic of Germany , is a federal parliamentary republic in Europe. The country consists of 16 states while the capital and largest city is Berlin. Germany covers an area of 357,021 km2 and has a largely temperate seasonal climate...
pancake, a
Bismarck
, or a Dutch puff, is a sweet
breakfast
Breakfast
Breakfast is the first meal taken after rising from a night's sleep, most often eaten in the early morning before undertaking the day's work...
dish similar to
Yorkshire pudding
Yorkshire pudding
Yorkshire Pudding is a dish that originated in Yorkshire, England. It is made from batter and usually served with roast meat and gravy.-History:...
and derived from the German
Apfelpfannkuchen
. It is made with
eggs
Egg (food)
Eggs are laid by females of many different species, including birds, reptiles, amphibians, and fish, and have probably been eaten by mankind for millennia. Bird and reptile eggs consist of a protective eggshell, albumen , and vitellus , contained within various thin membranes...
,
flour
Wheat flour
Wheat flour is a powder made from the grinding of wheat used for human consumption. More wheat flour is produced than any other flour. Wheat varieties are called "clean," "white," or "brown" if they have high gluten content, and they are called "soft" or "weak" flour if gluten content is low...
and
milk
Milk
Milk is a white liquid produced by the mammary glands of mammals. It is the primary source of nutrition for young mammals before they are able to digest other types of food. Early-lactation milk contains colostrum, which carries the mother's antibodies to the baby and can reduce the risk of many...
, and usually seasoned with
vanilla
Vanilla
Vanilla is a flavoring derived from orchids of the genus Vanilla, primarily from the Mexican species, Flat-leaved Vanilla . The word vanilla derives from the Spanish word "", little pod...
and
cinnamon
Cinnamon
Cinnamon is a spice obtained from the inner bark of several trees from the genus Cinnamomum that is used in both sweet and savoury foods...
, although occasionally sugar is also added. It is baked in a metal pan and falls soon after being removed from the oven. It is generally served with fresh squeezed lemon, butter, and
powdered sugar
Powdered sugar
Powdered sugar, also known as confectioners' sugar or icing sugar, is very fine sugar. When intended for home use, it typically contains a small amount of anti-caking agent....
or fruit toppings or
syrup
Maple syrup
Maple syrup is a syrup usually made from the xylem sap of sugar maple, red maple, or black maple trees, although it can also be made from other maple species such as the bigleaf maple. In cold climates, these trees store starch in their trunks and roots before the winter; the starch is then...
.
The Dutch Baby was originally served as three small Dutch babies served with powdered sugar and fresh squeezed lemon juice but eventually the "Big Dutch Baby" was invented and gained popularity. The Big Dutch Baby is usually what is referred to when reading about Dutch Babies.
According to
Sunset
Sunset (magazine)
Sunset is a lifestyle magazine in the United States. Sunset focuses on homes, cooking, gardening, and travel, with a focus almost exclusively on the Western United States...
magazine, Dutch babies were introduced in the first half of the 1900s at Manca's Cafe, a family-run restaurant in Seattle owned by Victor Manca. While these pancakes are derived from the German pancake dish, it is said that the name Dutch baby was coined by one of Victor Manca's daughters. In 1942, Manca's Cafe owned the trademark for Dutch babies, although the cafe later closed in the 1950s.
It is thought by some that the "Dutch" moniker refers to the group of German-American immigrants known as the
Pennsylvania Dutch
Pennsylvania Dutch
Pennsylvania Dutch refers to immigrants and their descendants from southwestern Germany and Switzerland who settled in Pennsylvania in the 17th and 18th centuries...
, where "Dutch" is a corruption of the German autonym "deutsch."
The Dutch baby is a specialty of some
diner
Diner
A diner, also spelled dinor in western Pennsylvania is a prefabricated restaurant building characteristic of North America, especially in the Midwest, in New York City, in Pennsylvania and in New Jersey, and in other areas of the Northeastern United States, although examples can be found throughout...
s and chains that specialize in breakfast dishes, such as the
Oregon
Oregon
Oregon is a state in the Pacific Northwest region of the United States. It is located on the Pacific coast, with Washington to the north, California to the south, Nevada on the southeast and Idaho to the east. The Columbia and Snake rivers delineate much of Oregon's northern and eastern...
-founded
The Original Pancake House
The Original Pancake House
The Original Pancake House is a chain of pancake houses across the United States. It follows traditional recipes and ingredients for their pancakes, but they have other breakfast items on their menu as well.-History:...
or the
New England
New England
New England is a region in the northeastern corner of the United States consisting of the six states of Maine, New Hampshire, Vermont, Massachusetts, Rhode Island, and Connecticut...
-based chain Bickford's, which makes both a plain Dutch baby and a similar pancake known as the Baby Apple, which contains apple slices embedded in the pancake.
A
David Eyre's pancake
David Eyre's pancake
A David Eyre's pancake is a sweet, baked egg-and-flour dish named for writer and editor David W. Eyre .The recipe was published by New York Times Food Editor Craig Claiborne in an April 10, 1966, Times article entitled "Pancake Nonpareil." In it, Claiborne recounted discovering the dish at a...
is a variation on the Dutch baby pancake named after the American writer and editor David W. Eyre (1912–2008).
External links