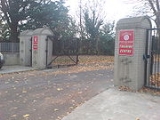 Dublin Fire Brigade
The
Dublin Fire Brigade
(
DFB
) is the local authority fire and rescue service for
Dublin City
and the majority of the
Greater Dublin Area
Greater Dublin Area
Greater Dublin Area , or simply Greater Dublin, is a term which is used to describe the city of Dublin and various counties in the hinterland of the city in Ireland. The term has no basis in law and no local government, department of government or agency of the state is bound by the term...
. It is a branch of
Dublin City Council
Dublin City Council
Dublin City Council is the local authority for the city of Dublin in Ireland. It has 52 members and is the largest local authority in Ireland. Until 2001, it was known as Dublin Corporation.-Legal status:...
. There are currently 14 fire stations manned by DFB, 12 of which are full-time, the other 2 are part-time or "retained". Full-time stations are manned by shifts across 4 watches, A, B, C & D. There are currently over 900 active personnel making it the largest fire service based on manpower and resources in the
Republic of Ireland
Republic of Ireland
Ireland , described as the Republic of Ireland , is a sovereign state in Europe occupying approximately five-sixths of the island of the same name. Its capital is Dublin. Ireland, which had a population of 4.58 million in 2011, is a constitutional republic governed as a parliamentary democracy,...
.
History
Dublin City's first municipal fire engines were delivered in 1705. Throughout the second half of the 18th Century, insurance brigades were the primary source of firefighting for the city, operating independently for buildings bearing the mark of their respective insurance companies. Eventually the brigades began to co-operate on a competition basis with the first brigade on scene being the highest paid. It wasn't until 1862 with the enactment of the
Dublin Corporation
Dublin Corporation
Dublin Corporation , known by generations of Dubliners simply as The Corpo, is the former name given to the city government and its administrative organisation in Dublin between 1661 and 1 January 2002...
Act, that the city had an organised fire brigade. Dublin man J.R. Ingram became the first superintendent of the brigade, having worked as a fireman in New York and London. The brigade consisted of 24 men with a makeshift fire brigade station on Winetavern Street in
The Liberties
The Liberties
The Liberties of Dublin, Ireland were jurisdictions that existed since the arrival of the Anglo-Normans in the 12th century. They were town lands united to the city, but still preserving their own jurisdiction. The most important of these liberties were the Liberty of St...
. In 1898 the Dublin Fire Brigade Ambulance Service was established. The turn of the century saw the brigade have its first fire stations and permanent headquarters built, with the first motorised fire engine coming on stream in 1909.
Stardust fire
In the early hours of the 14th February 1981, Dublin Fire Brigade received a call reporting a fire in the Stardust nightclub in
Artane
Artane
Artane may refer to:* Artane, Dublin, a suburb of Dublin, Ireland.* Artane Industrial school, an Industrial school in the above suburb.* Artane, a brand-name for the drug trihexyphenidyl used to treat Parkinson's disease....
. Units were dispatched from both Kilbarrack fire station and North Strand fire station. When the firemen arrived they were met with scenes of panic, disorder and suffering at what would turn out be the worst fire disaster in the history of the state. 48 people died and 214 people were injured as a result of the fire.
Vehicles and equipment
The Brigade's fleet of vehicles primarily consists of
Dennis Sabre
Dennis Sabre
The Dennis Sabre was a purpose-built fire appliance introduced by Dennis Specialist Vehicles of Guildford, Surrey, England in the mid-1990s. The Sabre comes in three sizes, Sabre, Sabre ML, Sabre XL. Most of the coachbuilding on these chassis were by John Dennis Coachbuilders of Guildford, England....
Class-B Water Ladder Appliances (WrL) and more recently
Scania
Scania
Scania is the southernmost of the 25 traditional non-administrative provinces of Sweden, constituting a peninsula on the southern tip of the Scandinavian peninsula, and some adjacent islands. The modern administrative subdivision Skåne County is almost, but not totally, congruent with the...
Class-B WrL's with
Dennis RS series
Dennis RS series
The Dennis RS series is a fire engine built by Dennis, produced from 1978 until early 1990s.-Features:Its new all-steel cab, designed by Ogle of London, replaced the older fibreglass and wood construction of the previous appliances it succeeded, such as the Dennis D and Dennis R.The first of the...
and
Dennis SS series
Dennis SS series
The Dennis SS series is a fire engine built by Dennis, it was produced from early 1980s until 1990s.The Dennis SS was almost identical with the previous RS model. It incorporated the same cab design, engine and transmission, except the SS had a tilting cab which made maintenance and overhaul much...
WrL's still on the run in some districts,
water tankers
Water tender
A water tender, also known as a tanker in some regions, is a specialized firefighting apparatus designed for transporting water from a water source to a fire scene...
and
Dennis
Dennis Specialist Vehicles
Dennis Specialist Vehicles is a major British coachbuilder and manufacturer of specialised commercial vehicles based in Guildford, England...
and Scania turntable ladder vehicles, aerial platforms and emergency tenders. Specialist vehicles such as foam tenders for assisting the Airport Fire & Rescue Service with aircraft fires & more recently tunnel response vehicles to attend incidents in the
Dublin Port Tunnel
Dublin Port Tunnel
The Dublin Port Tunnel is a road traffic tunnel in Dublin, Ireland, that forms part of the M50 motorway....
are also in the fleet. Newer vehicles are based on Scania Chassis, with the marine emergency response unit, command and control unit, an emergency tender and turntable ladder to be the first on this chassis in Dublin. New Scania chassis emergency tenders come pre-equipped with a hiab crane on the tailgate.
Frontline vehicles are equipped with modern firefighting and rescue equipment, including 10.5 metre and 13.5 metre ladders, winches, motorised hosereels, foam inductors, cutting and spreading equipment and earthing equipment (for grounding overhead tram lines).
The majority of the Brigade's ambulances are based on the
Ford Transit
Ford Transit
The Ford Transit is a range of panel vans, minibuses, and pickup trucks, produced by the Ford Motor Company in Europe.The Transit has been the best-selling light commercial vehicle in Europe for 40 years, and in some countries the term "Transit" has passed into common usage as a generic term...
chassis, with bodywork by Wilker Coachbuilders. Older models (mainly reserve vehicles now in support roles) had Wilker's "Lunar" bodywork, one frontline ambulance and the majority of reserves have "Voyager" bodies while the majority of the frontline fleet have new
CEN
European Committee for Standardization
The European Committee for Standardization or Comité Européen de Normalisation , is a non-profit organisation whose mission is to foster the European economy in global trading, the welfare of European citizens and the environment by providing an efficient infrastructure to interested parties for...
compliant bodywork. New ambulances are now built on Mercedes Sprinter Chassis with CEN compliant bodywork by Wilker Coachbuilders.
All new District Officer's vehicles are Volkswagen Caravelle MPVs designed to act as mobile command units. These vehicles are gradually replacing the older fleet of
Renault Espace
Renault Espace
The Renault Espace is a large MPV from French car-maker Renault. Generations 1-3 were sold under the Renault brand but manufactured by Matra. The current fourth generation model, which seats seven passengers, is an all-Renault product; the Renault Grand Espace is a long-wheelbase version with...
MPVs and
Ford Mondeo
Ford Mondeo
The Mondeo was launched on 8 January 1993, and sales began on 22 March 1993. Available as a four-door saloon, a five-door hatchback, and a five-door estate, all models for the European market were produced at Ford's plant in the Belgian city of Genk...
s.
Emergency ambulance service
In addition to fire and rescue services, the brigade also operates an emergency
ambulance
Ambulance
An ambulance is a vehicle for transportation of sick or injured people to, from or between places of treatment for an illness or injury, and in some instances will also provide out of hospital medical care to the patient...
service alongside the
HSE National Ambulance Service
HSE National Ambulance Service
The HSE National Ambulance Service is the statutory public ambulance service in the Republic of Ireland. The service is operated by the National Hospitals Office of the Health Service Executive, the Irish national healthcare authority.- History :...
. Until 2007, all DFB crew were trained to a minimum of
PHECC
PHECC
The Pre-Hospital Emergency Care Council is an independent statutory organisation responsible for implementing, monitoring and further developing the standards of care provided by all statutory, private and voluntary ambulance services in the Republic of Ireland...
Emergency Medical Technician
Emergency medical technician
Emergency Medical Technician or Ambulance Technician are terms used in some countries to denote a healthcare provider of emergency medical services...
standard, however in light of changing requirements set down by both PHECC and the HSE, all frontline ambulance personnel are now trained to a minimum of PHECC
Paramedic
Paramedic
A paramedic is a healthcare professional that works in emergency medical situations. Paramedics provide advanced levels of care for medical emergencies and trauma. The majority of paramedics are based in the field in ambulances, emergency response vehicles, or in specialist mobile units such as...
standard. All DFB firefighter-paramedics are required to rotate between fire and ambulance duties. In certain circumstances, a crewed fire appliance may also be despatched to ambulance calls alongside the emergency ambulance (primarily cardiac arrest calls) where additional manpower and support is required.
The Brigade also has a small but growing number of Advanced Paramedics, increasing the availability of pre-hospital
advanced life support
Advanced Life Support
Advanced Life Support is a set of life-saving protocols and skills that extend Basic Life Support to further support the circulation and provide an open airway and adequate ventilation .-Components of ALS:These include:...
to critically ill patients.
In 2007, The
Royal College of Surgeons in Ireland
Royal College of Surgeons in Ireland
The Royal College of Surgeons in Ireland , is a Dublin-based medical institution, situated on St. Stephen's Green. The college is one of the five Recognised Colleges of the National University of Ireland...
(RCSI) in conjunction with Valentia Technologies, the Dublin Fire Brigade and the Pre-Hospital Emergency Care Council (PHECC) launched a unique training initiative with the Emergency Medical Services Dubai Training Institute. With Dubai EMS using PHECC standards and the DFB training their crews up to those standards.
Training centre & museum
The Dublin Fire Brigade Training Centre is located at the
O'Brien Institute
O'Brien Institute
The O'Brien Institute is a building complex in Dublin, Ireland. It was built 1880–1883. The purpose of the building was to serve as an orphan home and school, financed by a trust that was founded by Bridget O'Brien in 1876.The last of the boarders left in 1976,when the school was closed for...
on the Malahide Road,
Marino
Marino, Dublin
Marino is a Northside suburb located in Dublin, Ireland.-Location and access:Marino encompasses the area within the boundaries of Sion Hill Road, Gracepark Road, Philipsburgh Avenue , Malahide Road and Shelmartin Terrace. Marino borders other Northside areas such as Fairview, Donnycarney and...
, Dublin 3. Recruit firefighter training as well as Paramedic training and specialised courses are held here. The centre also provides various other training courses such as fire marshal training and
first aid
First aid
First aid is the provision of initial care for an illness or injury. It is usually performed by non-expert, but trained personnel to a sick or injured person until definitive medical treatment can be accessed. Certain self-limiting illnesses or minor injuries may not require further medical care...
training to private companies and individuals. The Dublin Fire Brigade museum is also situated at the O'Brien Institute. The museum is operated by firefighter-paramedic Las Fallon and can be visited by appointment.
DFB stations
Full-time stations
| Number | District | Station | Fire | EMS | Specialist Vehicles |
| --- | --- | --- | --- | --- | --- |
| 1 | Alpha | Donnybrook | 2 Water Tenders, 1 D/O (Alpha District) | 1 Ambulance | 1 Hazmat Unit |
| 2 | Bravo | Dolphins Barn | 2 Water Tenders, 1 D/O (Bravo District) | 1 Ambulance | 1 Emergency Tender, 1 Highline Rescue Unit |
| 3 | Charlie | Phibsboro | 2 Water Tenders, 1 D/O (Charlie District) | 1 Ambulance | 1 Emergency Tender, Reserve Ambulances, 1 Highline Rescue Unit, 1 Water Tanker, 1 Foam Tanker |
| 4 | Delta | North Strand | 2 Water Tenders, 1 Tunnel Response Vehicle (TRV), 1 Foam Tender, 1 D/O (Delta District) | 1 Ambulance | 1 Foam Support Unit, 1 Tunnel Response Vehicle, 1 Tunnel Support Vehicle, |
| 5 | Foxtrot | Finglas | 1 Water Tender, D/O (Foxtrot District) | 1 Ambulance | - |
| 6 | Delta | Kilbarrack | 1 Water Tender | 1 Ambulance | 1 Decontamination Unit |
| 7 | Bravo | Tallaght | 2 Water Tenders | 1 Ambulance | - |
| 8 | Alpha | Rathfarnham | 1 Water Tender | 1 Ambulance | - |
| 9 | Charlie | Blanchardstown | 1 Water Tender | 1 Ambulance | 1 Major Incident Pod |
| 10 & 11 | Echo | Tara Street - HQ | 2 Water Tenders, 2 Turntable Ladders, 1 D/O (Echo District) | 2 Ambulances, 452 Advanced Paramedics | 2 Rescue Boats, 1 Boat Response Vehicle, 1 Boat Carrier, 1 Water Tanker, 2 Transport Vehicles, Brigade Support Units |
| 12 | Alpha | Dun laoghaire | 2 Water Tenders, 1 Hydraulic Platform | - | 1 Reserve Hydraulic Platform |
| 13 | Foxtrot | Swords | 1 Water Tender | 5 Ambulance | 1 Water Tanker |
| ERCC | Echo | Eastern Regional Control Centre - TARA ST | - | - | 1 Incident Command Unit |
| OBI | Delta | O'Brien Institute - Training Centre | Fire Training Centre | EMS Training Centre (DFB-RCSI) | 1 Marine Emergency Rescue Unit, 1 Swift Water Rescue Unit, Training units |
| - | Charlie | Garage/ Stores - Grange Gorman | - | - | 1 Water Support Unit, Brigade Support Units, Reserve Units |
Retained Stations
| Number | District | Station | Fire |
| --- | --- | --- | --- |
| 23 | Foxtrot | Balbriggan | 1 Water Tender |
| 24 | Foxtrot | Skerries | 1 Water Tender |
Defunct stations
Several of the city's original fire stations have closed over time as a result of improved fire prevention systems and the expansion of suburban Dublin.
One of the first pair of stations, at the junction of South William Street (1863) and Coppinger Row, is now the Dublin Civic Museum. The other original station in Winetavern Street (1863) was demolished and the Rathmines and Rathgar station (1914, former public library) at Lower Rathmines Road was most recently manned by
Dublin Civil Defence
Civil Defence Ireland
Civil Defence Ireland is the national civil defence organisation of the Republic of Ireland. It is operated at local authority level in conjunction with the Department of Defence....
but is now long-closed and semi-derelict.
Many of the following stations were designed by architect C.J. McCarthy and include the Central Fire Brigade Station on Tara Street (built 1906), which was partly de-commissioned when the adjacent Townstend Street opened. Dorset Street Fire Brigade Station (built 1901), Buckingham Street Fire Brigade Station (built 1900) which has been converted into an art studio and
Thomas Street
Thomas Street (Dublin)
Thomas Street is a street in The Liberties in central Dublin, Ireland.-History:The street is named after the church of St. Thomas, founded in 1175 near St. Catherine's church. The founder was William FitzAldelm, deputy and kinsman of King Henry II. The church was dedicated to Thomas à Beckett...
Fire Brigade Station (built 1909, funded by the adjacent distillery) which has been restored as an art gallery for the
National College of Art and Design
National College of Art and Design
The National College of Art and Design is a national art and design school in Dublin, Ireland.-History:Situated on Thomas Street, the NCAD started as a private drawing school and has become a national institution educating over 1,500 day and evening students as artists, designers and art educators...
.
External links