 Civil Defence Ireland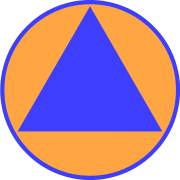 Civil Defence Ireland
is the national civil defence organisation of the
Republic of Ireland
Republic of Ireland
Ireland , described as the Republic of Ireland , is a sovereign state in Europe occupying approximately five-sixths of the island of the same name. Its capital is Dublin. Ireland, which had a population of 4.58 million in 2011, is a constitutional republic governed as a parliamentary democracy,...
. It is operated at local authority level in conjunction with the Department of Defence.
The organisation was established in 1950 in response to the threat of nuclear disaster posed by the atomic bomb following
World War II
World War II
World War II, or the Second World War , was a global conflict lasting from 1939 to 1945, involving most of the world's nations—including all of the great powers—eventually forming two opposing military alliances: the Allies and the Axis...
or "The Emergency" as WWII was known in Ireland. Its purpose was to provide aid, assistance and disaster relief to citizens in time of emergency. Today, the organisation runs on the same principal with a focus on effectively aiding the full-time emergency services as and when required.
Organisation Structure
Civil Defence Ireland is composed almost entirely of volunteers, with the exception of the local authority-appointed Civil Defence Officers, Assistant Civil Defence Officers, administration, maintenance and stores personnel. The organisation provides six different services to the community, primarily acting as an auxiliary resource for the front-line emergency services, particularly the fire brigade rescue and ambulance service who may utilise the organisation's manpower, skills and equipment when requested.
Civil Defence Ireland - Rank Structure
|-
| align=center|
| align=center|
| align=center|
| align=center|
| align=center|
| align=center|
| align=center|
| align=center|
|-
|CD Officer
|Asst.CD Officer
|Commander
|1st Officer
|2nd Officer
|3rd Officer
|Leader
|Asst.Leader
|}>
Civil Defence Services
Auxiliary Fire Service
Trained in firefighting, rescue and flood relief.
Search and Rescue Service
Trained to rescue individuals in emergency situations and search for missing persons.
Ambulance/Casualty Service
Providers of emergency care at different levels in emergencies or at event cover.
Welfare Service
Provide care, comfort and shelter for citizens in emergencies.
Warden Service
Provide radio communications networks and monitor for radiation.
Water Rescue Unit
Primarily crewed by the Rescue Sevice as well as AFS firefighters . Inshore and river rescue boat unit.
Vehicles
The organisation uses many different types of vehicles. Some are purpose-built and some have been adapted into new roles such as mobile
incident command units
Incident command post
According to the National Incident Management System , and the Incident Command System , the Incident Command Post is one of five predesignated temporary facilities and signifies the physical location of the tactical-level, on-scene incident command and management organization...
. Many of the vehicles have all-terrain capabilities such as Land Rover Defender field ambulances,
Bedford
Bedford Vehicles
Bedford Vehicles, usually shortened to just Bedford, was a subsidiary of Vauxhall Motors, itself the British subsidiary of General Motors , established in 1930; and constructing commercial vehicles. Bedford Vehicles was a leading international truck manufacturer, with substantial export sales of...
and
Iveco
Iveco
Iveco, an acronym for Industrial Vehicle Corporation, originally an alliance of European commercial vehicle manufacturers such as Fiat , Unic and Magirus. Iveco is now an Italian truck, bus, and diesel engine manufacturer, based in Turin...
four-wheel drive
Four-wheel drive
Four-wheel drive, 4WD, or 4×4 is a four-wheeled vehicle with a drivetrain that allows all four wheels to receive torque from the engine simultaneously...
lorries and
Bandvagn 206
Bandvagn 206
Bandvagn 206 is a tracked articulated, all-terrain carrier developed by Hägglunds for the Swedish Army. It consists of two units, with all four tracks powered...
personnel carriers. Standard vehicles such as
emergency ambulances
Ambulance
An ambulance is a vehicle for transportation of sick or injured people to, from or between places of treatment for an illness or injury, and in some instances will also provide out of hospital medical care to the patient...
and class B fire appliances are also available for use by their respective services. Vehicle livery is generally non-standardised orange and blue on a white background with the exception of Dublin Civil Defence who use fleet-standard orange/blue
Battenburg markings
Battenburg markings
Battenburg refers to a pattern of high-visibility markings used to maximise conspicuity, primarily used on vehicles of the emergency services, but also in other applications such as uniforms...
over white paintwork on all new vehicles. The Water Rescue Unit have a fleet of inshore patrol vessels and
rigid-hulled inflatable boat
Rigid-hulled inflatable boat
A rigid-hulled inflatable boat, or rigid-inflatable boat is a light-weight but high-performance and high-capacity boat constructed with a solid, shaped hull and flexible tubes at the gunwale. The design is stable and seaworthy...
s.
Uniforms
All members of the organisation are issued with the standard operational uniform consisting of navy combat trousers, navy brigade shirt, white t-shirt, military boots, hi-visibility rain jacket and baseball cap.
Members of the Auxiliary Fire Service are issued with firefighting jackets/trousers, gloves, fire boots and firefighter's helmets. Members of the rescue service wear a jumpsuit and safety boots/helmets. Members of the Water Rescue Unit are issued with drysuits, water rescue helmets and
Personal Flotation Devices (PFDs)
Personal flotation device
A personal flotation device is a device designed to assist a wearer, either conscious or unconscious, to keep afloat.Devices designed and approved by authorities for use by...
.
All other services use the standard operational uniform. For formal events, a number 1 dress uniform is worn with the issued beret. Officers wear a peaked cap in place of the beret.
Notable emergency calls
The Civil Defence can be activated by request from civil power (gardaí), local authority, fire services and the
Health Service Executive
Health Service Executive
The Health Service Executive is responsible for the provision of healthcare providing health and personal social services for everyone living in Ireland, with public funds. The Executive was established by the Health Act, 2004 and came into official operation on January 1, 2005...
. The organisation may also respond to incidents witnessed in active duty such as road traffic collisions. They may also respond to non-statutory requests at the discretion of the Civil Defence Officer.
Selected notable events in the organisation's history are:
1965 North Wall Depot Fire - firefighting support (in support of the Dublin Fire Brigade

Dublin Fire Brigade

The Dublin Fire Brigade is the local authority fire and rescue service for Dublin City and the majority of the Greater Dublin Area. It is a branch of Dublin City Council. There are currently 14 fire stations manned by DFB, 12 of which are full-time, the other 2 are part-time or "retained"....


)
1981 Stardust fire - disaster relief (supporting Dublin Fire Brigade)
1984 Raglan House Explosion - firefighting and rescue (supporting Dublin Fire Brigade)
1995 Dublin/Wicklow Mountains Forest Fires - firefighting (supporting Dublin Fire Brigade)
2002 Flooding in Dublin's North Inner City - rescue and water pumping (supporting Dublin Fire Brigade)
2009 Adverse weather Nationwide - flood relief and water supply (supporting County Fire Services, Irish Defence Forces

Irish Defence Forces

The armed forces of Ireland, known as the Defence Forces encompass the Army, Naval Service, Air Corps and Reserve Defence Force.The current Supreme Commander of the Irish Defence forces is His Excellency Michael D Higgins in his role as President of Ireland...


and Gardaí)
Civil Defence College
The Civil Defence College was initially based at
Ratra House
Little Ratra
Little Ratra, sometimes called Ratra House, is one of the minor state residences located in Dublin's Phoenix Park. Until recently it was used as the Civil Defence School....
in Dublin's
Phoenix Park
Phoenix Park
Phoenix Park is an urban park in Dublin, Ireland, lying 2–4 km west of the city centre, north of the River Liffey. Its 16 km perimeter wall encloses , one of the largest walled city parks in Europe. It includes large areas of grassland and tree-lined avenues, and since the seventeenth...
before relocating to
Roscrea
Roscrea
Roscrea is a small heritage town in North Tipperary, Ireland. The town has a population of 4,910. Its main industries include meat processing and pharmaceuticals. It is a civil parish in the historical barony of Ikerrin...
,
County Tipperary
County Tipperary
County Tipperary is a county of Ireland. It is located in the province of Munster and is named after the town of Tipperary. The area of the county does not have a single local authority; local government is split between two authorities. In North Tipperary, part of the Mid-West Region, local...
in 2006. The college is housed within the national headquarters of Civil Defence and serves to provide potential instructors with a level of education that will allow them to teach classes of volunteers to be competent in their service's skills. Courses include AFS Instructor, Radio Communications Operator/Instructor, Emergency First Responder and
Emergency Medical Technician
Emergency medical technician
Emergency Medical Technician or Ambulance Technician are terms used in some countries to denote a healthcare provider of emergency medical services...
. The college is approved by the Pre-hospital Emergency Care Council (
PHECC
PHECC
The Pre-Hospital Emergency Care Council is an independent statutory organisation responsible for implementing, monitoring and further developing the standards of care provided by all statutory, private and voluntary ambulance services in the Republic of Ireland...
) to train members to practitioner (EMT) level and is approved to implement the 3rd edition Clinical Practice Guidelines (CPGs) set down by PHECC.
See also
External links