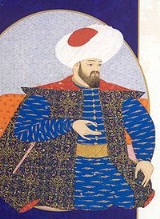 Osman I
Osman I
or
Othman I
or
El-Gazi
(1258 – 1326)
Sultan Osman Ghazi
, or
Osman Bey
or
I. Osman
,
Osman Gazi Han
), nicknamed "Kara" for his courage, was the leader of the
Ottoman Turks
Ottoman Turks
The Ottoman Turks were the Turkish-speaking population of the Ottoman Empire who formed the base of the state's military and ruling classes. Reliable information about the early history of Ottoman Turks is scarce, but they take their Turkish name, Osmanlı , from the house of Osman I The Ottoman...
, and the founder of the
dynasty
Ottoman Dynasty
The Ottoman Dynasty ruled the Ottoman Empire from 1299 to 1922, beginning with Osman I , though the dynasty was not proclaimed until Orhan Bey declared himself sultan...
that established and ruled the
Ottoman Empire
Ottoman Empire
The Ottoman EmpireIt was usually referred to as the "Ottoman Empire", the "Turkish Empire", the "Ottoman Caliphate" or more commonly "Turkey" by its contemporaries...
. The Empire, named after him, would prevail as a world empire for over six centuries.
Osman announced the independence of his own small kingdom from the Seljuk Turks in 1299.