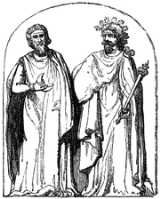 Druid
A druid was a member of the priestly class in
Britain
Great Britain
Great Britain or Britain is an island situated to the northwest of Continental Europe. It is the ninth largest island in the world, and the largest European island, as well as the largest of the British Isles...
,
Ireland
Ireland
Ireland is an island to the northwest of continental Europe. It is the third-largest island in Europe and the twentieth-largest island on Earth...
, and
Gaul
Gaul
Gaul was a region of Western Europe during the Iron Age and Roman era, encompassing present day France, Luxembourg and Belgium, most of Switzerland, the western part of Northern Italy, as well as the parts of the Netherlands and Germany on the left bank of the Rhine. The Gauls were the speakers of...
, and possibly other parts of Celtic western Europe, during the
Iron Age
Iron Age
The Iron Age is the archaeological period generally occurring after the Bronze Age, marked by the prevalent use of iron. The early period of the age is characterized by the widespread use of iron or steel. The adoption of such material coincided with other changes in society, including differing...
.
Very little is known about the ancient druids. They left no written accounts about themselves and the only evidence is a few descriptions left by Greek and Roman authors, and stories created by later medieval Irish writers. While archaeological evidence has been uncovered pertaining to
the religious practices
Celtic polytheism
Celtic polytheism, commonly known as Celtic paganism, refers to the religious beliefs and practices adhered to by the Iron Age peoples of Western Europe now known as the Celts, roughly between 500 BCE and 500 CE, spanning the La Tène period and the Roman era, and in the case of the Insular Celts...
of the Iron Age people, "not one single artefact or image has been unearthed that can undoubtedly be connected with the ancient Druids." Various recurring themes emerge in a number of the Greco-Roman accounts of the druids, including that they performed
human sacrifice
Human sacrifice
Human sacrifice is the act of killing one or more human beings as part of a religious ritual . Its typology closely parallels the various practices of ritual slaughter of animals and of religious sacrifice in general. Human sacrifice has been practised in various cultures throughout history...
, believed in a form of
reincarnation
Reincarnation
Reincarnation best describes the concept where the soul or spirit, after the death of the body, is believed to return to live in a new human body, or, in some traditions, either as a human being, animal or plant...
, and that they held a high position in
Gaulish
Gauls
The Gauls were a Celtic people living in Gaul, the region roughly corresponding to what is now France, Belgium, Switzerland and Northern Italy, from the Iron Age through the Roman period. They mostly spoke the Continental Celtic language called Gaulish....
society.