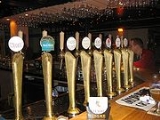 Draught beer
Draught beer
is
beer
Beer
Beer is the world's most widely consumed andprobably oldest alcoholic beverage; it is the third most popular drink overall, after water and tea. It is produced by the brewing and fermentation of sugars, mainly derived from malted cereal grains, most commonly malted barley and malted wheat...
served from a
cask
Cask ale
Cask ale or cask-conditioned beer is the term for unfiltered and unpasteurised beer which is conditioned and served from a cask without additional nitrogen or carbon dioxide pressure...
or a pressurised
keg
Keg
A keg is a small barrel.Traditionally, a wooden keg is made by a cooper used to transport items such as nails, gunpowder., and a variety of liquids....
.
Until
Joseph Bramah
Joseph Bramah
Joseph Bramah , born Stainborough Lane Farm, Wentworth, Yorkshire, England, was an inventor and locksmith. He is best known for having invented the hydraulic press...
patented the
beer engine
Beer engine
A beer engine is a device for pumping beer, originally manually operated and typically used to dispense beer from a cask or container in a pub's basement or cellar. It was invented by the locksmith and hydraulic engineer Joseph Bramah in 1797...
in 1785, beer was served directly from the barrel and carried to the customer. The Old English word for
carry
was
dragen
which developed into a series of related words, including
drag
,
draw
, and
draught
. By extension, the word for carrying or drawing a beer came to mean the serving of the beer and, in some senses, the act of drinking, or a drink of beer itself, regardless of serving method.