 Dorothy Lawrence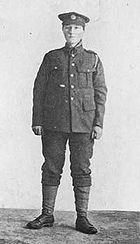 Dorothy Lawrence
was an
English
England
England is a country that is part of the United Kingdom. It shares land borders with Scotland to the north and Wales to the west; the Irish Sea is to the north west, the Celtic Sea to the south west, with the North Sea to the east and the English Channel to the south separating it from continental...
reporter who
secretly posed as a man
Crossdressing during wartime
Many people have engaged in cross-dressing during wartime under various circumstances and for various motives. This has been especially true of women, whether while serving as a soldier in otherwise all-male armies, while protecting or disguising their identity in dangerous circumstances, or for...
to become a
soldier
Soldier
A soldier is a member of the land component of national armed forces; whereas a soldier hired for service in a foreign army would be termed a mercenary...
during the
First World War
World War I
World War I , which was predominantly called the World War or the Great War from its occurrence until 1939, and the First World War or World War I thereafter, was a major war centred in Europe that began on 28 July 1914 and lasted until 11 November 1918...
.
Early life
Lawrence was born in
Polesworth
Polesworth
Polesworth is a large village and civil parish in the North Warwickshire district of Warwickshire, England. In the 2001 census it had a population of 8,439, inclusive of the continuous sub-villages of St Helena, Dordon and Hall End directly to the south...
,
Warwickshire
Warwickshire
Warwickshire is a landlocked non-metropolitan county in the West Midlands region of England. The county town is Warwick, although the largest town is Nuneaton. The county is famous for being the birthplace of William Shakespeare...
, the second daughter of Thomas Hartshorn Lawrence, a drainage contractor, and his wife, Mary Jane Beddall.
World War One
In 1914, at the start of the war and aged 19, Dorothy was living in
Paris
Paris
Paris is the capital and largest city in France, situated on the river Seine, in northern France, at the heart of the Île-de-France region...
and had a desire to be a
war reporter
War correspondent
A war correspondent is a journalist who covers stories firsthand from a war zone. In the 19th century they were also called Special Correspondents.-Methods:...
on the front lines, but was unable to get employment because she was a woman, and it was nearly impossible for even male reporters to get to the front line at that time.
She recorded in a later autobiography "I'll see what an ordinary English girl, without credentials or money can accomplish." (Lawrence, 41-2). She befriended two English soldiers in a café, and they agreed to give her a uniform which they smuggled into her apartment. She bound her chest, padded her back with sacking and cotton, and her friends taught her to drill and march. She persuaded two Scottish military policemen to cut her hair military style and then dyed her skin using diluted furniture polish to give it a bronzed color. With forged identity papers as
Private
Private (rank)
A Private is a soldier of the lowest military rank .In modern military parlance, 'Private' is shortened to 'Pte' in the United Kingdom and other Commonwealth countries and to 'Pvt.' in the United States.Notably both Sir Fitzroy MacLean and Enoch Powell are examples of, rare, rapid career...
Denis Smith
of the 1st Bn, Leicestershire Regiment she headed for the front lines, eventually arriving at the
Somme
Somme
Somme is a department of France, located in the north of the country and named after the Somme river. It is part of the Picardy region of France....
by bicycle.
A
Lancashire
Lancashire
Lancashire is a non-metropolitan county of historic origin in the North West of England. It takes its name from the city of Lancaster, and is sometimes known as the County of Lancaster. Although Lancaster is still considered to be the county town, Lancashire County Council is based in Preston...
coalminer named Tom Dunn befriended Dorothy and found her work as a
Sapper
Sapper
A sapper, pioneer or combat engineer is a combatant soldier who performs a wide variety of combat engineering duties, typically including, but not limited to, bridge-building, laying or clearing minefields, demolitions, field defences, general construction and building, as well as road and airfield...
with the British Expeditionary Force tunnelling company, a mine-laying company within 400 yards (365 m) of the front line, where she was constantly under fire. He found her an abandoned cottage in
Senlis Forest
Senlis, Oise
Senlis is a French commune located in the Oise department near Paris. It has a long and rich heritage, having traversed centuries of history. This medieval town has welcomed some of the most renowned figures in French history, including Hugh Capet, Louis IX, the Marshall of France, Anne of Kiev and...
to sleep in, and she returned to it each night after laying mines by day. The toll of the job, and of hiding her true identity, soon gave her a case of constant chills and
rheumatism
Rheumatism
Rheumatism or rheumatic disorder is a non-specific term for medical problems affecting the joints and connective tissue. The study of, and therapeutic interventions in, such disorders is called rheumatology.-Terminology:...
. She was concerned that if she was killed her true gender would be discovered and the men who had befriended her would be in danger. After 10 days of service she presented herself to the commanding sergeant, who promptly placed her under military arrest.
She was taken to the British Expeditionary Force headquarters and interrogated as a
spy
SPY
SPY is a three-letter acronym that may refer to:* SPY , ticker symbol for Standard & Poor's Depositary Receipts* SPY , a satirical monthly, trademarked all-caps* SPY , airport code for San Pédro, Côte d'Ivoire...
and declared a
prisoner of war
Prisoner of war
A prisoner of war or enemy prisoner of war is a person, whether civilian or combatant, who is held in custody by an enemy power during or immediately after an armed conflict...
. From there she was taken cross country by horse to
Calais
Calais
Calais is a town in Northern France in the department of Pas-de-Calais, of which it is a sub-prefecture. Although Calais is by far the largest city in Pas-de-Calais, the department's capital is its third-largest city of Arras....
where her interrogation occupied the time of six generals and approximately twenty other officers. She was ignorant of the term
camp follower
(prostitute) and she later recalled "We talked steadily at cross purposes. On my side I had not been informed what the term meant, and on their side they continued unaware that I remained ignorant! So I often appeared to be telling lies." (Lawrence, 161).
From Calais she was taken to
Saint-Omer
Saint-Omer
Saint-Omer , a commune and sub-prefecture of the Pas-de-Calais department west-northwest of Lille on the railway to Calais. The town is named after Saint Audomar, who brought Christianity to the area....
and further interrogated. The Army was embarrassed that a woman had breached security and was fearful of more women taking on male roles during the war if her story got out. She was then taken to the Convent de Bon Pasteur where she swore not to write about her experiences and signed an affidavit to that effect, or she would be sent to jail. She was then sent back to
London
London
London is the capital city of :England and the :United Kingdom, the largest metropolitan area in the United Kingdom, and the largest urban zone in the European Union by most measures. Located on the River Thames, London has been a major settlement for two millennia, its history going back to its...
.
Back in London she was unable to write of her experiences, which had been her original intent. She later said, "in making that promise I sacrificed the chance of earning by newspaper articles written on this escapade, as a girl compelled to earn her livelihood" (Lawrence, 189). After the war ended she wrote of her experiences, but it was censored by the
War Office
War Office
The War Office was a department of the British Government, responsible for the administration of the British Army between the 17th century and 1964, when its functions were transferred to the Ministry of Defence...
and not fully published until many years later when discovered by a historian in the archives. Her story became part of an exhibition at the
Imperial War Museum
Imperial War Museum
Imperial War Museum is a British national museum organisation with branches at five locations in England, three of which are in London. The museum was founded during the First World War in 1917 and intended as a record of the war effort and sacrifice of Britain and her Empire...
on women at war.
Post-war and death
In 1919, she moved to Canonbury,
Islington
Islington
Islington is a neighbourhood in Greater London, England and forms the central district of the London Borough of Islington. It is a district of Inner London, spanning from Islington High Street to Highbury Fields, encompassing the area around the busy Upper Street...
, but after claiming she had been raped by her church guardian, she was institutionalised as insane in 1925. She died at Friern Hospital (formerly
Colney Hatch Lunatic Asylum
Colney Hatch Lunatic Asylum
Colney Hatch Lunatic Asylum was an early psychiatric hospital located in Colney Hatch in what is now the London Borough of Barnet. The hospital was in operation from 1851 to 1993....
) in 1964. Very little is known about her life after 1919.